Now that Covid-19 infection rates seem to be decreasing in many countries, working and public life is starting up carefully. People are thinking of going back to the office again. Of course that requires some effort from both the employer and the employee. Social distancing, extra hygiene measures and reducing the number of people in the office are things that we must take into account seriously. We are happy to give you 4 tips to guarantee a good preparation for a safe working environment after Covid-19.
---
Tip 1
Talk to your employees
Employees have been (mostly) working from home for an entire year now and although it is not an ideal situation, we have all gotten pretty used to it. It is a safe environment and we have now found a balance between work and private life. Now that we are carefully thinking about working in the office again, this can and will lead to questions and uncertainties. So, talk to your employees about their wishes, expectations and possible fears. Make sure they feel heard. How do they feel about the idea of spending time at the office again? How many days could they come to the office? What do they need? Together the best ideas arise. Help them with solutions for both business and private situations. Show what steps you have taken to get back to work as safely as possible. Perhaps there are colleagues who have slowly started in the office already; how do they experience this? A positive employee experience is key for a successful Return to Office strategy.
Tip 2
Investigate the (im)possibilities of the office space
We all understand that we cannot return to the situation before the Corona outbreak. Many organisations will have to reduce their desk space or room capacity down to 50-60%, as one in every two desks become unusable. But what does that mean in reality? The number of people per floor or meeting room depends on several factors, including the floor space of the room, the ventilation options, and the possibilities to keep sufficient distance from each other. This means that we not only have to calculate the capacity per space, but we also need to define walking routes to – and within – this space and check how accessible each floor is with the elevators or stairwell. Is it already possible to receive visitors and in what form can you open the company restaurant? What are the hotspots in your building? Determine all this so that you can set up your departments differently. If you work with our Desk Booking or Room Booking tools you will get a better picture of this.
Tip 3
Provide extra cleaning measures.
In addition to keeping distance from each other, a clean working environment is just as important. This is perhaps the greatest uncertainty for employees. They are, to a certain extent, extremely dependent on, and have little influence on, the hygiene measures that the employer takes. What extra cleaning measures do you implement, how often and in which areas? Think of the desks, the public areas and the meeting rooms. They all need extra cleaning in between use. And determine which other areas require even more attention, such as coffee corners, toilets and elevators. Besides the fact that employees wash their hands extra and use paper towels and disinfectant gels, they need to be able to trust that they start their work in a safe and hygienic way. And how useful would it be if they get this certainty by using the Desk and Room Booking tools?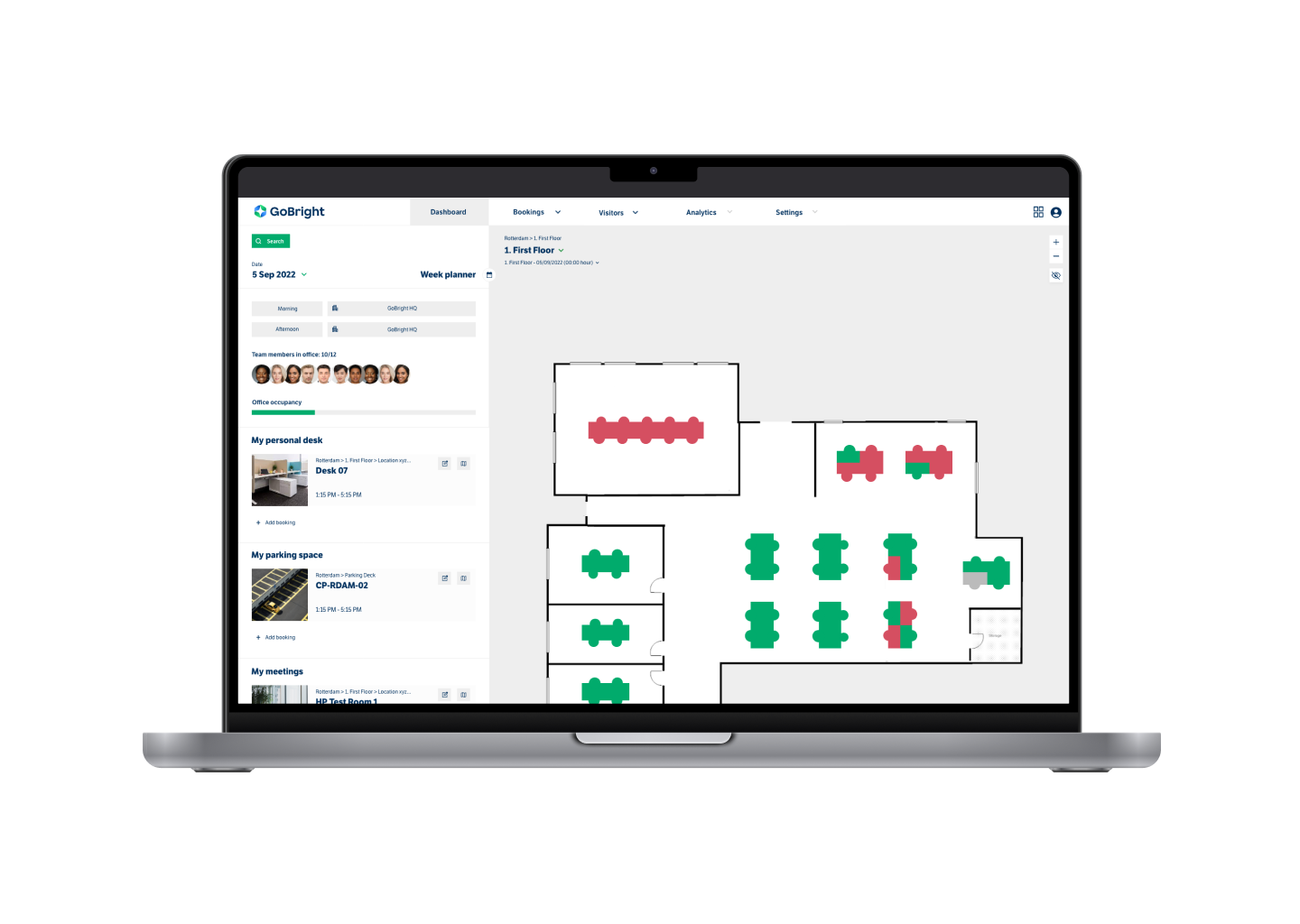 Tip 4
Dare to think in Smart Technology solutions
Smart Office solutions can help you with all issues mentioned above. With Desk Booking software and Room Booking software you can easily reduce the capacity per room or floor and limit the number of people in your building. With employees booking their workplace or meeting room in advance, you as an employer know exactly how many people are in the office. You get direct insight into the free spaces, the occupied spaces and the spaces that need to be cleaned. You now know what the busiest days of the week or the busiest hours in a day are. That way, you can advise teams to come to work at a different time or scale up the cleaning services on specific days. And all this via a portal or mobile app that is accessible to everyone from anywhere. Employees know where they stand and employers use the data to monitor and adjust where necessary.
The use of Desk Booking and Room Booking software has many advantages and we are more than happy to show you what it can mean for your company.