Article
Work
Advantages and disadvantages of hot desking
Hot desking is a flexible way of working which was originally about using a desk on an ad hoc basis. People no longer have a fixed, personal desk, but are able to choose where to work on a daily, or even hourly, basis. The idea was that employees came to work and chose then and there where they wanted to work. Nowadays, hot desking is still flexible as can be but is generally used combined with a desk booking system. This allows employees to book a desk in advance, so they avoid coming to a fully occupied workplace. Although there are minor differences between the terms hot desking, desk-hoteling, and desk-sharing, they are generally used interchangeably in the corporate world. In this article, we'll use hot desking as an umbrella term for the three, and describe advantages and disadvantages.
---
What are the advantages of hot desking?
Collaboration
Hot desking entails that employees take whatever desk is available in the morning, instead of having one fixed desk for themselves. This means that it is possible that they have a different seat every day, near different people. It will be easier to collaborate with people from different departments, as they can choose to sit next to the people they want to work together with that day.
The most important advantage of Hot desking is that it stimulates building relationships with more colleagues, resulting in a better working environment for all. In static working environments, it is only natural that certain groups of people start to form that regularly work together. It can be beneficial to prevent this, to stimulate communication between colleagues from different departments. People will start sharing information with each other throughout the company, leading to a better overall knowledge of the company's business. Additionally, this better cooperation will lead to the flow of more creativity. Your employees get to know different aspects of your business and become inspired by their coworkers and environment to think outside of the box.
Occupancy management
When you work with fixed desks, you will have unused desks at the office whenever an employee is not present at work. This is a waste of space, and conclusively, costs. You may be able to save these costs by hot desking. Several people will share a desk throughout the day, resulting in optimal use of your desk space. If you are in possession of an occupancy management tool, you may consider removing some insufficiently used desks from your workspace. You may use the cleared-up space for something else.
Clean desks!
Nobody likes working in a messy environment. It can be distracting and sometimes even stressful. Because people work at different desks each day, they will not leave their personal belongings at a desk. This will keep your workspace looking tidy and neat, without loose items all over the place. Employers can help their employees keep tidy by providing them with lockers where they can keep their personal belongings. You can choose for regular lockers, or digitally monitored lockers such as GoBright's, which you and your employees can book from home.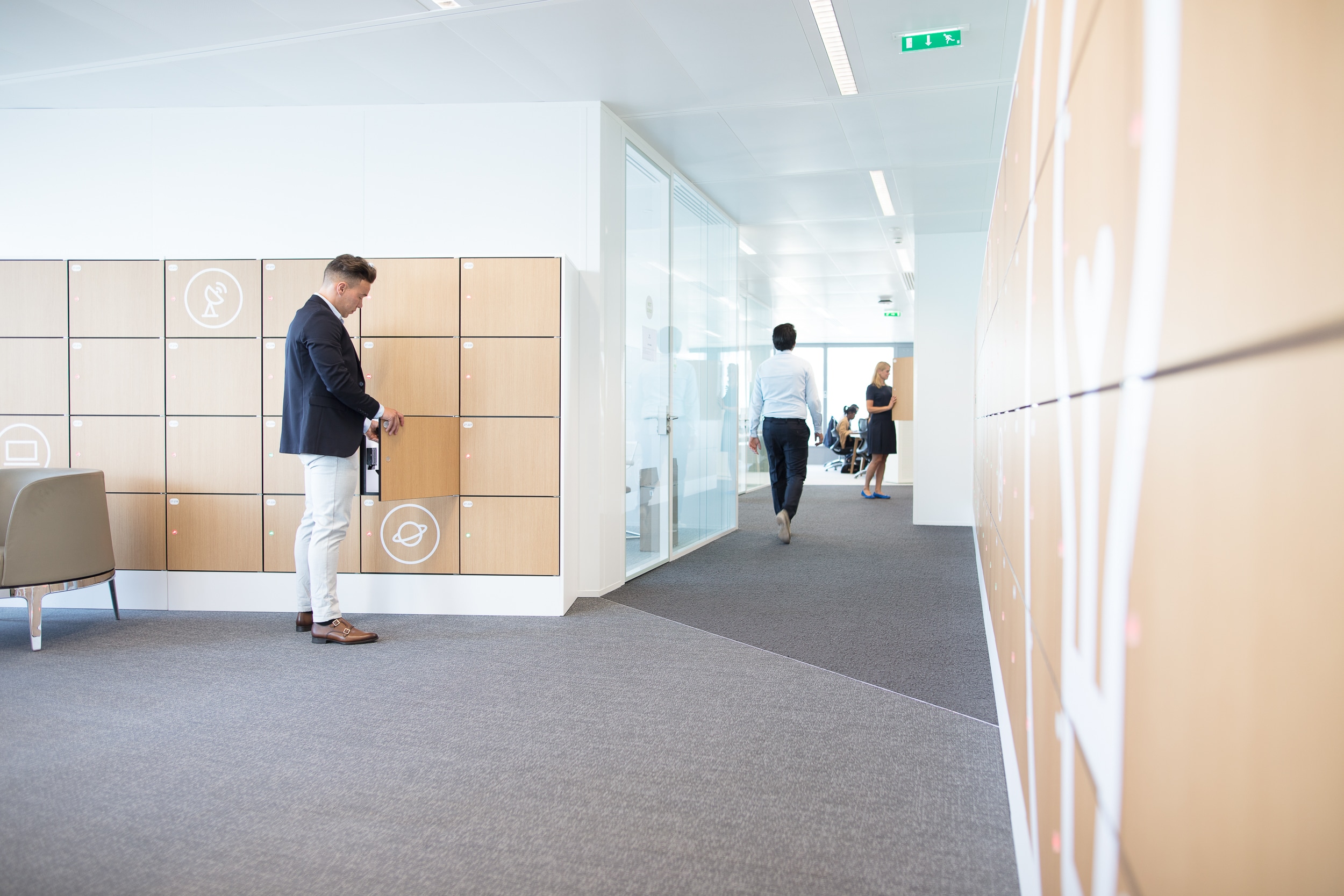 What are the disadvantages of hot desking?
Where is my colleague?
As the core of hot desking is to be seated at a different desk each day, it may be difficult for people to find the specific person they are looking for. This may not be a problem for smaller office spaces, but for big corporations with several floors, it may cause difficulties. Luckily, GoBright's Desk Booking System has a feature called 'Find my colleague' that helps your employees solve this problem.
It does not work for everybody
Some employees value having a fixed workplace and the least amount of changes. The change from fixed desks to hot desks may require some acclimatisation from some colleagues, resulting in a temporary drop in productivity.
Uncertainty
The principle of hot desking is flexibly choosing your desk when you enter the building. This could also be the biggest disadvantage of hot desking, if not well thought out. This can result in uncertainty about where you will be working that day. While this may be of minor inconvenience for smaller organisations with only one floor, the problems arise in bigger corporations. They usually have more floors or even buildings where people can work, resulting in the possibility that an employee arrives on a floor only to find that it is already full. They then have to physically look for a place to sit before they can start work.
When you make use of GoBright Desk Booking, you can book your desk in advance, eliminating this uncertainty. Our platform offers an interactive map (in the portal and in the app) that visualises the workspace and gives employees the opportunity to book the facilities they need. In addition, you can place GoBright Mapping Screens on your floors. This way, your employees can see in the blink of an eye whether there are seats available and where they are located.
Hierarchy disruption
Depending on your work culture, employees may experience hot desking as an unwelcome disruption of the established hierarchy within your office. For some businesses, the hierarchy is not that important. However, when it is an important aspect of your business culture, you might want to consider adjusting the approach to hot desking to fit your office.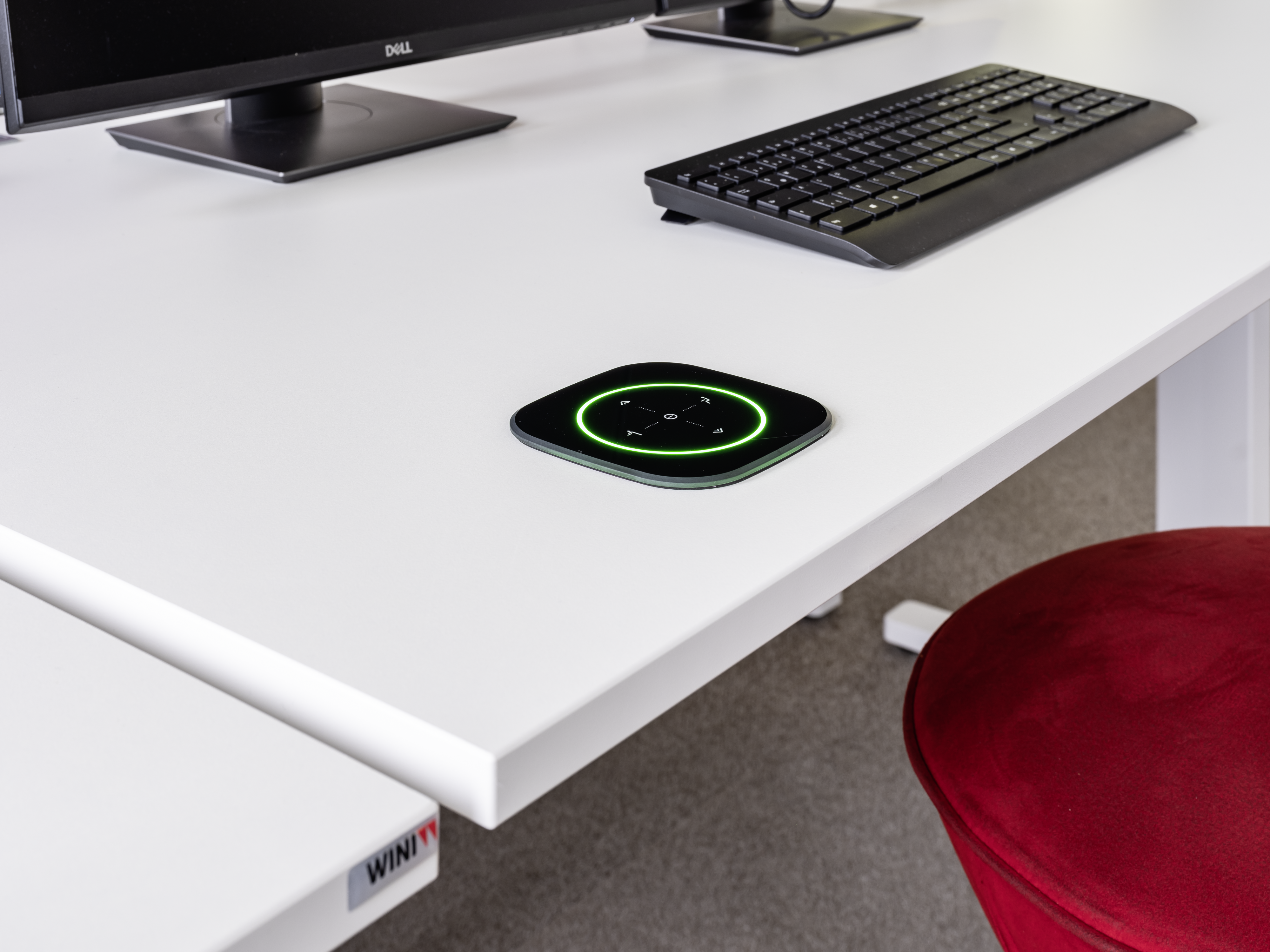 Should my business be hot desking?
If you are looking to optimise the facilities in your building, then hot desking may be a solution for you. Of course, there are some advantages and disadvantages of hot desking, but remember….. It can help stimulate collaboration between different departments and increase social cohesion at the office. In addition, it may help keep the space clean and neat. GoBright's Analytics can additionally give you insights into your office's occupancy, helping you decide how you want to design your office space. However, hot desking does come with a few obstacles for any business. Employees may need some time to completely get used to a fully reshaped way of working. After all, people are creatures of habit and some people appreciate hierarchy within a team. Nonetheless, all these obstacles may be overcome by tailoring the idea of hot desking to your business' needs and by implementing Smart Office tools.
How can I effectively implement hot desking in my office?
The concept of hot desking is not new, but in office spaces of our time it is a true hot topic. However, more and more businesses are tailoring their offices to be fitting for hybrid working. You can add a few things to your office space to make it fit for the future.
Flexibility
At the core of hot desking is flexibility. People are free to choose where they want to take a seat. Why limit this flexibility to the office? Hybrid working is becoming more and more important to future employees, as it allows them to plan their days most efficiently. This, however, does create uncertainty about workspaces at the office. Employees no longer know who is at the office and where they are seated.
This problem can be solved by desk booking systems, such as GoBright's. With our Desk Booking System, your employees are able to book their desks from home through the GoBright App and check in on the Connect. If offices make use of the Mapping screens, employees can see directly on the map which desks are already booked and which should be free. This way, employees have the certainty of a workplace. They don't have to search every floor for a desk in case they haven't booked yet. It, therefore, leaves room for your employees to choose how they want to design their workday.
Office design
If you want to incorporate hot desking into your office, you need to make your office attractive to work at. Hybrid working and working from home are becoming increasingly popular, so you have to make sure there are benefits to working at the office rather than at home. Good office design can help make work at the office easy and accessible.
A good starting point is providing your employees with automatic height-adjustable desks. In offices where hot desking is the norm, a problem could be that desks need constant readjusting because different people use the same desk. If you pair GoBright's Desk Booking System with the Connects, your employees can check into a desk and the height will be automatically adjusted to their preferred height. This comes in handy especially when your company makes use of hot desking. Then your employees do not have to constantly manually adjust their desks. Sitting down for too long additionally negatively impacts your health, so it is important that your employees have the option to stand up behind their desks.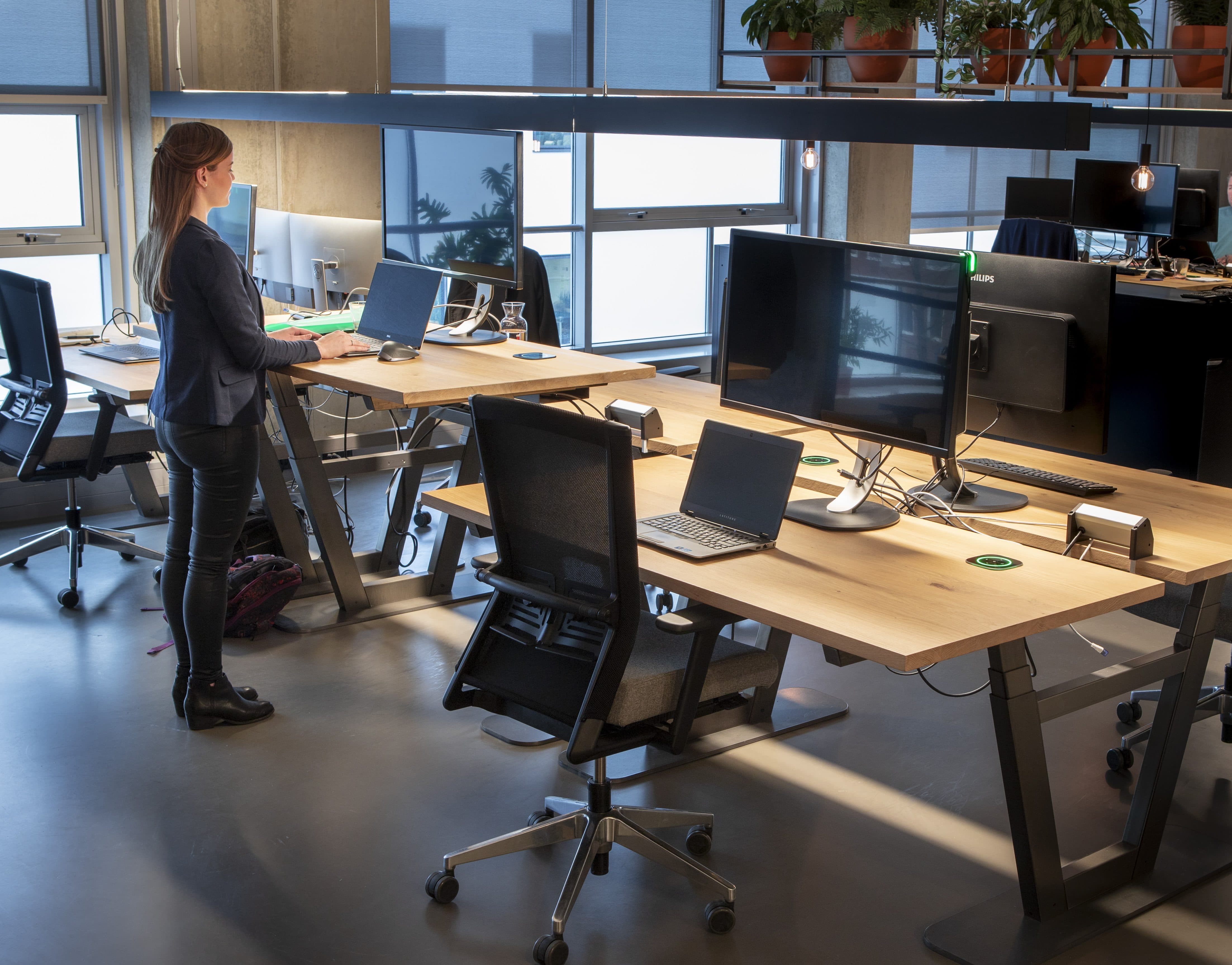 Smart lockers
Without fixed desks, the number of personal belongings and decorations on desks will be minimized. It may be beneficial if your office provides them with lockers in which they can safely store their bags. If you make use of the GoBright platform, you can choose to use special lockers that can be booked through the GoBright app.
At home at the office
Some people enjoy working in crowded offices surrounded by their colleagues, while others thrive in silence. Make sure your office facilitates all of your employees. You can do this by implementing silent rooms and other dedicated rooms such as a creative space. More and more businesses are giving their offices a cosy transformation, replacing the grey and boring workspaces. This way, you'll ensure that every single one of your employees feels valued and at home at the office.
You can give your employees the certainty of using these facilities by using a room booking system. With GoBright's Room Booking System, your employees can book a specific room to work or collaborate in from home. Additionally, due to the Microsoft Teams and Outlook plugin, your employees just have to set up a meeting in Teams or Outlook. GoBright will automatically book the requested room.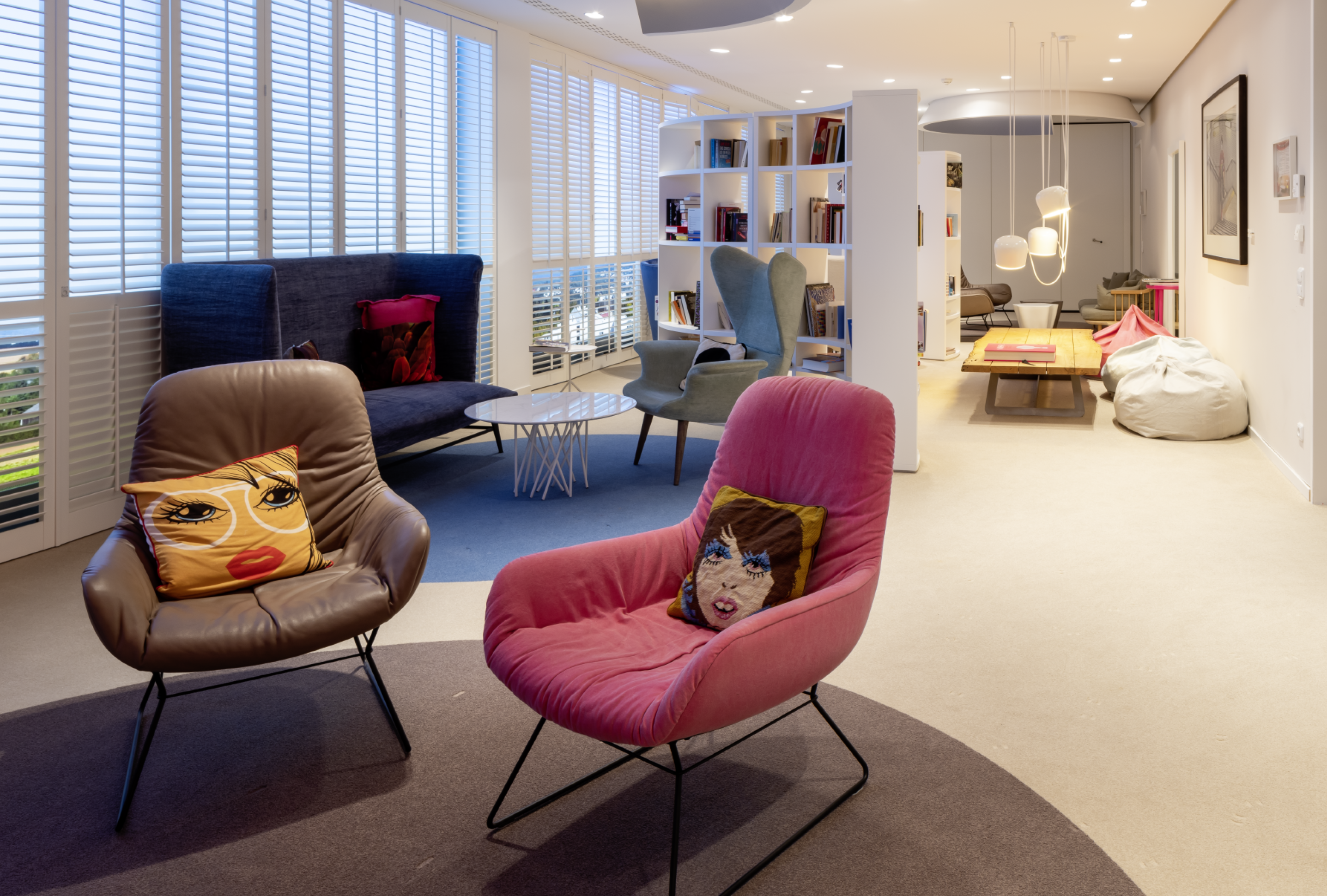 Weighing the advantages and disadvantages of hot desking
All in all, hot desking is a suitable solution for offices that are looking to optimally use space and time. This counts especially for companies that stimulate Hybrid Working. While implementing this new way of flexible working comes with a few challenges, none are impossible to overcome. You just need to use the right smart office tools.