The year 2022 has been a year of growth for GoBright. We are looking back at an eventful year, in which we've developed our platform, made new partners, and visited international events. We even set our first steps in the US market! All in all, a year to be proud of everybody who has been a part of our growth. Here's a quick summary of GoBright's events in 2022.
---
New developments
The core of our business is development. So, this year, we have not been sitting on our hands either. We've developed new features, such as Parking Space Booking, Team Booking, Combined Meeting Room Bookings, and of course our integration with Microsoft Teams.
New partnerships
With new developments come new partnerships. There's been a few changes in our sales channel, including an expansion of resellers and changes in distributors. We've onboarded several new partners of which we are confident that they'll guarantee smooth collaboration, including Steelcase and AdaptionLab. Have you already seen the AdaptionLab. chair, that adjusts its height automatically when you check into your desk with GoBright's software? Here's a quick video:
Fairs and exhibitions
Of course, we have also attended several fairs this year. We traveled to Texas in the U.S. for the Diversified. Global Summit. To ISE Barcelona in Spain, to Orgatec and Medialog in Germany, to Workspace Expo in Paris… And many more. We are grateful and proud to have been a part of such interesting and inspirational events.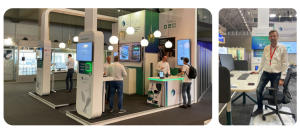 Overall, we have had a successful year and are excited for the next. GoBright wishes you a merry Christmas and a happy new year.