Article
Work
The pros and cons of a desk booking system
With the arrival of new working models such as hybrid working and flex working, a lot has changed in the office. Employees experience increased flexibility, job satisfaction and discover new ways of working. The office environment must be able to properly support these changes.
If we take the hybrid model as an example, we see that people work from home but also frequently come to work at the office. If employees do want to work at the office, a pleasant and suitable workplace must be available. This is what desk booking systems are all about, facilitating a flexible work environment and making optimal use of available workspaces.
---
What is a desk booking system?
A desk booking system is a space scheduling tool, that helps employees book and share workspaces. Generally, this means that employees can find and work at any given desk at the office. In reality, a lot of people don't need the same desk or workspace every day. In fact, in most offices, a lot of workspaces remain unnecessarily "occupied". With the use of desk booking systems, employees only use the desk when they actually need it.
How does it work in the office environment?
When you are planning to go into the office, you want to be sure of a pleasant workplace. A desk booking system allows employees to book their desks in advance when they want to work at the office. All Desk Booking systems have an online environment that employees can access from home or elsewhere. The GoBright Desk Booking System even offers an interactive map. Here, employees can see where the desks are located, and which ones are occupied, and filter according to preferences. Smart features ensure that GoBright Desk Booking responds well to the daily flow of employees. Think of features such as Team Booking and Find my Colleague. It also offers the option to make a booking for a certain part of the day or even a couple of hours. Under some working models, employees have a determined set of days they have to go into the office. This is why GoBright created the recurring booking feature. This way, employees are able to book in advance so they can avoid the hassle of remembering to book in time.
Creating Availability
Desk booking is about creating availability. This can only be done appropriately when desk booking software is combined with the right hardware. To book a desk you will need a check-in/out system. There are several ways to check in and out at your booked desk such as: NFC stickers, the GoBright Connect, or sensors. Smart sensors ensure that the occupancy is measured with 100% accuracy. Without the use of sensors, you could miss out on valuable data which you can use to optimise the occupancy strategy and workplaces. Desk booking software can be used to stimulate hot desking, desk hoteling, or desk sharing. For that reason, you will find that a desk booking system is sometimes also called a hot desk booking system, or a desk hoteling system.
Differences between desk sharing, desk hoteling, and hot desking
Desk sharing is an umbrella term to illustrate that a desk has no fixed ownership. Desks are shared on the basis of certain principles. In most cases, desk sharing refers to the pre-booking of a desk at the office. This way, several people work at the same desk at different times.
Another term for desk sharing is desk hoteling. Desk sharing and desk hoteling are typically organised via a desk booking system.
With hot desking, an employee checks in on the spot if there is an available desk at the office. Unlike desk-sharing, hot desking is more spontaneous. Please note that it can slightly differ per region or country what these terms mean. And in most cases, it is another name but with similar meaning. A solid desk booking system is the solution for all.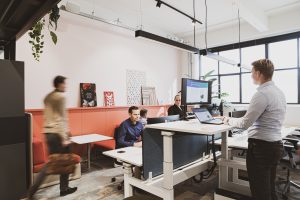 Benefits of using a desk booking system
Using a desk booking system has many interesting advantages. We list the most important ones:
1. Facilitates new ways of working
Desk booking fits in well with flexible ways of working such as hybrid working. People should be flexible enough to work from home, but also have a workspace available to them when they want to go to the office. Managing the occupancy rates via a desk booking system ensures that pleasant workspaces are always available. With a desk management system, employees are able to filter and select a desk according to their own preferences. This way, you can provide employees with lots of freedom and give them control in regards to when and at which desk they want to work at the physical office.
2. Support collaboration
With desk sharing, the collaboration between teams or departments is boosted. Employees can collaborate better by simply reserving desks side by side. For example, the GoBright Desk Booking Platform even has a Team Booking function designed to support these kinds of collaborations.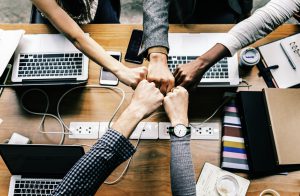 3. Cost effective
With desk booking software you are also able to manage and control the occupancy at the office. By gaining insight into the actual occupancy, many offices discovered they did not really need the number of desks that they had. They were able to cut back costs of expensive real estate and move to a smaller office space. In terms of cost-effectiveness, desk booking also works the other way around. Imagine you are thinking of expanding and move to a larger office. When is the right time to make such an investment? Is it even needed? With insight into the occupancy rate you can take the next step with certainty.
4. Sustainability
Desk Booking encourages people to only use the space that they really need. This way, the office becomes a lot more sustainable. No more unoccupied and unnecessary costly office space.
5. Time efficiency
In most cases, not all employees will be at the office at the same time due to new working models and other changes in the office environment. Some days it might be quiet in the office, and some days it might be a lot busier than expected. Regardless of the situation, if an employee decides to come into the office, a nice workplace must be available. Using a desk booking system allows you to assess the situation at the office in advance. By being able to anticipate, you don't waste any time going into the office and run into surprises.
6. Insight into analytics
A smart data-driven workplace is what it is all about these days. With the data derived from desk booking solutions you are able to understand employee behavior a lot better. You will get insight into how the office is being used. Why do employees often book their desks on a specific floor? What is special about these desks? Perhaps your employees like to work where there is the most natural lighting, or near the company restaurant? These are all valuable analytics that can help you optimise the office. Adapting the office to employee behavior is one of the most important ways to ensure that your office is future-proof.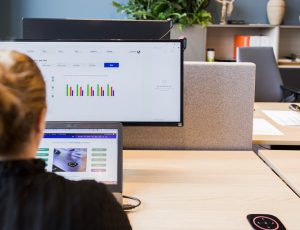 7. Attract a new generation
Not to forget, the younger generation enters the job market with new ideals. Flexibility and freedom is a must for them. They don't want to be tied to the 9 to 5 traditional office cubicle. They expect a workplace that represents their standards and accommodates their wishes. Integrating desk booking into the office fits really well with the perspective this generation has on the future office. Because the future office is a smart office.
8. Health and safety
With desk sharing, several people share the same desk at the office. You might assume that this will automatically lead to concerns in regards to health, hygiene and safety. However, there are two sides to the story here. When people use the same desk and this process is not monitored, it will indeed lead to increased risks in regards to hygiene and safety. Yet, with use of a desk booking system, this process is in fact monitored. Especially in times when safety needs to be extra emphasized (e.g. during a pandemic), the use of Desk Booking systems ensures that it does not get too crowded in the office. For example, an office manager is able to block certain desks so that a safe distance is guaranteed. Also, with control over the occupancy rate, you ensure that there are never too many people on the floor at the same time.
Even with monitoring, the fact remains desks are being used by multiple people. How is this going to be safe? GoBright has already thought about this. With the GoBright Connect, you are able to adjust your status while working at the desk. Besides the obvious "occupied" or "available", it will also adjust to "Needs cleaning" when an employee has checked out from their desk. The facility department will automatically be alerted that the desk needs to be properly cleaned. After it is cleaned, the desk will be 'available' again.
And… What are the drawbacks of a desk booking system?
Which aspects should you consider when integrating desk booking at the office?
1. Hierarchy disruption and lack of personal space
With employees sharing desks, there might be a hierarchy or company culture disruption in the office. This is an important aspect to consider when adapting from a 'fixed desk office' to a flexible 'desk sharing office'. It's not automatically a no-go because of that, but start the conversation with management and employees to align their wishes, expectations, and fears. Create a working environment that makes everybody happy and confident.
With desk sharing, employees do not have ownership of a desk. They cannot decorate their desk with photos, plants, personal stationery, food and drinks, etc. Therefore, you should consider the fact that employees might worry what will happen to their personal space. Communication is key. Make sure employees are included in why certain decisions are made. If desk booking leads to more efficiency in the office, make sure employees understand the benefits of this change.
2. It costs money
Yes that's right. Every desk booking system will cost money. While some providers will be more attractive in terms of pricing, others offer a more extensive tool with more options. Some providers only offer desk booking software, while others have a complete platform including room booking, parking booking and visitor registration. It is therefore important to consider a few things before making a decision. What do you need as an organisation? Which problems do you want solve and what questions do you need answered? Find a reliable supplier that suits you best in terms of products, options and costs, that fully meets your needs in a desk booking system.
Investing in desk booking software costs money. Is that a real drawback? We prefer to see it as an investment that will bring you many benefits. Advantages as described in this article and probably many more. Time savings, no frustrations at overcrowded offices/departments, direct insights, long-term vision, and workplace management strategy. It stimulates collaboration, improves productivity and a sense of security.
3. Collecting Data
With every desk booking system data is collected and/or used. This is partly anonymous data, as well as personal data. This data can be linked to the company and its employees. For example name, email address, IP addresses, company information, occupancy rates of rooms and desks, or other technical information about integrations with other software programs. Facility managers use this information in  a data-driven workplace to analyse the way the workplace is being used. How much office space is actually needed? Which desks or rooms are used the most? Or how many visitors are present in the building? Please make sure you choose a reliable supplier that handles your data properly and safely. Here at GoBright, it goes without saying that we protect your data according to privacy laws (e.g. GDPR). We are ISO 9001 and ISO 27001 certified, which means we comply with the highest standards for quality, data protection, and security. In combination with our Microsoft Azure data center, on which the GoBright platform runs, we offer the highest form of data protection.