Article
General
GoBright & AdaptionLab: Personalising Future Workplaces
The modern-day flexible office goes beyond innovative desk layouts. To make a flexible and hybrid office, smart software and hardware solutions should be combined. This way, there is an optimal office experience for users. This is where GoBright and AdaptionLab partner, to create an advanced smart office concept and maintain what many professionals fear losing: personalisation of the workplace.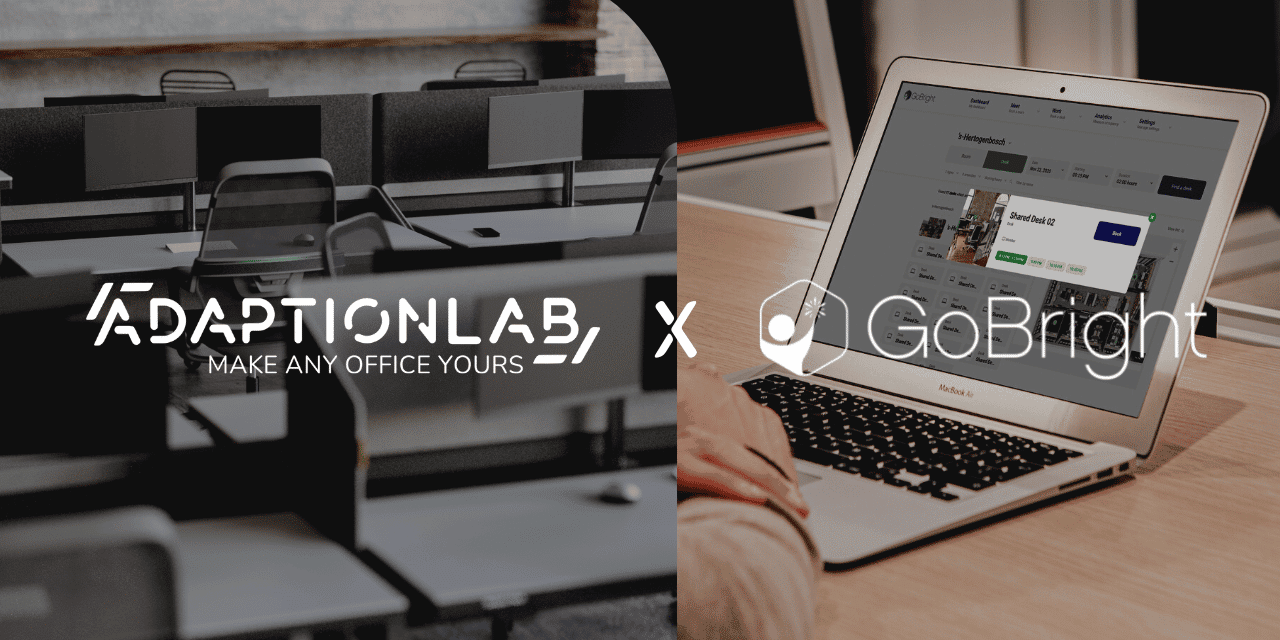 ---
GoBright
GoBright is specialised in Smart Software solutions that support modern ways of working. Our software solutions bring transparency, insights based on accurate data and allows users to design their own workdays. Room Booking, Desk Booking, Visitor Registration and Digital Signage by GoBright fit together perfectly and are user-friendly for every user, employee, and manager.
It is our goal to make Hybrid Working possible for every employee and ensure positive Employee Wellbeing through our solutions. With the help Workplace Analytics, data-driven choices can be made and a path to start Sustainable office transformation is forged.
"We have great expectations of this highly innovative technology in the office furniture industry. We look forward to the launch of the GoBright x AdaptionLab integrated solutions at Orgatec 2022. Come visit our booth D – 021, Hall 8."
– Chris Wiegeraad, Commercial Director at GoBright BV
AdaptionLab
AdaptionLab supports companies in creating a more efficient work environment by combining the benefits of flexible workspaces for employers while sustaining a personalised workstation for employees. In doing so, the company develops and designs smart office furniture that adjust any workplace to the employee's preferences within seconds. This is possible through the memory function.
Offering a Smart Office Chair and Smart Office Desk, the employee completes a one-time setup and then all their workstation preferences are stored in the AdaptionApp. The goal is to minimize daily user routines, allowing for focus and productivity while also ensuring an ergonomic setup every day, even in a desk-sharing office space.
"With our partner, GoBright, we entered a collaboration with the highest focus on user-friendliness for shared offices. Try out our joined solution at Orgatec 2022 and learn more about our smarter office future."
– Christoph Janyska, Head of Business Operations at AdaptionLab
How We Work Together
With flexible office trends like desk sharing, new workplace processes such as hot-desking and desk booking automatically come into play. In the case of desk sharing, an efficient booking system can be the key to a successful desk-sharing office by helping employees navigate the new corporate landscape.
As GoBright and AdaptionLab collaborate, integrated LEDs and displays indicate the booking status and time the workstation is reserved. In addition to a desk booking system, these help employees check the occupation status of workplaces and find available desks.
By combining the software tools of GoBright with AdaptionLab's smart office furniture, a fully personalised workplace exists in an anonymized office environment. The two solutions are complementary and cover the entire process from booking the workplace to ergonomically working in it. Because of the integration of both solutions, you can both book and adjust your desk and chair to you personal pre-sets. Coming from one app, or one RFID badge scan. Making it a smart, safe, and simple process.
Being able to book your workplace in advance, knowing that it suits your wishes and needs, ensures clarity, trust and autonomy.