Pami is a passionate workspace designer. They create ideal working environments every day and want to be the number one in Belgium. That is why they thoroughly renovated their showroom and the result can be seen! A totally renewed showroom with the most modern and contemporary work forms and workplaces. On Thursday 17 October 2019, Pami celebrated the official opening together with 170 guests.
---
Fascinating information sessions
During the opening, Lode and Hendrik Essers treated their guests to inspiring sessions on the latest trends in office design. Thomas Vandenhaute, Project Leader Circular Economy at Sirris, presented his vision on circular office design in the 'Circular Workspace Design' workshop. He showed how a comfortable and modern office environment can go hand in hand with caring for our planet. Beautifully supplemented with practical examples of the office furnisher from Pelt.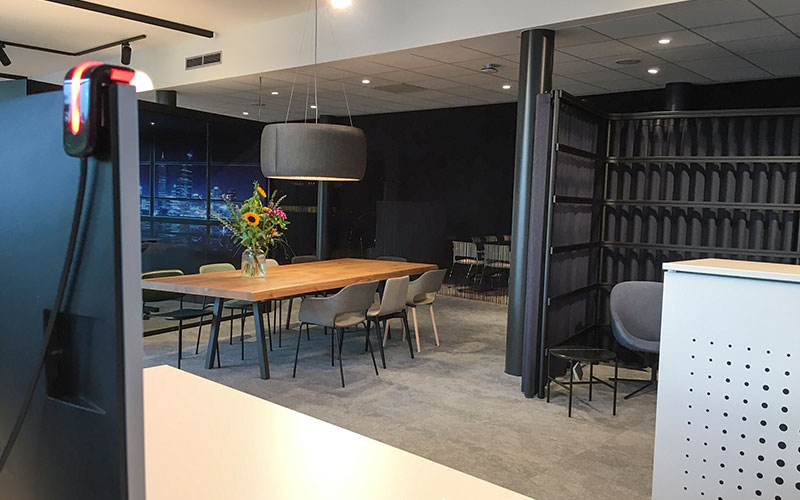 Traditional office use changes dramatically
Chris Wiegeraad, Channel Development Manager at GoBright, demonstrated Room Booking, Desk Booking, Visitor Management. More and more organisations are using new ways of working such as activity-based working, agile and scrum. After all, with a laptop and internet access, you can work anywhere. It radically changes the traditional use of the office. And if this is not put to good use, all kinds of challenges arise: searching for an available desk, unnecessarily occupied workplaces, unavailable colleagues, overbooked meeting rooms with people not showing up… Thanks to their complete system, Pami now offers a total solution to these challenges. Through sensors, an online portal, smart app and various integrations, employees can carry out their work smarter, more enjoyable and more efficiently. In addition, the company receives additional insights (occupancy rates…), which optimise investments.
Virtual Reality
The 170 guests also discovered the latest technology in the presentation of office concepts: Virtual Reality. Thanks to this technology, customers can now virtually discover their new working environment in advance. A spectacular experience!