Smartphones have become an inseparable part of our daily lives, including that of our children. While they can come in handy, studies have shown that the use of smartphones in the classroom has a negative effect on the students' performance. They get distracted easily, there are less face-to-face interactions, and mobile phones increase chances of cyberbullying happening at school.
This is why the Dutch government has decided that as of January 1st, 2024, mobile phones will no longer be allowed in high school classrooms. So how can schools help their students in staying informed, if their #1 communication tool is prohibited? We say it's digital signage.
---
How can digital signage help in education?
Digital signage (or narrowcasting) is a network of displays that can be used to provide information or to convey communication. By implementing a digital signage solution into your school's infrastructure, you can keep your students informed about a variety of things, even without their trusty phones. Additionally, digital signage can help enhance communication, engagement, and overall school operations for both students and staff.
Schedule changes
It's bound to happen in any organisation: schedule changes. Especially in educational institutions such as schools, this brings about a ton of administration. Cancelled classes, changed classrooms, substituted teachers… it's all information that the students like to know before the start of the class. This kind of information can be shown on digital signage displays throughout the school, making sure that everybody can see it.
GoBright's Digital Signage software integrates with popular scheduling tools, such as Zermelo and GP Untis. These integrations allow for smooth display of schedules on all screens.
Public transport information
While many students live close enough to the school to go by bicycle, other students have to take public transport. For these students, it is important to know what the departure times are of bus, metro, tram, or train. You can choose to show real-time schedules of public transport of the station closest to the school. Did you know GoBright has widgets for displaying schedules of public transport, such as the Dutch Railways (Nederlandse Spoorwegen) for this exact purpose?
Event calendar
Of course, the main focus of a school is to provide students with an education. However, thankfully, most schools try to find the opportunity to let their students have some fun, too. Think of school dances, fundraising campaigns or sports days. But also important days outside of school, such as holidays for all students and staff, including those people in school that are from a different culture. It's a great idea to show these events in a calendar on displays throughout the school to raise awareness and to connect all people at school.
Canteen / Cafetaria
But digital signage can also be used to display other things, such as the menu for your school's cafetaria. No need to buy new menu display boards or adjust them by hand when the menu changes or when something is out of stock. Just change it in your narrowcasting software and you're done.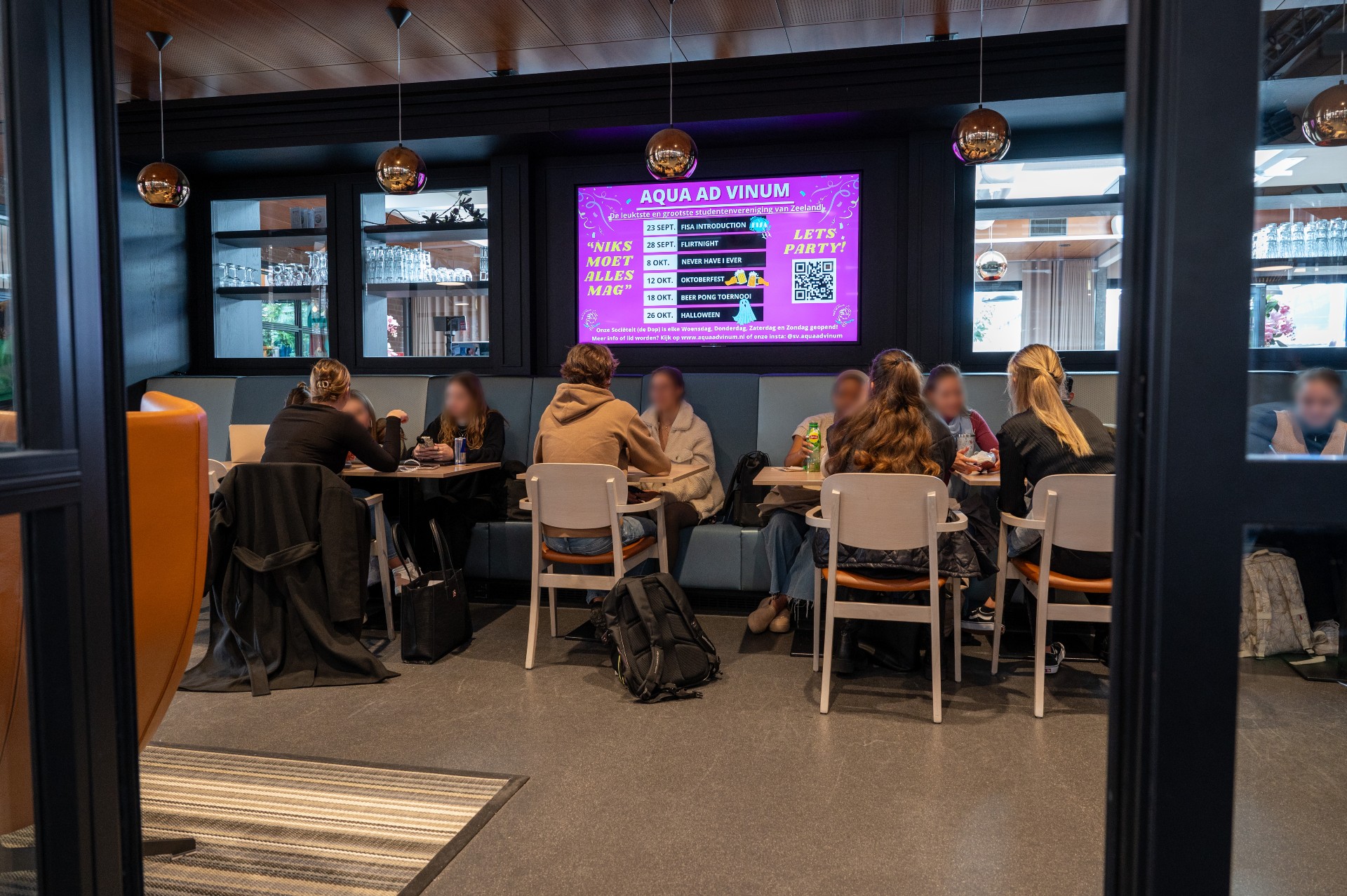 Informative content
Another use of digital signage is to convey interesting information, such as school announcements, local news, or weather forecasts. This type of content can come in handy in a variety of situations and may be a welcome change in information.
However, besides graphs and text, you can also choose to display photos and videos on things that are important to the school, such as societal projects, school trips, or other activities.
Emergencies
In case of emergency, you need everybody to have the right information as soon as possible. You need people to know what to do to get out of the situation safely. When you make use of a digital signage solution, you can use all displays to communicate this kind of information to all people in and around the building.
What about the teachers?
Digital signage does not only help students. It can also be helpful for staff, from teachers to facilities employees.
Vacancies
You can use digital signage to display all currently open vacancies in fitting environments, such as the teacher's lunchroom. This way, they'll be much more alert of ongoing open positions and they might be able to help fill them by recruiting people from their own network.
Meetings
Every now and then, there are going to be meetings between teachers, faculties, and/or departments. You could display the details of these meetings (and additional Wayfinding) to make sure everybody is on time and in the right place.
Important notifications
And, of course, important notifications can be displayed on your narrowcasting installation. This can be schedule changes of course, but it can also be messages regarding the school's facilities.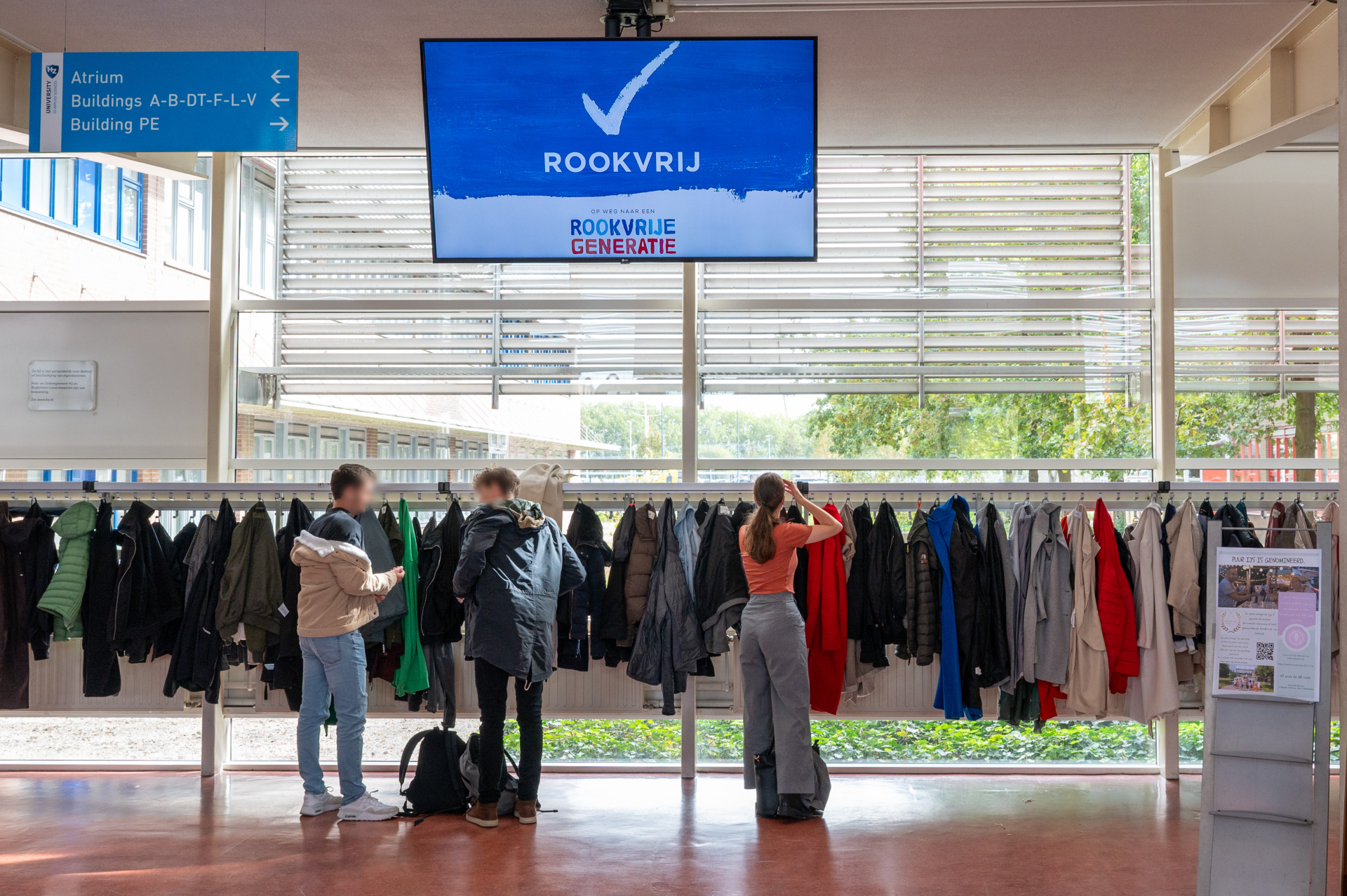 Success stories
We have already helped several customers in education who successfully make use of the GoBright Digital Signage solutions. Thanks to this experience, we have knowledge of the market and use our customer user experiences in our advice.
Incorporating digital signage screens into a school's communication strategy can greatly improve the flow of information, enhance engagement, and create a more dynamic and modern educational environment. However, it's essential to plan the deployment carefully, ensuring that the content is relevant, up-to-date, and well-maintained to maximise the benefits.
For Example, a Dutch company – De Variabele – uses GoBright Digital Signage Software to improve their internal communication. They share information with their employees at multiple locations. The decisive factor in choosing GoBright was the user-friendliness of the product.
Would you like to have some expert advice on how to implement Digital Signage into your school?
We are happy to help!