We are happy to announce that we have added the new feature 'Parking Booking' to our platform. You can book your car parking space together with your desk or room booking in the GoBright Portal, the Mobile App, and via Mapping.
---
Flexible, or hybrid, working requires flexible use of all areas in and around the office. Not just the meeting rooms, desks, or lockers. Organisations are rethinking their office design as well as the way the office is being used by the employees. Their main focus is how to optimise their use of space. And GoBright supports these organisations in their wishes.
Book Your Parking Space
Imagine this… Monday morning, it's your office day. You have booked your favorite workplace in advance, with a locker, and also a meeting room for that creative brainstorm, later in the day, with the marketing team. But, when you arrive at the office there is no parking space available. How annoying! That means having to park elsewhere and walk to the office, and probably running late. This is how you start your day stressed.
The solution… Parking Space booking by GoBright.
Simply book a parking space for a specific date / time, at the same time you reserve a workspace. Book it directly from the calendar, or the interactive floor plan in the Mobile App, or the Online Portal. Use the App to find your booked parking place as soon as you arrive and check-in. Type your license plate number in the text field and you are assured the space is reserved for you.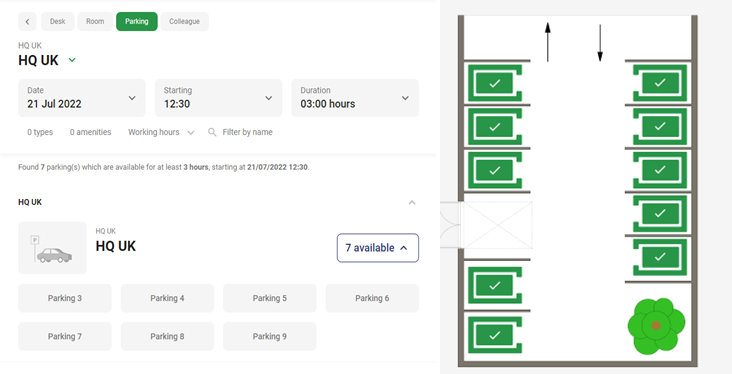 Various settings and authorisations can be set for each parking space within the GoBright platform. This will give the administrator flexibility on managing the parking spaces efficiently. This also makes it possible for the users to filter based on their wishes.
Car Parking will also be part of the Analytics section, so that you are able to analyse the usage of the parking areas.
New Menu Structure
With the Parking Booking release we also welcome a renewed menu structure of the GoBright Portal. This new menu structure provides a better overview for the users and in this way multiple types of bookings (rooms, desks and parking spots) can be displayed, under one and the same heading "Bookings".