At GoBright we see the Smart Office as a workplace where software and hardware are combined to make working in the office easier. And where data analytics are used to manage the workplace and to underpin strategic choices. Tools with which you can easily search and book your workplace, invite visitors, communicate with your employees, or find out where your favorite colleague is located.
---
Why work in a Smart Office?
People want to waste as little time as possible on unnecessary time-consuming things like searching for a workplace. But, when they do go to the office they want to be sure they have a suitable place to work. Smart Offices are created to offer employees the best working environment. Offices that are more energy efficient, more secure, and more comfortable. Companies that use Smart Technologies notice that their employees feel better about themselves, are more productive, and more engaged.
The upside of using Smart Office solutions for the employer are versatile. Thanks to smart software, useful data about occupancy rates and the way the office is being used by employees is gathered.
Where to start?
Every (big) change starts with creating a plan. Make sure key teams and employees understand the importance of the change. Vice versa, the interests and conditions of employees must also be included in new plans. Communication is key before looking at practical matters that are needed to set up a Smart Office. It is important that Smart Office technologies contribute and support the behavior and needs of everyone working in the office. In the ideal situation, any change leads to more flexibility, convenience, and efficiency. Once the principles have been mapped out internally, you are ready to design your Smart Office. How can we realise this? In this article we will walk you through some steps to take and introduce you to the GoBright solutions.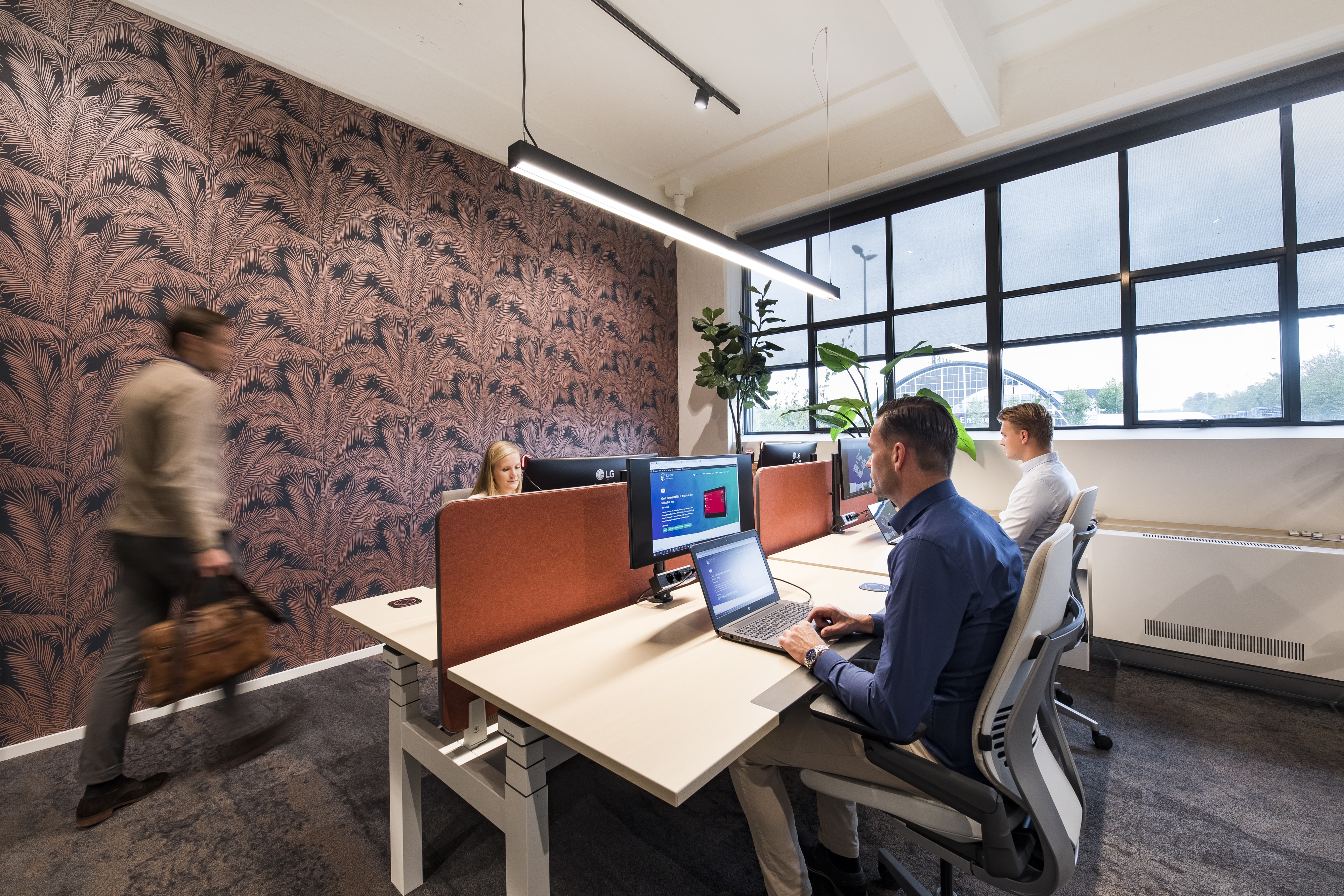 1. Optimal use of office space
Desk Booking
It is important to make efficient use out of your floorspace. A good way to start doing this is by integrating Desk Booking software. With GoBright Desk Booking , the office becomes a flexible workspace. With new working models such as Hybrid Working , hot desking, and desk sharing not all employees will be at the office at the same time. When employees do want to work or collaborate at the office, they can book their desk in the online portal or app. GoBright's mission is to create availability. The GoBright Desk Booking system ensures that employees always have a flexible, customisable, safe, and clean workplace available. The interactive map and features such as Team Booking and Find My Colleague make it fun and even easier to work in the Smart Office.
Room Booking
In addition to Desk Booking, Room Booking also ensures that you can use floorspace optimally. With Room Booking software, employees can have flexibility and control while remaining connected to each other. The GoBright Room Booking system allows employees to book a room in the online portal or mobile app and filter according to preferences such as: capacity, AV equipment and Catering & Services. Ad-hoc bookings can also be made with the GoBright Room Panel located outside of the meeting room. With the GoBright Room Control panel, employees can control AV equipment, lighting, and even alert the Facility Manager when issues arise.
Why should I measure occupancy?
Room and Desk Booking are both important tools for gaining insight into the occupancy rate at the office. Measuring the actual occupation is crucial when it comes to saving real estate costs, making the office more sustainable, and getting insight into employee behaviour and other relevant analytics. As a result, the office will be able to innovate and represent employee needs and company goals even better.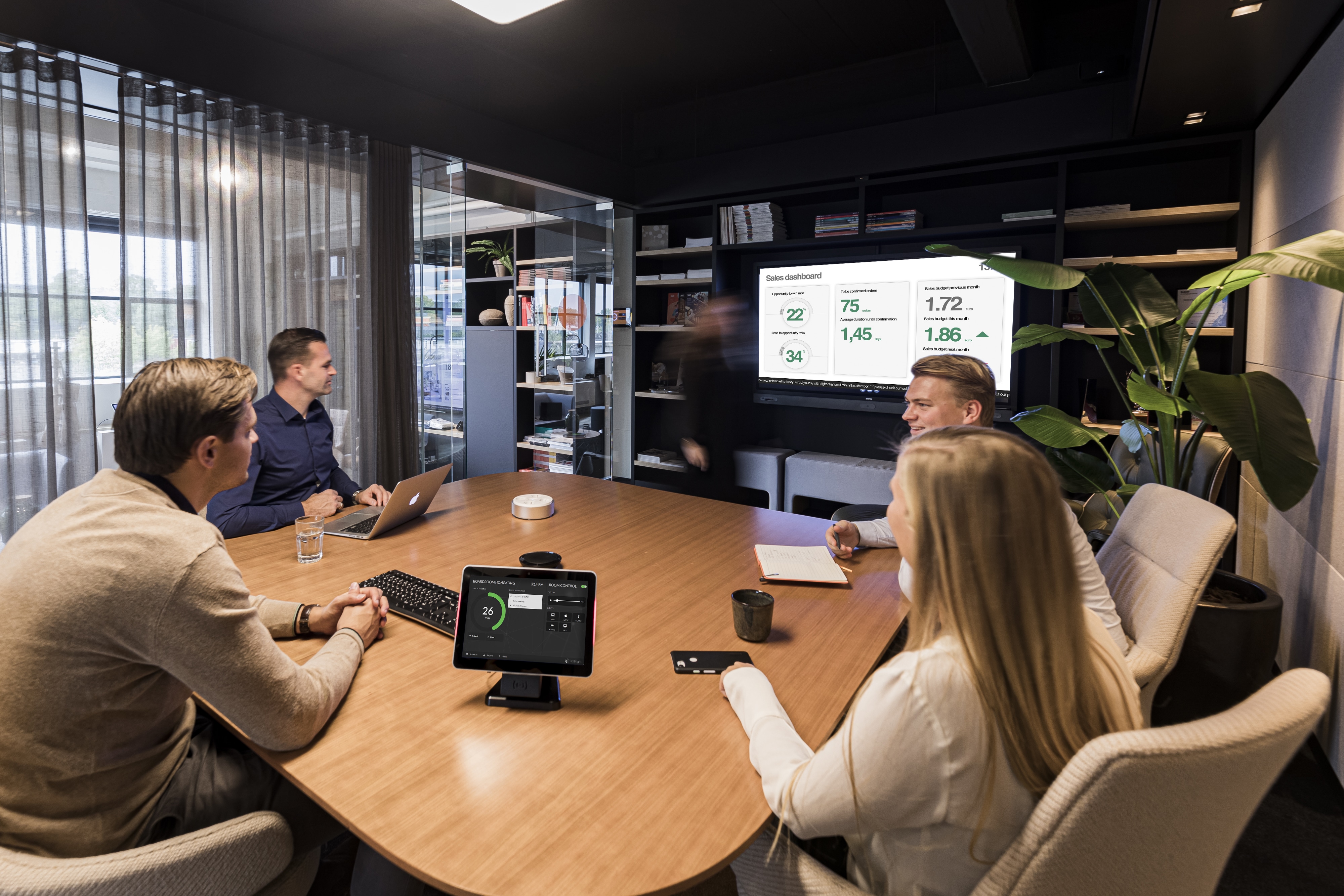 2. Analysing communication
Secondly, it is important to not only asses how you make use of your office space but also how communication is arranged across the office. In most organisations nowadays, there are quite some remote or hybrid workers. Here's how you can ensure communication won't become a challenge:
Using intelligent meeting rooms
The flexibility to determine where employees want to work and/or meet is very important nowadays. Some employees really like working at the office while others might be more productive elsewhere. By using Room Booking software and conferencing tools, employees stay connected. Employees who want to work together in the office can easily book a suitable space in the GoBright portal or app. Remote workers can simply join online, via Teams or other video conferencing tools, so every meeting runs smoothly.
Consider incorporating Digital Signage
We can imagine that within every organisation there is a lot of information that needs to be shared. How can you ensure that all relevant information ends up with the right groups? This is where digital signage comes in. GoBright's Digital Signage solution is an essential part of a modern communication strategy. The cloud-based solution can be used for general applications as well as specific data requirements (dashboards, sales figures, KPI's). Via the information screens, you can view live floorplans (mapping), see the availability of workplaces and generate routes to your next meeting (Wayfinding). GoBright Digital Signage makes information accessible for everyone.
What about the reception area? Here too, you are able to work with Smart Office solutions and optimise communication. Welcoming external visitors is just as important as employee experience in the Smart Office environment. GoBright Visitor Registration is a digital, intuitive, plug & play based solution for visitor registration. No more unnecessary and complicated paper work at the reception, visitors can check in and out themselves. Employees are notified when their visitor has arrived.
With GoBright you are using multiple solutions within the same platform. So, are you planning a meeting with GoBright Room Booking, you can invite and pre-register your visitors within the same tool.
3. IoT devices, software and hardware
The office environment becomes even more smart and intelligent with the right combination of hardware and software.
Why should I use sensors in the Smart Office?
The use of sensors makes data accurate, reliable, and measurable. This is an important aspect of the Smart Office. Sensors register every desk or room occupation and make this visible within the GoBright Portal. Even if the workplace is being used without a booking. On the other hand, when you leave your workplace earlier, without checking out, the sensor will detect that no movement is taking place and the desk will be freed up again for other colleagues. Sensors measure the occupancy with 100% certainty.
With these measurements you can make fact-based predictions for optimising or redesigning your workplace. Our software and applications provide these important insights within the GoBright Online Portal. Check how many desks and rooms are booked, get real-time insight into occupancy rates with Desk sensors and Room Sensors and check-ins via the GoBright Connect and Interact.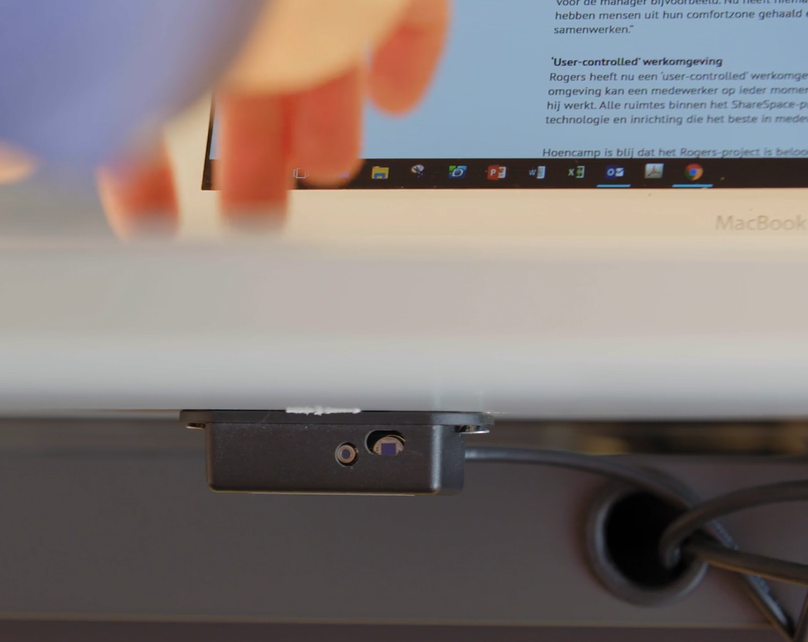 What else?
Aside from sensors, there are other types of hardware that contribute to the experience and efficiency of the Smart Office. With the GoBright Connect employees can check in and out at their desk using an NFC/RFID card or Mobile App. They can also pre-save their seating preferences and standing height. Led colours indicate the occupancy status. GoBright Glow also contributes to the indication of the occupancy status of the desk. GoBright Glow can be attached to your monitor or partition wall providing a visually clear overview of the occupation status of the Smart Office.
4. Analytics and Insight
Change has been announced internally, key employees have been informed and interests are taken into account –> Check.
The office is equipped with the GoBright tools –> Check.
So, how do you gain insight into our solutions? And how can you make the data work for you?
GoBright Workplace Analytics collects all relevant data and displays it on the GoBright dashboard. This way, you can easily gain insight into the occupancy rate, behaviour, and preferences of employees. Nowadays, data is an essential part of the Smart Office strategy. Insight into data ensures that you are able to make better choices when it comes to office design, functionality, and strategy. By understanding and implementing these insights you can create new ways of working. Data is the key to innovation in the Smart Office environment.
We have launched an API suitable to extract analysis data from the GoBright Platform. This way you can combine the GoBright data with other data within your preferred analysis tool, to do more in-depth analyses and have a complete dashboard. You can for example gain insights into historical data or provide more information about real time occupancy.
All data is collected and stored securely. We consider the protection of data a very serious matter. For this reason, GoBright is ISO 9001 and ISO 27001 certified.