Article
General
The ROI of a Smart Workplace
After the Covid-19 pandemic, the face of the office has changed drastically. People got used to working from home and the working environment became much more accessible towards remote working. This resulted in a widespread preference for hybrid working among the majority of employees: this went so far that almost half of all employees would likely look for another job if their employer does not offer a hybrid work model, according to several studies.
The workforce grows, offices have barely changed, and employees don't have a set schedule on when they work from home or at the office. The result? A workplace that is rarely used on some days and overcrowded on others. This is a problem that many modern organisations are tackling with Smart Workplace technology, such as room booking and desk booking systems, as these can help manage the office's occupancy. However, it can be costly to implement these in the office, which is why you are probably wondering about the return of investment.
Well, we can guarantee you it's worth the investment.
---
Saving costs with occupancy measurement
Occupancy measurement is the practice of monitoring how an office or workplace is being used. It will give you insights into the needs of your employees: Are all desks and meeting rooms being used, and if not, which are more popular than others? Knowing this, you can make data-driven decisions in redesigning your office to fit modern needs and save money in doing so. Local governments in the United Kingdom, for example, are estimated to be able to save £7 billion annually by better space utilisation, according to APSE. That is over €8 billion per year!
Crunching numbers
The benefits and the opportunities for saving on expenses using Smart Workplace technology are clear. But what are the numbers? We did the math.
It is an undeniable fact that flexible working is the new standard. This means that a large number of employees will not be at the office on a daily basis, leading to unused office space. According to research by Savills, global professional on real estate services, Europe's average office occupancy rate was 43%. In other words, 57% of floorspace that is rented by businesses throughout Europe is not being used. Conclusion: on average, companies are spending twice as much on real estate than necessary.

If you want to know the exact numbers for your office, here's what you do. It all starts with occupancy measuring: find out how many desks and meeting rooms are actually being used in your office.
Once you know this, calculate how much floorspace these facilities need. The norm for a suitable workspace for an employee is determined based on the facilities the employee needs in their day-to-day tasks. However, according to NEN 1824 (the Dutch norms on ergonomic requirements for the surface of workstations in administrative areas and offices), an average workspace takes up at least 8 square metres to provide the employee with a suitable workstation, including circulation space. For meeting rooms, count on 2 square meters per participant.
When you have established the number of square meters you need in total (don't forget space for aisles, relax areas, printers, lockers, and other facilities), you can multiply it by the amount of rent you pay per square meter. Subtract this from your current expenses and that's the amount of money you're saving by using Smart Workplace Technology.
In practice
Pre-Covid it was the norm to have one desk per two employees (1:2). Some companies even handled a 1:1 ratio. However, internal research at GoBright has now shown that the same desk can be used to facilitate up to 4 employees (1:4) (GoBright, 2023).
In this example, Company A has 500 employees. According to Colliers, European companies pay on average €9,122,- per work station.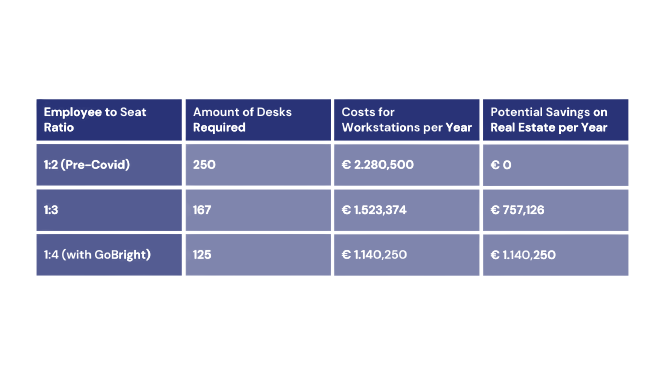 The example calculations above show what you can save annually, using occupancy management with GoBright's solutions. The idea is that you get rid of the surplus on workspace and unnecessary utility costs. Of course, we understand that companies are usually stuck with a lease contract. Instead of ignoring the cleared-up space, you could potentially rent it out for the time being.
Of course, every organisation is unique and every situation is different. Costs and savings will differ per organisation and depend on several factors; location (country / city), type of office space, number of employees, full-time / part-time ratio, degree of flexibility in hybrid working, etc.
Our advisors are happy to help you to discuss all possible scenarios for your organisation.
Sustainability
Besides the main objective of saving annual costs, cutting down on floor space may also be beneficial to your company's sustainability goals. According to the Paris Agreements, the European Union aims to be carbon-neutral by 2050, including office buildings (European Commission, n.d.). To reach this goal, you must now gradually start making changes to your building. It is better to optimise your office now and limit investments into green alternatives, than to overspend on sustainable solutions for parts of the building you won't even use.