Article
Meet
Add a Microsoft Teams Link to Your Room Booking
At GoBright we create Room Booking software for relaxed and worry-free meeting. Whether you work at the office or at home, meetings, consultations, or brainstorming sessions always remain an important aspect for good communication and collaboration. Some meeting members are likely to participate online, from other locations. This means you need tools to support both. Booking a meeting room therefore requires a more flexible approach and is not only limited to just booking the physical room. That is why it is possible to add a MS Teams Link to every room booking made in the GoBright Portal or on the Room Panel itself. Whether it is the Online web portal, the GoBright Mobile App, or the Portal used within Microsoft Teams.
---
Adding a Microsoft Teams Link in the Portal
Adding the Teams link can be set as an automatic addition to every booking. When filling in the names and email addresses of the participants, the subject of the meeting or other details, you can switch the Teams button on/off. The recipients see this Microsoft Teams link directly in the Outlook invitation. Thanks to the circular integration between GoBright, MS Teams, and MS Outlook, the Teams link has been implemented on all levels.
This also means that spontaneous bookings made via the Room Panel automatically add a Teams Link to the meeting. When using Microsoft Teams Rooms ("MTR") via a MTR panel, such as Yealink or Logitech, inside the room, you can use this Teams link to start the online meeting via those screens. Or you can add extra online participants to the meeting via the MTR Panel. This feature builds bridges between the GoBright Room Booking system with MTR. So much so that many customers experience it as a super valuable addition.
The goal is to bring everyone together at the same place, at the same time. And to make planning and executing your meeting even easier.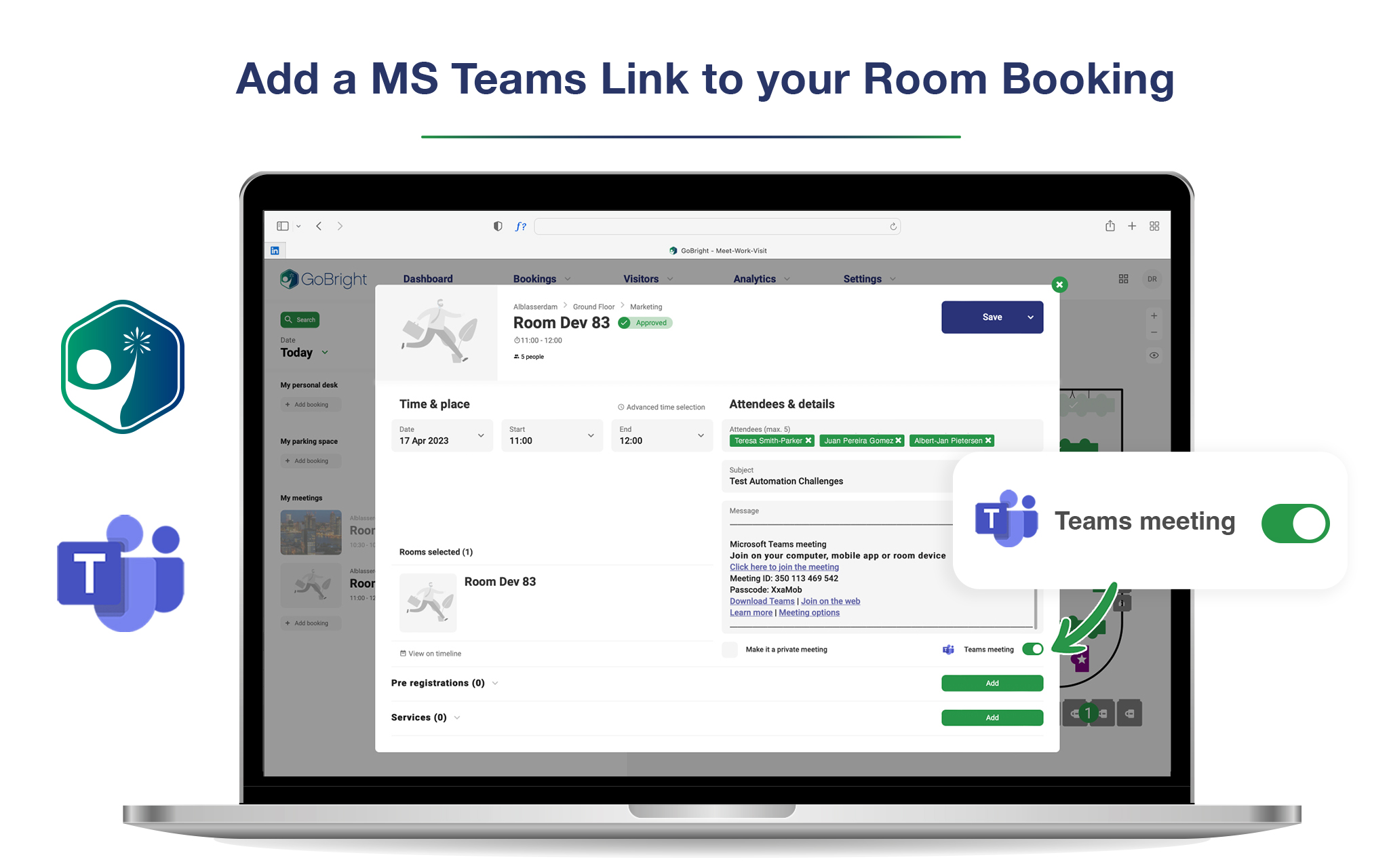 Smart Integrations
To support Hybrid Working environments, GoBright is continuously improving the user-experience of its platform with smart integrations and collaborations. Microsoft Teams is one of the largest online platforms for working together efficiently and effectively, so it is only logical that we joined forces in our platform.