Article
General
Effective collaboration in a Flexible Workplace: Tips and Strategies
Collaborating with your co-workers in a flexible workplace can be a challenge. Everybody works in different places, at different times, maybe even in different time zones. It can be difficult to meet up with your colleagues and to stay updated on all new changes. This is why, especially in a flexible workplace, collaboration requires good and effective communication. There are a few things you can do to stimulate this in a flexible office.
---
Help employees connect
First and foremost, it is important that your employees connect. People are way more likely to step in and communicate with the people they already know, rather than the people they have never spoken to. Embrace connections between people, even though they are not always work-related. This will eventually lead to a closer and stronger team of people.
You can support your team in making this connection by hosting dedicated monthly or weekly meetings to connect and have a talk with the people they don't work with daily. These meetings can also be used to have employees tell other teams what they have been working on and what they would like to achieve. You can host these meetings online, but also in person. If you make use of a room booking system, you can easily book a meeting room and invite your employees to join. Even if they won't be in the office on that specific day, they will be able to join via your video conferencing tool. With each booking, you can directly add a Microsoft Teams link.
Besides dedicated meetings, employees can also be supported in creating bonds by providing them with purpose-built social spaces. Many offices are already experimenting with spaces that look like living rooms at the office. These spaces encourage employees to sit down, relax, and have open conversations, while the desk is used for professional communication.
Another way in which you can create bonds within the team is by hosting non-work-related activities. These could be get-togethers in the office during work hours, in which you dedicate some time to personal bonding. But it could also be outside of office hours, maybe even on the weekend, where you and your team could do a fun activity.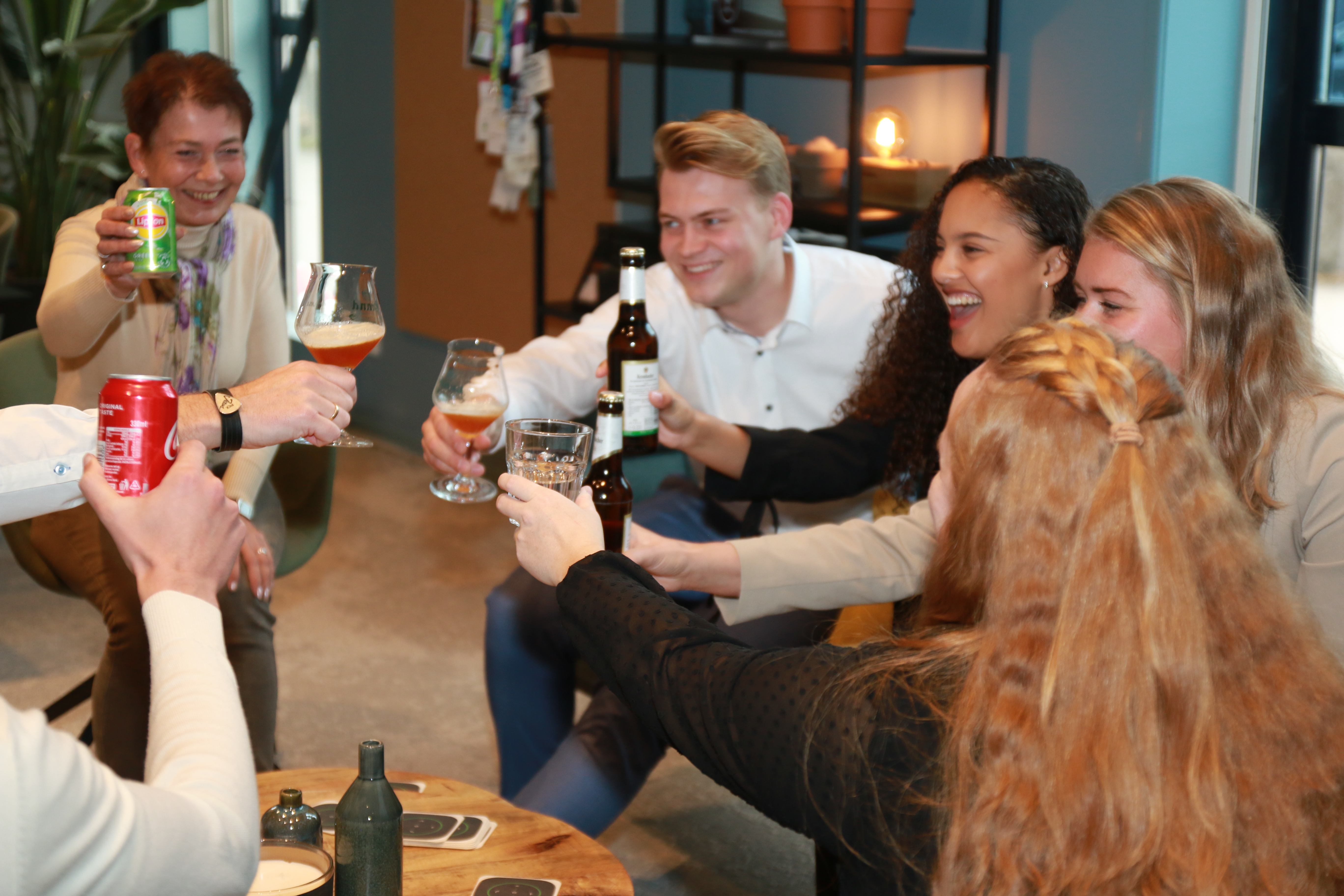 Document everything
In a flexible workplace, people work at different times and from different places. It is inevitable that your employees will communicate less. Make sure nobody misses anything important by documenting everything that has been done. You can ask your employees to document any updates in shared tools, such as Microsoft Teams or other collaborating tools. This will keep all resources and project history in a clear overview in one place, preventing delays or missed deadlines due to poor communication. It might sound like a lot of work, but documenting updates will eventually speed up your employees' productivity as nobody needs to wait on updates anymore.
Use the right communication tools
A useful tool for communication at the office is digital signage. These are screens that are placed throughout the building that can show all sorts of communication, such as news messages, internal information, and images. Several screens can show information at the same time in different places of the building so that everybody can stay in the know, wherever they are at the company. However, digital signage is only useful for the people that work at the office. People working from any other location will not see these messages.
This is why it is equally important to use a suitable communication tool, to include all employees in the company's developments. One of the most used programs in offices around the world is Microsoft Teams. This tool is not only being used for videoconferencing, but also provides space for your employees to save and edit files, and chat with each other. For e-mails, most use Microsoft Outlook. Both programs can also be used to schedule meetings with your colleagues when only a chat message just doesn't cut it.
In combination with GoBright's Outlook Plug-in and the Teams Integration, people can now also use these programs to book physical meeting rooms. When you make use of GoBright's Room and Desk Booking solutions, you can manage meetings, book rooms, and reserve desks all within your Microsoft Teams environment. It is even possible to include a Microsoft Teams link to your booking. Soon, we're also adding a Google Workspace plug-in.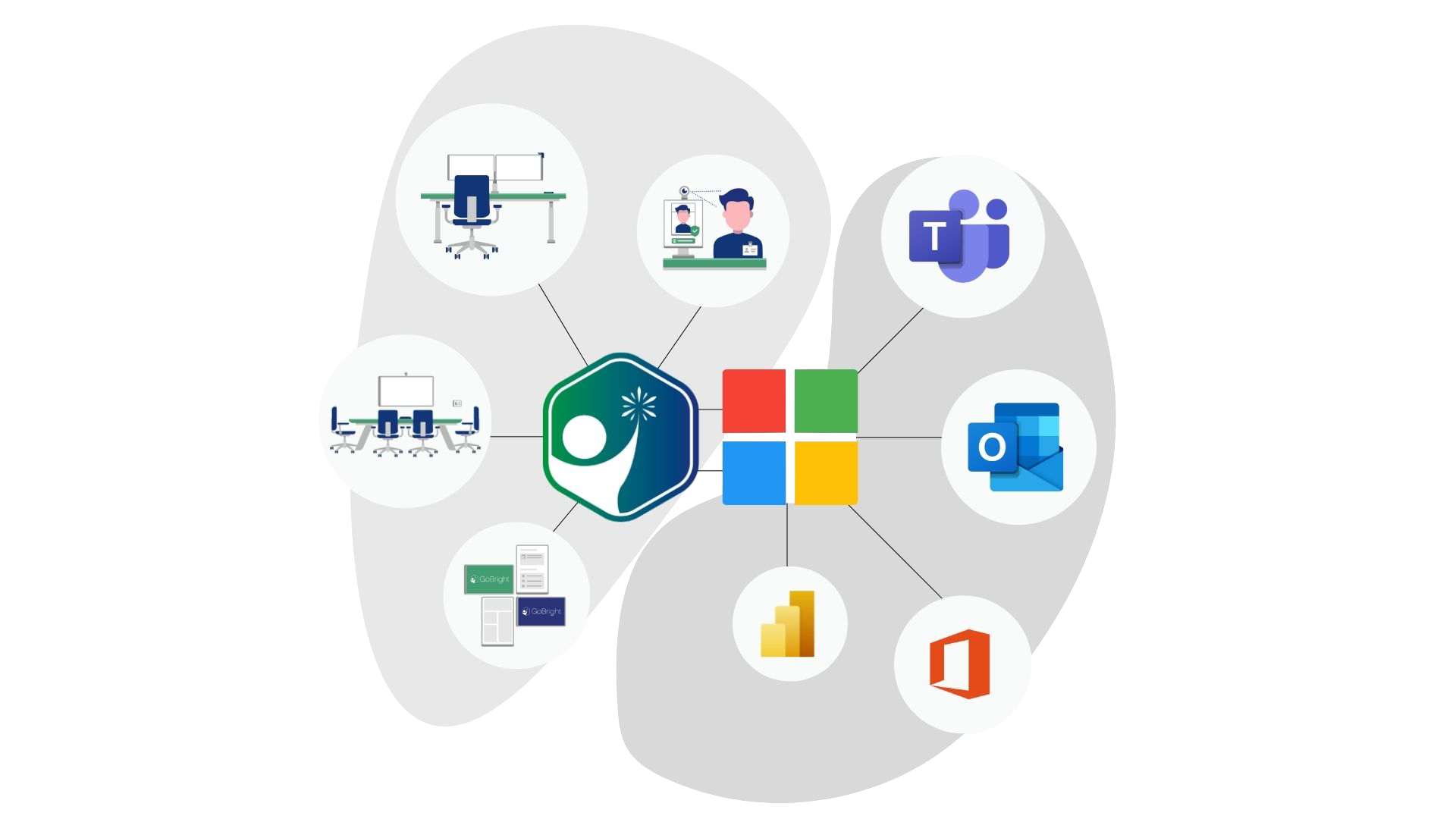 Plan your workweek
Of course, you can schedule a meeting and figure out then and there who is physically present and who will join remotely. However, it would be ideal to know this information in advance, so you can keep it into account while scheduling. Sometimes it just works better to see everybody in person. Luckily, GoBright has a solution coming up: the Week Planner feature. This new feature in our platform will show you exactly who will work from where and at what times. This way, you'll always have a complete overview of available colleagues. Of course, it won't be necessary to fill out your schedule's details each week. It's sufficient to fill it in once, and the platform will copy it to every week. Then, if needed, you can make the changes as you go. Additionally, you'll be able to contact your colleagues directly from the Week Planner, and even create meetings with them.
In the end, each tool has its advantages and disadvantages. Whatever tool you decide on using, it is most important that it suits your organisation's needs. Discuss the options with your employees, make them aware of the pros and cons, and take their opinions into serious consideration. After all, they'll be the people working with them.
Autonomy and trust
When implementing a flexible office, it is important to have a two-way trust between employer and employee. On the one hand, the employer must grant the employee trust that they will finish their tasks on time. This will, on the other hand, make employees generally more lenient in adjusting their working hours according to the company's needs.
This can be realised by letting employees plan their own days. Trust that their tasks will be done when they must, but don't let them get lost. Employers can help their employees without causing a sense of distrust, by taking up a supporting role. Make sure your employees have the right tools to work with, have a clear sense of deadlines, and finally, have an example to look up to. The most important thing an employer can do is set an example for the expectations at the office.