---
The use of digital signage contributes to improving internal communication. Especially in Hybrid Offices, where flexibility is the norm. If you share information in the right way, colleagues feel more involved and informed. And that in return results in satisfied employees, who are more productive and less likely to leave the organisation.
Throughout the day, employees require different kinds of information. The sales team wants to know whether they reached their targets yet, while visitors want to learn more about the company, its people, and products. Students need to be informed of changes to their schedules while employees want to know which floor has enough available desks to work at. All this information can be provided with the web-based narrowcasting solution GoBright Digital Signage. How can GoBright's digital signage solution help you with your communication goals?
Sales
Communicating via Digital Signage can be used as a motivator for sales teams. Celebrate achievements and give them visual recognition. This has so much more impact than a simple email to all colleagues. Give employees the recognition they deserve and motivate them to do their best job. Keep a company dashboard to help everyone keep track of the sales targets. Show the latest trends of the industry to stay up to date about what is going on in the field.
Marketing
In the last decade it has become more difficult for marketing teams to grab the attention of the target audience. The attention span of people in general has become much shorter than before. Digital Signage captures 400% more views than traditional signage. It also makes waiting times feel shorter and helps push sales for specific products. Show visually appealing videos of the organisation or products. Guide your target audience through the customer journey and give them with the information they want. GoBright Digital Signage provides an easy-to-use platform to help marketing teams communicate their marketing messages.
Internal communication
It can be a big challenge for internal communication teams to provide every section of the organisation with the information that is needed. Big international companies have employees located all over the world. A sales team in New York and a marketing team in Amsterdam need the same company information. Keep everyone throughout the world up to date about the company's mission and vision with digital signage. Our web based platform helps internal communication teams sending information quickly all over the world. Show the information you want to every colleague at any time, any where with GoBright Digital Signage.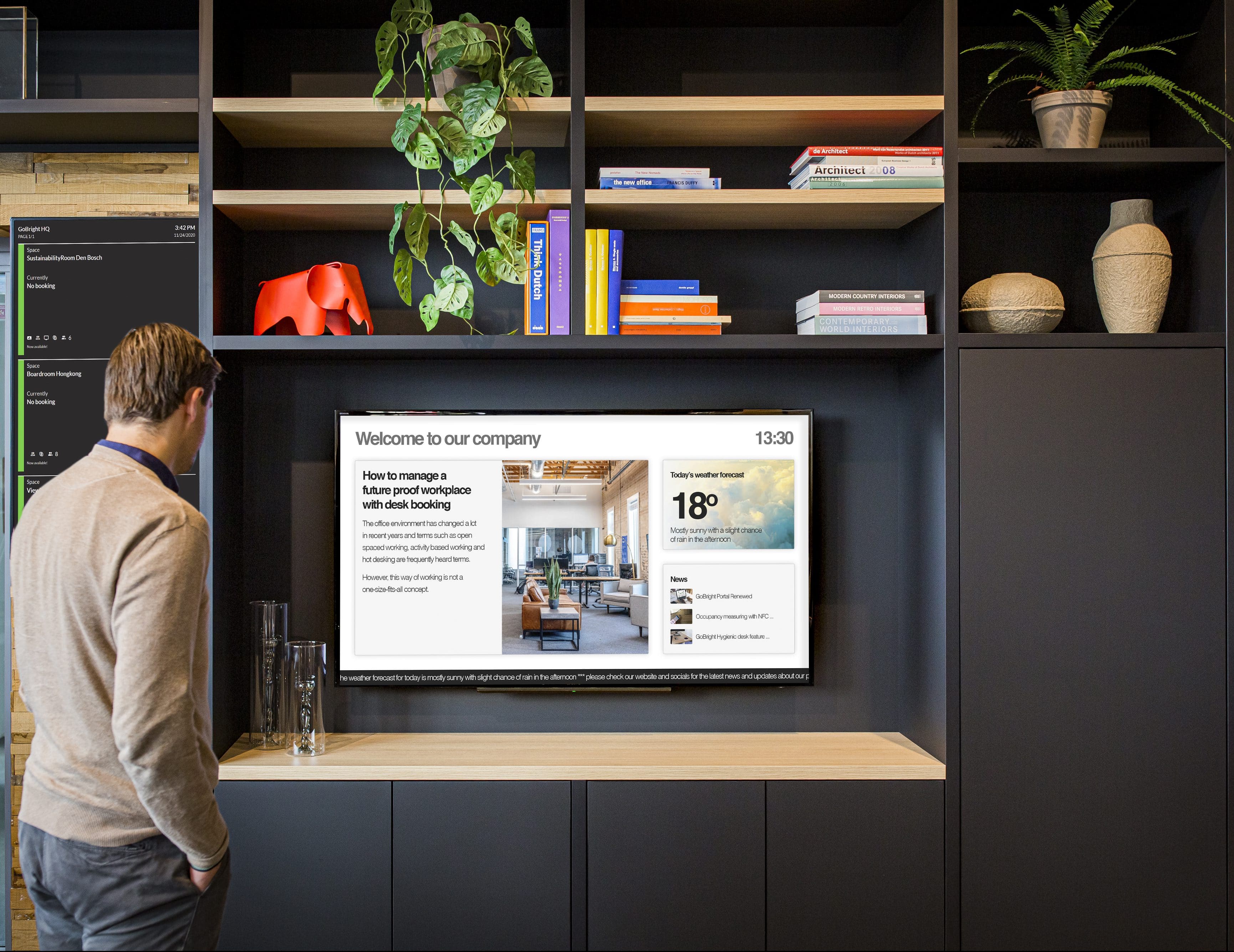 Students
Digital Signage can be a fantastic tool for schools and colleges to show students the latest changes in their schedules. With the GoBright Digital Signage widgets you can automatically show changes in schedules to all teachers and students. No more struggles to list all the changes for every class. Keep your students up to date about the latest COVID-19 measures. Show school rules on the digital signage screens and communicate about other school activities and projects.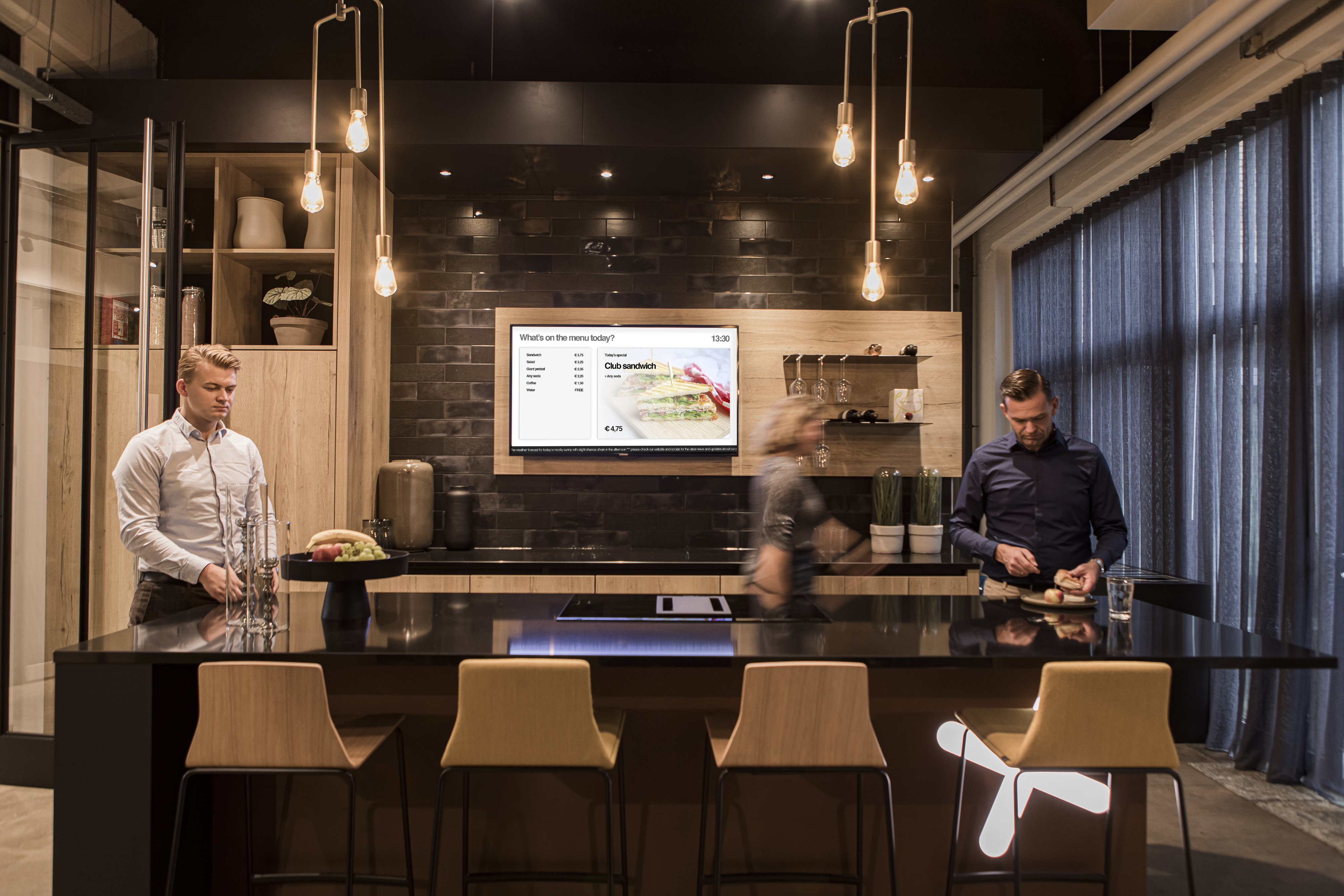 Visitors or guests
GoBright Digital Signage provides an easy way to help guests find their way. With Wayfinding, you can create simple paths to every meeting room of your organisation. No more time wasted with helplessly trying to find the right meeting room.
GoBright Digital Signage
With the benefits GoBright Digital Signage offers,  the internal communication within your organisation can be taken to the next level. GoBright Digital Signage is the #1 user friendly Digital Signage solution and part of a much broader platform. Connect your business to the world and communicate with every location at any time.