Organisations have many employees, who need different information throughout the day. It is a big challenge for companies to communicate the right information, to the right people, at the right moment. Digital Signage can help with optimising internal communication. Show outstanding content like a dynamic video or newsfeeds that can be quickly absorbed by employees as they go about their day.
---
Internal Communication
Every employee within your organisation needs information. Whether it be work schedules, company news, KPI'S or the actual traffic information, colleagues want to know what is going on inside and outside the company. Often, different departments need different information. For instance, the sales department wants to see the monthly revenue, while the marketing department wants their newest video to be shown on the screens. Communicating with your employees is vital for a successful organisation.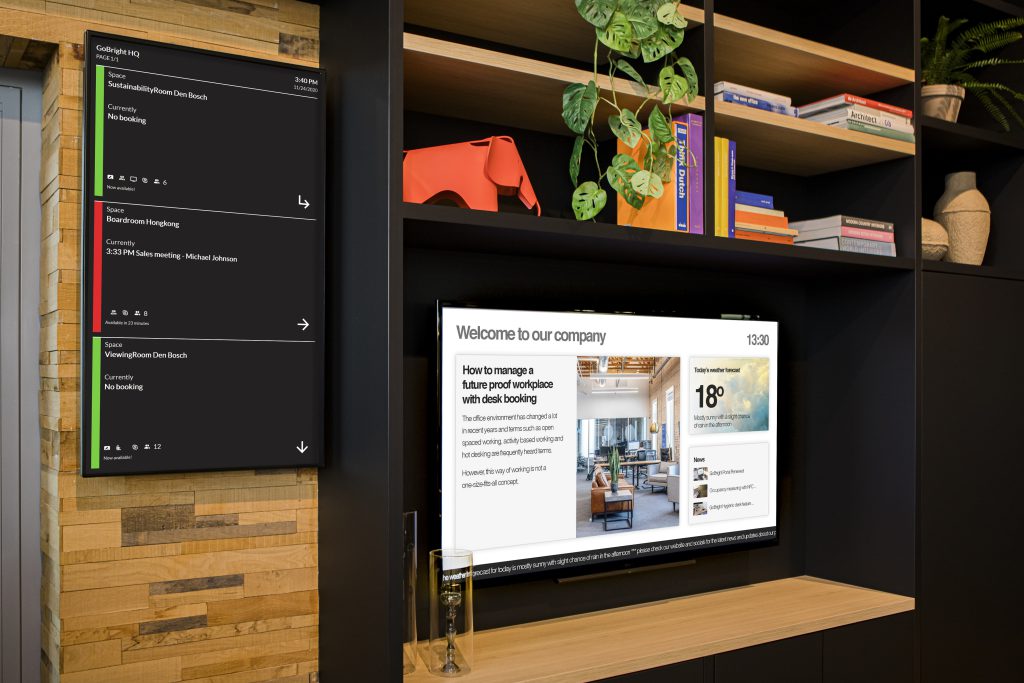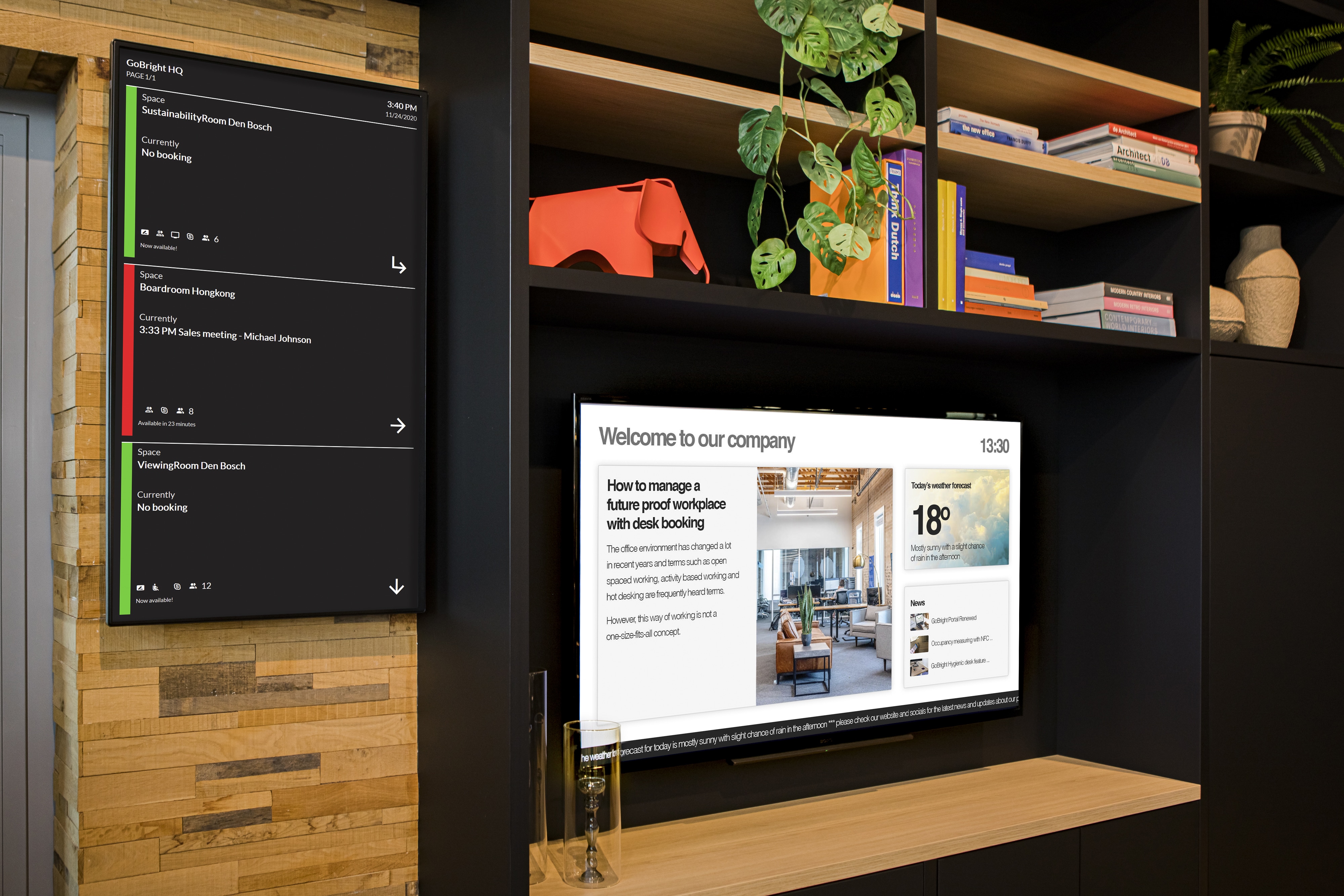 Increase Productivity
Digital Signage can be used in many ways. Celebrate successes with colleagues by showing them videos and photos of the great moments you spent together. Welcome visitors with your corporate video. Successful internal communication can lead to more productivity. Most companies are considering adopting digital signage or increasing the use of their digital signage.
Digital Signage can be an easy motivator for your team. Celebrate achievements and give them visual recognition. This has so much more impact than a simple email to all colleagues. Give your employees the recognition they deserve and motivate them to do their best job.
It can be a big challenge for internal communication teams to provide every section of the organisation with the information that is needed. Big international companies have employees located all over the world. A sales team in New York and a marketing team in Amsterdam need the same company information. Keep everyone throughout the world up to date about the company's mission and vision with digital signage. Our web-based platform helps sending information quickly all over the world. Show the information you want to every colleague at any time, any where with GoBright Digital Signage.
GoBright Digital Signage (View)
GoBright Digital Signage is the #1 user friendly Digital Signage solution and can lift your internal communication to a higher level. Create great content within seconds for the different departments.  Provide your employees with the information they need and motivate them by showing the successes of your company. Use standard or custom widgets, create playlists, and manage the display locations. Show work schedules, KPI's, videos, images, weather, traffic information and much more.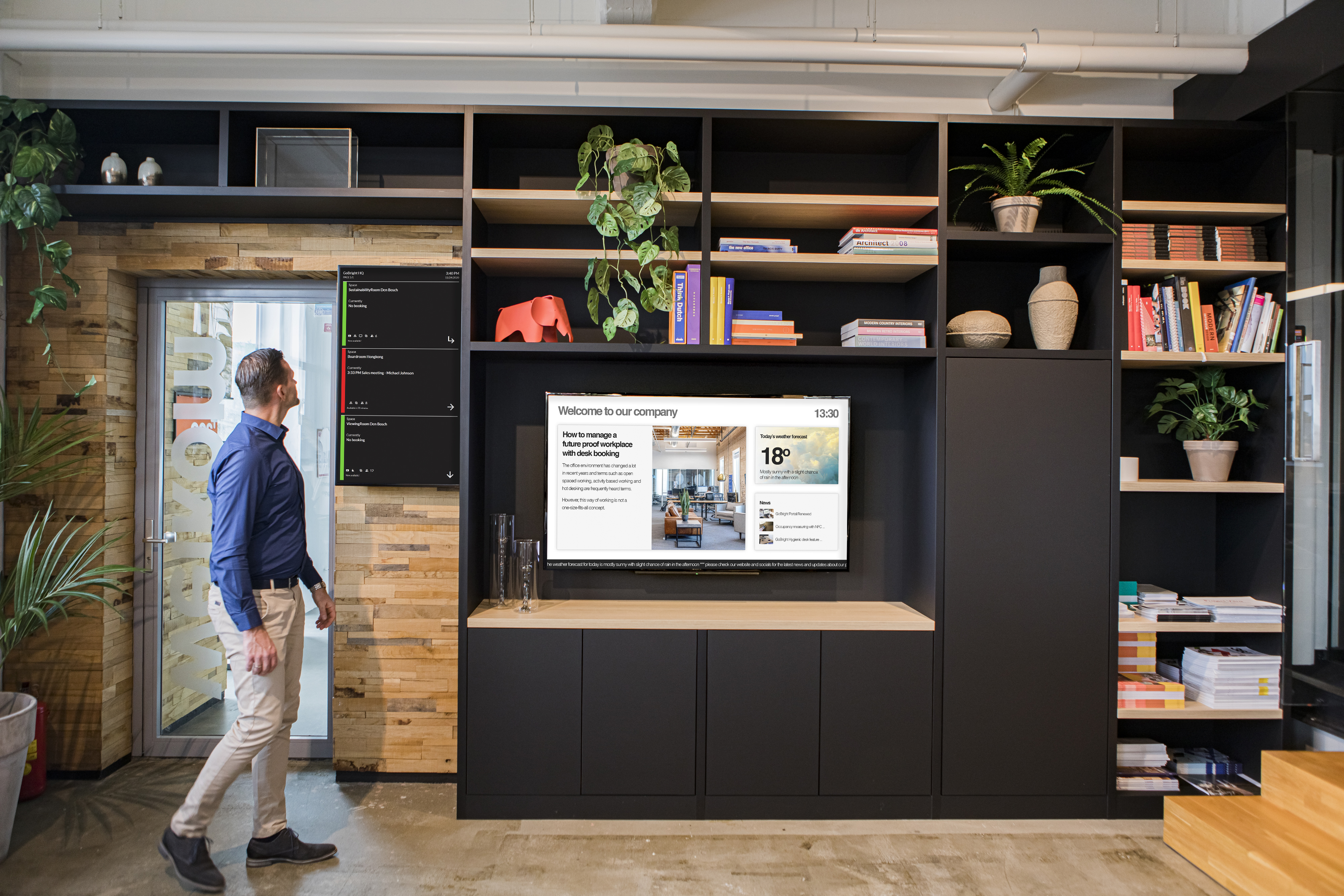 GoBright's Platform
GoBright View is the latest addition to our smart office solutions. The GoBright platform can be used for Room, Desk, and Visitor Management but also for Digital Signage. This makes GoBright the most complete platform on the market. Show the information you extract from Room and Desk Booking on the Digital Signage screens. With this information you can welcome your customers in a professional way or show the occupation status on each floor, to inform your employees about the available workplaces and meeting rooms.