Effective internal communication is a big challenge for many organisations. How can you show information to a specific target group, in the right place, at the right time? Using the best software is an essential part but having a good communication plan is just as important. For what reasons do you want to use internal communication and for whom? Which content do you want to display? How often is the most efficient? Who is allowed to place the content? How is the corporate identity monitored? These are some questions organisations struggle with.
---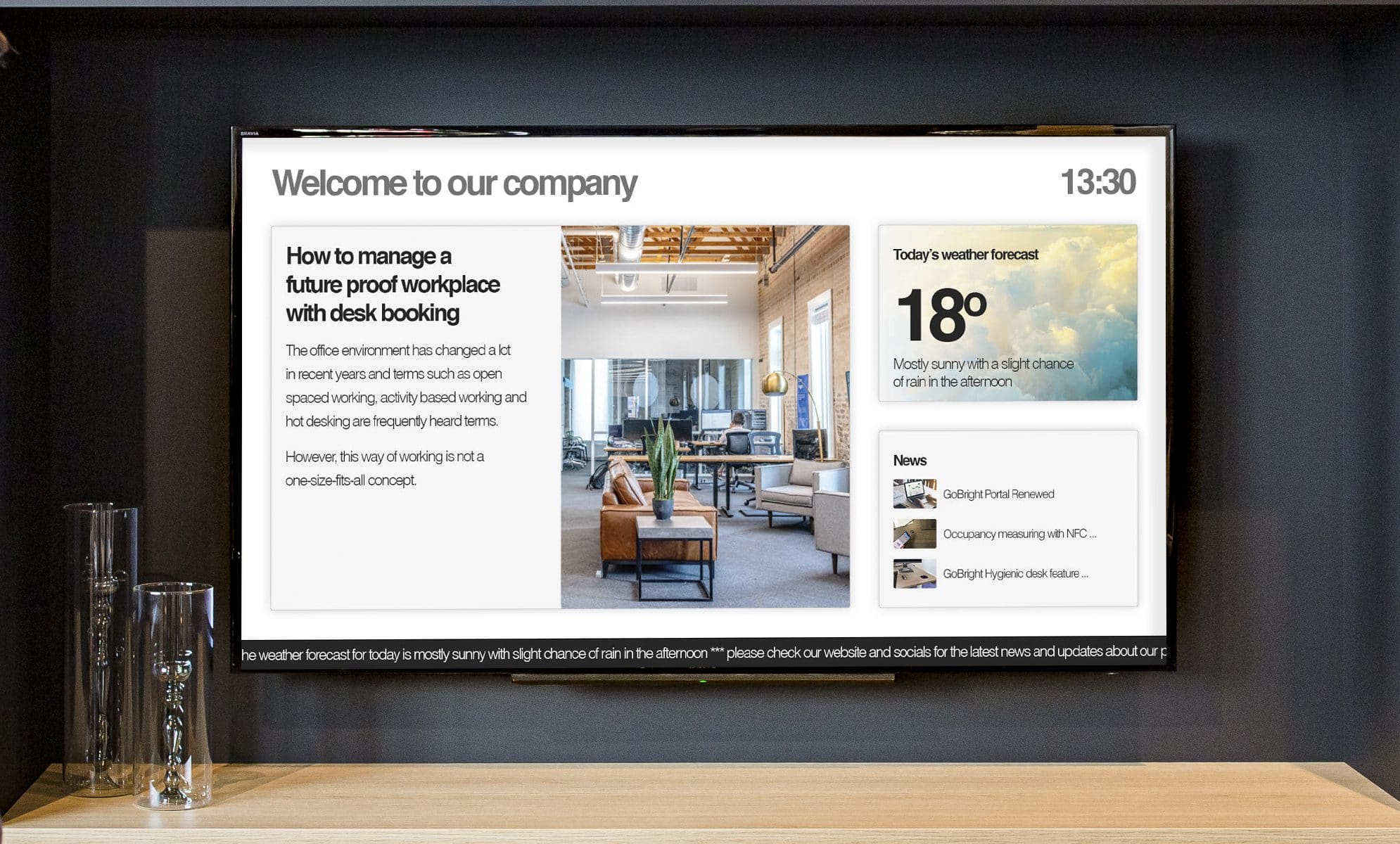 GoBright Digital Signage
GoBright offers the most user-friendly solution to these questions: GoBright Digital Signage. With our web-based Digital Signage platform, internal communication teams won't struggle with their communication through the whole building. Which contributes to a positive employee experience. Create visually appealing content for all departments to match their information needs. Plan playlists for certain periods of a day to show your content in the right place at the right time.
With GoBright Digital Signage, you can show any information you want, at anytime, anywhere in your organisation. Content creation is super easy. Design your own templates using the corporate branding, colours, fonts, and tone of voice and use them as a basis for different slides. You can compare these templates and slides with a slide in Microsoft Powerpoint. For instance, create a template with a video on one side and an announcement on the other side.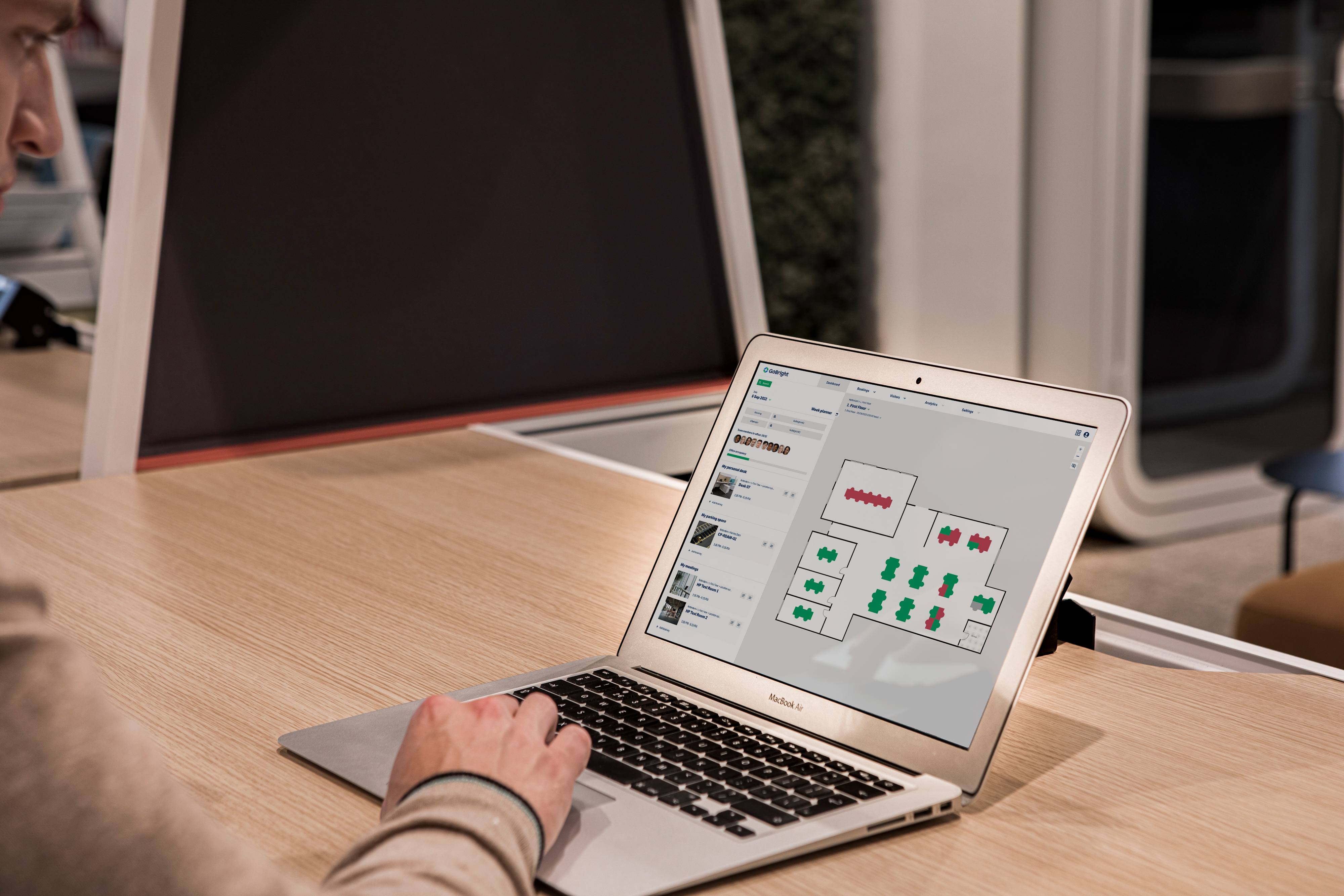 User-friendly
GoBright Digital Signage allows you to make and change content with some simple clicks. Choose which screens are showing the content you just made with the selection button. Upload your images and videos in the online content library and select them to create full screen content on your screens.
GoBright's Digital Signage solution is designed to be user-friendly, so no special training is required. Creating playlists and content has never been easier.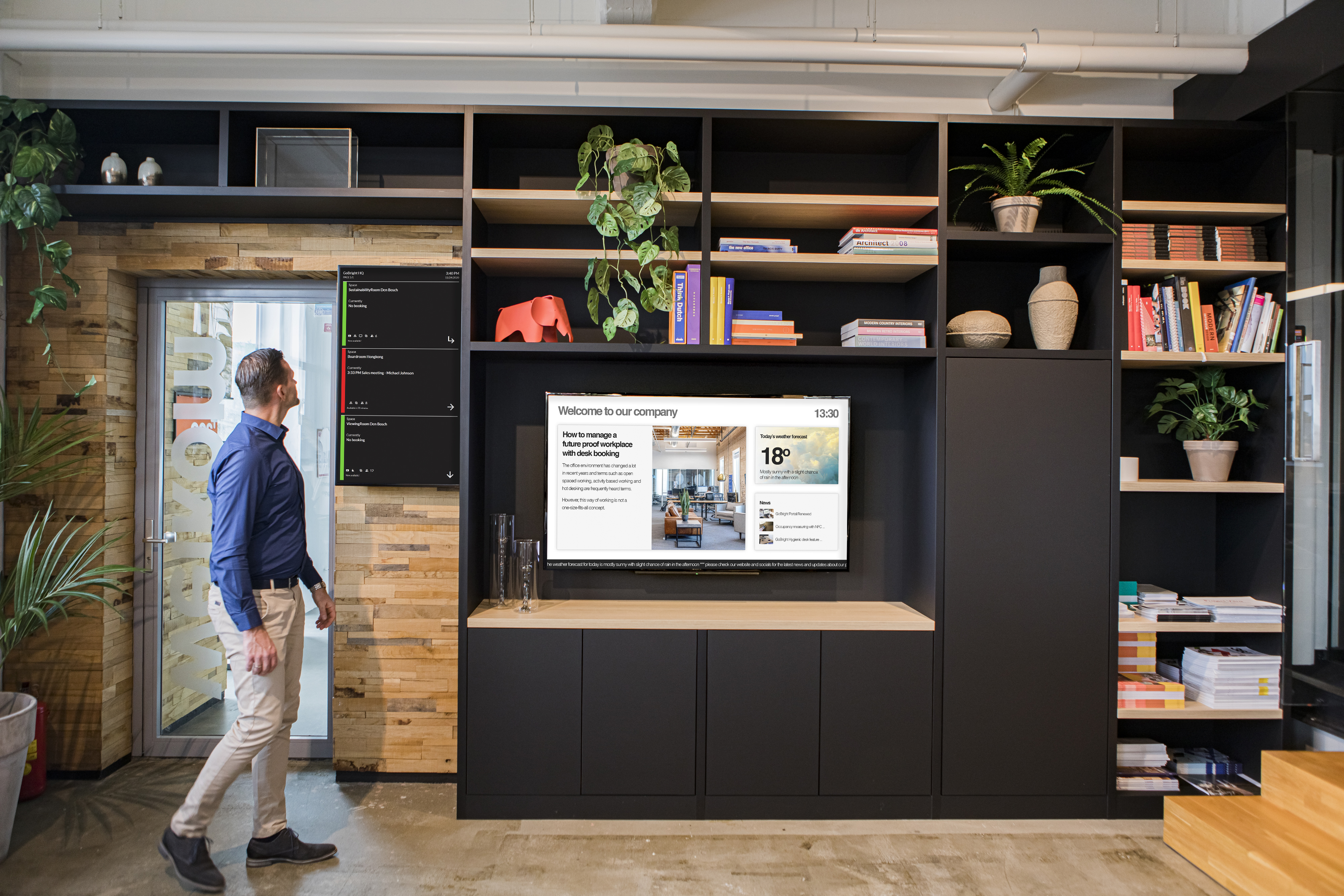 Specific content
Create specific content for every target group within your organisation via the standard or custom widgets. The IT team for example needs other information than the Sales team. Welcome visitors with a corporate video, while providing employees with the latest corporate news.
With 'custom widgets' you can create 'customer specific' content. These widgets are programmed and often linked to the companies own IT systems. GoBright can integrate with various systems, such as SharePoint, Power BI and other planning tools. For example let students know what the latest updates are for their school schedules or show KPI's to the sales department to motivate them for their next deal.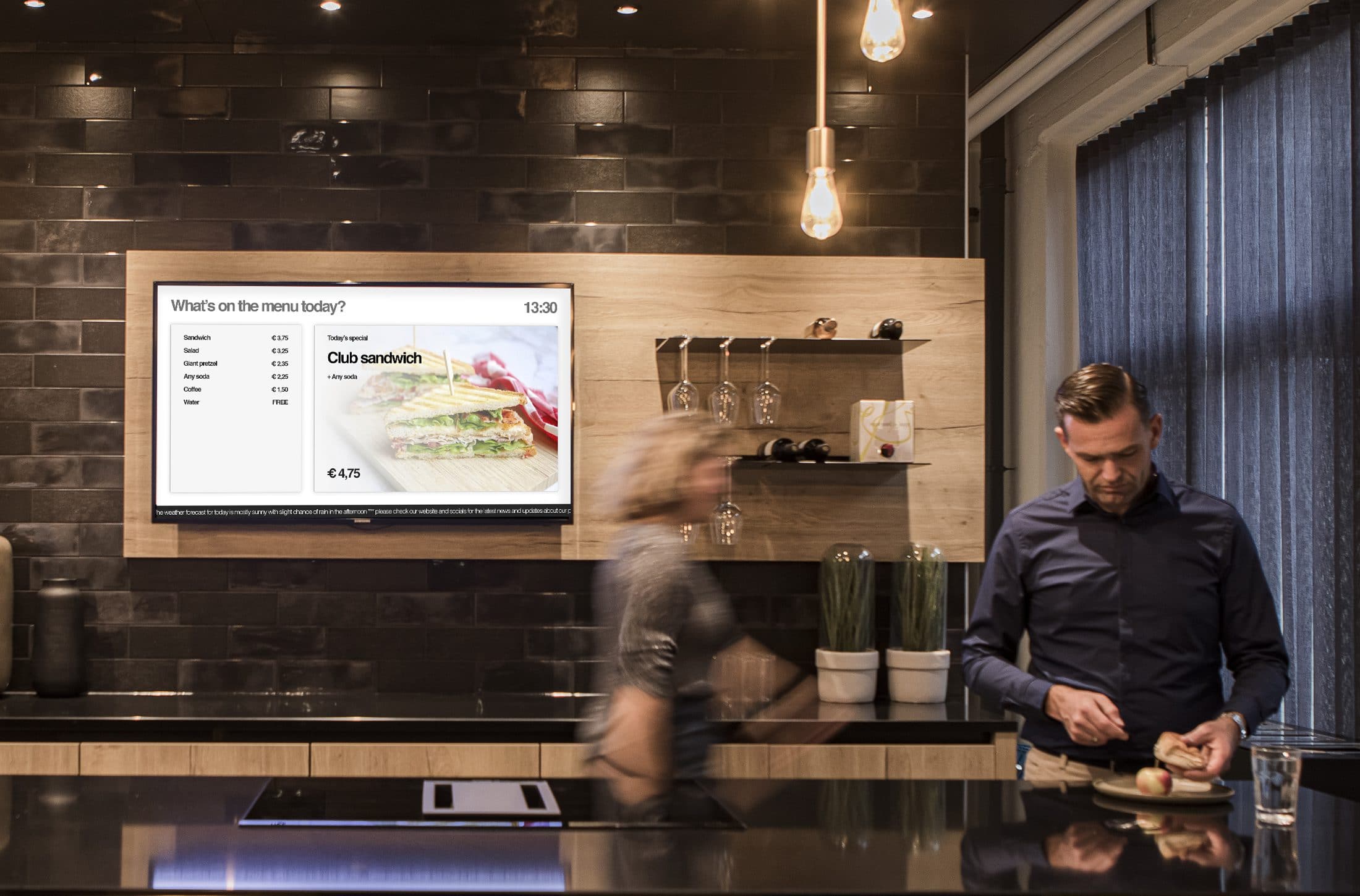 Most complete platform
GoBright Digital Signage is part of the GoBright platform which is used for Room Booking, Desk Booking, and Visitor Management. The addition of Digital Signage makes GoBright the most complete software solution in the world. Users work from one and the same web portal, mastering only one software package. This enhances the ease of use and the effectiveness enormously. As a result, the software will be used more often.
Extract historic occupancy data from the platform and provide employees with this important information. Welcome your visitors and show them a way through the building with Wayfinding. Show the occupancy status of meeting rooms and workplaces on an interactive Map to prevent an endless search for an available spot.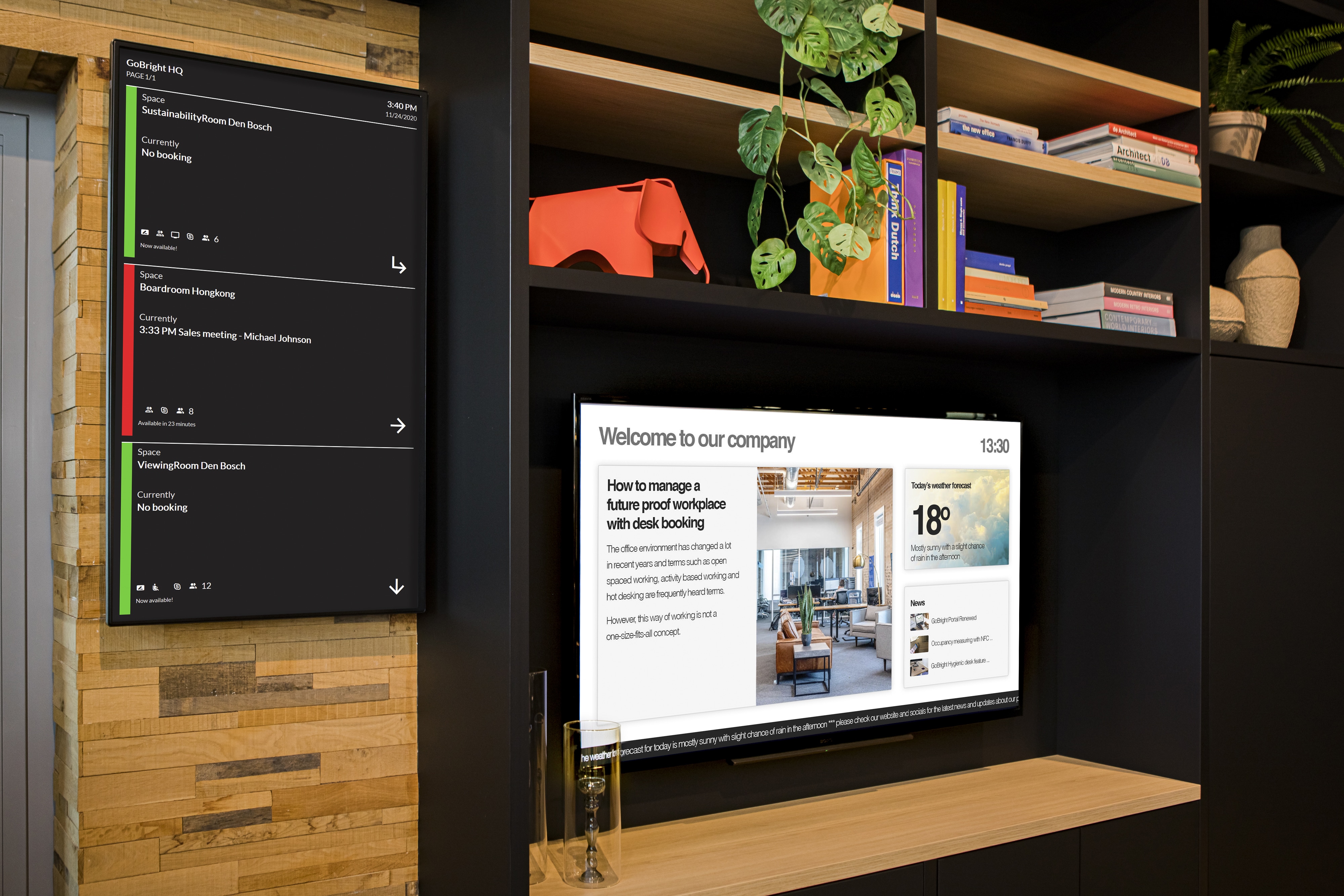 GoBright Digital Signage makes internal communication easy, clear, and useful.
A true addition to every Smart Office concept.