Article
Meet
GoBright Room Booking in Microsoft Teams
Microsoft Teams is one of the most used online communication tools in offices. However, sometimes, an online meeting is just not enough to go over the points you want to discuss. You might want to host a face-to-face meeting at the office. So what do you do? You minimise Microsoft Teams, you open the Outlook Calendars to check availability, then you open your room booking system to book the room and additional services… Before you know it, you are using multiple systems for one simple task: hosting a meeting at the office.
This is no longer necessary with GoBright. We are now fully integrated into Microsoft Teams, which means that the entire GoBright platform and all its unique features are accessible through Teams. This includes Room Booking and inviting and pre-registering visitors.
---
So, what is it that you can do in Microsoft Teams with GoBright's integration? First and foremost: Room Booking. You can now open the GoBright Portal within your Microsoft Teams environment and select a suitable room for your next meeting, based on your preferences. One of the benefits of working with a Room Booking System such as GoBright's is that all changes made regarding the booking are automatically visible to your colleagues. It does not matter whether you book the room in Teams, Outlook, or directly via the GoBright platform. All systems are in sync and automatically updated. This way, there is no confusion as to when a meeting is hosted, with whom, and whether the room may become available later.
Another advantage of the GoBright Portal in Teams is that you can reserve a room via the Interactive Map. The Map shows which rooms are occupied or available and you can click on the Map directly to select the room you want to book.
In addition, via the Portal in Teams you can choose rooms based on the facilities you need and the preferences you have. And, you can invite and pre-register your visitors instantly.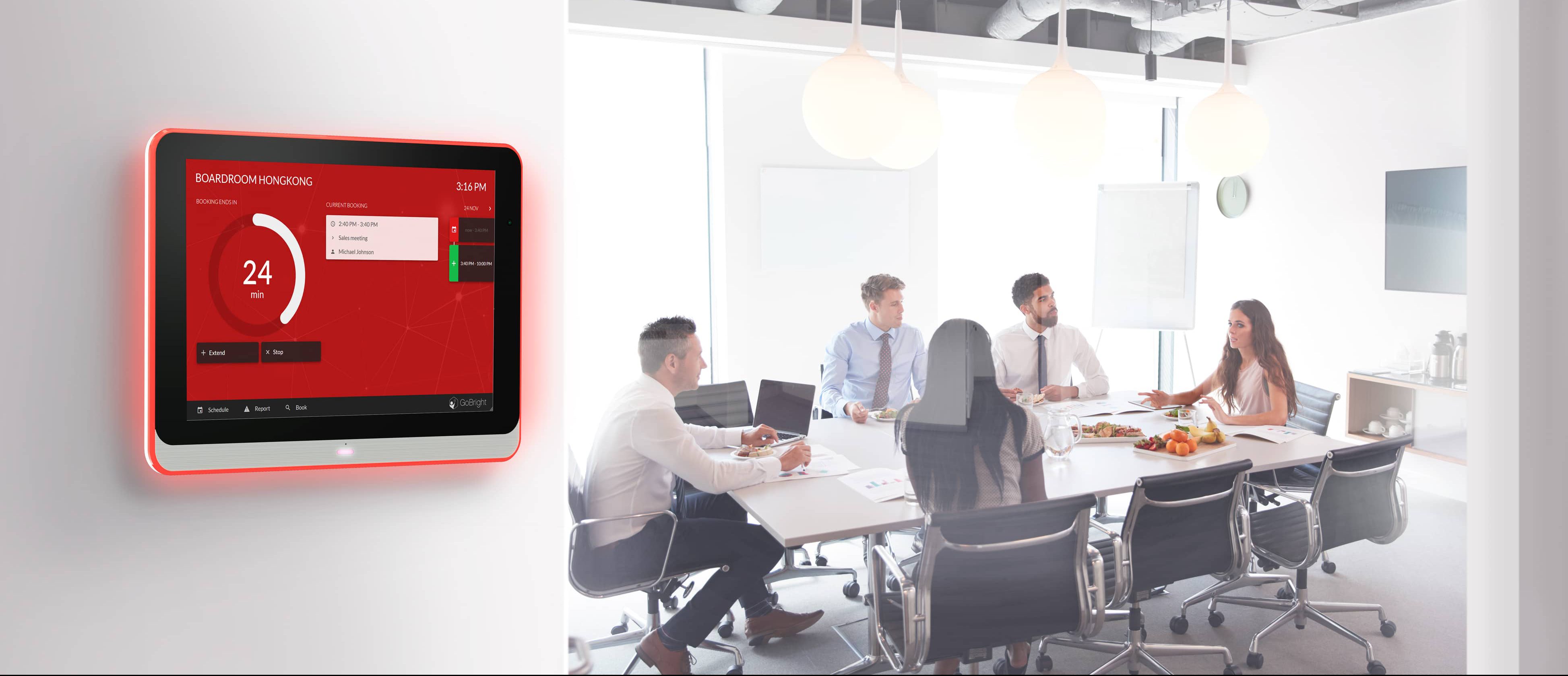 You can enrich your GoBright experience by installing Mapping screens on the work floor, so all colleagues have a clear and complete overview of bookings. Lastly, it is possible to arrange any Catering & Services at the same time. Might the meeting be canceled or postponed, any facilities that were booked are automatically rescheduled or canceled, too.
All of these GoBright features can now be accessed and used, without leaving your Microsoft Teams environment. No better team than GoBright and Microsoft Teams!