Article
General
Yealink is GoBright's latest Hardware Partner in advancing Smart Workplace Solutions.
GoBright and Yealink proudly announce their partnership with which they both offer their customers more meaningful solutions. We already presented the 8-inch Yealink Room Panel with the GoBright Room Booking Software at ISE 2023. We are now pleased to formally announce our partnership through this article.
Extensive options
GoBright, known worldwide as a Smart Workplace specialist, already works with many high-end brands. But until now, the technologically advanced hardware brand Yealink was missing from the Certified Hardware Partner list. Thanks to the cooperation with Yealink, we are not only expanding our international network, but we are also offering our customers more options for their hardware selection, and their integrations with other smart collaboration tools. With this we further strengthen our collaboration and integration with Microsoft Teams.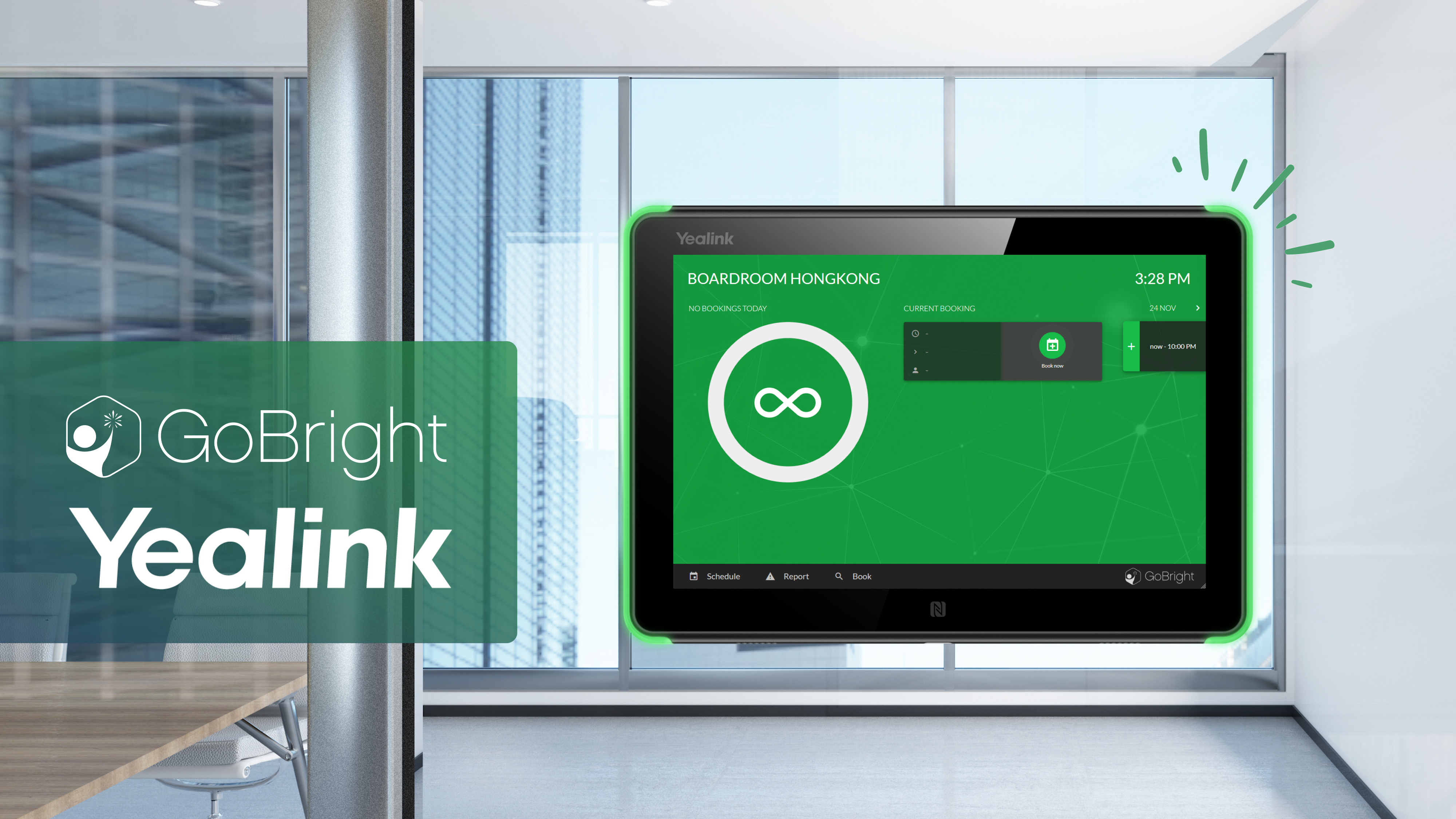 ---
Many ways of collaborating
While the way we communicate and collaborate has changed over time, the importance of it has not. Now more than ever it is important for businesses to provide their employees with tools that ensure efficient and effective collaboration. Both physically present at the office and remotely. We all know that Microsoft is the absolute number 1 in offices, when it comes to online communication and document sharing tools, with Microsoft Teams. And thanks to their additional Microsoft Teams Rooms service, in combination with Yealink in-room panels, meeting participants can easily join a meeting both physically and remotely. Without hassle with the equipment; simply click on the Microsoft Teams link that is provided on the in-room panel. Yealink screens are therefore a welcome guest at meetings.
GoBright, Yealink and Microsoft; the perfect fit
Since GoBright is fully integrated with Microsoft Teams this means that the entire GoBright portal and all of its features can be accessed without closing the Teams environment. Not only meeting rooms, but also desks (including Team Bookings), lockers, and parking spaces can be reserved, all within Microsoft Teams. An important aspect of this integration is that existing bookings can be modified without a problem, automatically syncing with the other systems.
Well, thanks to our partnership with Yealink we can state that GoBright is now more than 100% Microsoft compatible. Room reservations can be made with GoBright, in our own Portal/App, via Microsoft Teams, and via the Yealink Room Panel, while Microsoft Teams Rooms is used on Yealink in-room panels for video call facilities during the meeting itself. That is a win-win situation to enhance collaboration.

"At GoBright we set the bar high when it comes to the quality and reliability of our solutions. That is why we only work with high-end hardware expert brands. We also believe in total solutions that make our customers' lives easier. Strong partnerships are therefore highly appreciated. We believe that we have struck gold with Yealink and the GoBright integration in Microsoft Teams. We are therefore proud and happy to add Yealink to our list of Hardware Partners."
Chris Wiegeraad, Commercial Director at GoBright
Expertise beyond Room Booking
Companies that already own Yealink screens for their Microsoft Teams Rooms application can continue to do so for their in-room facilities. But they can expand their Workplace Management wishes by adding GoBright Room Booking to the mix. In addition to booking a meeting and displaying the booking in Teams, Outlook or the Yealink Room Panel outside of the meeting room, the GoBright Room Booking solutions, offer many more options. How about ordering your Catering & Services wishes at the same time, making recurring bookings, or pre-registering your visitors to provide them access to the office building?
Besides these features the combination 'GoBright, Microsoft Teams Rooms and Yealink' makes it possible to easily connect colleagues who are physically present and colleagues who work digitally, elsewhere. E.g. plan a meeting and book a room via the GoBright software, add a Microsoft Teams link to the meeting; which can be activated directly during the meeting via the Microsoft Teams Room software on the in-room Yealink panel.
But, why stop with Room Booking alone?
With GoBright you get a complete package of Smart Office solutions for Desk Booking, Visitor Registration, or Digital Signage as a total Workplace Management package. Making it an indispensable one-stop shop solution.
"GoBright is specialised in Smart & Hybrid office solutions for years, so Yealink is glad to announce its official compatibility with the GoBright Room Booking software. We are happy to be partners with GoBright for our UC&C solutions globally."
Maggie Liu, Senior Sales Director
Fully tested
The user experience of the GoBright software is even better when it is applied to high quality compatible hardware. Not only does the Yealink 8-inch touch screen look great with its stylish design, it is also compact and lightweight. Along with its elegant metal appearance this panel is ideal for any modern workspace. In order to ensure high quality and advanced performance of both hardware and software, our engineers have fully screened and tested the GoBright software on the Yealink hardware. This way we guarantee a solid solution to the end users.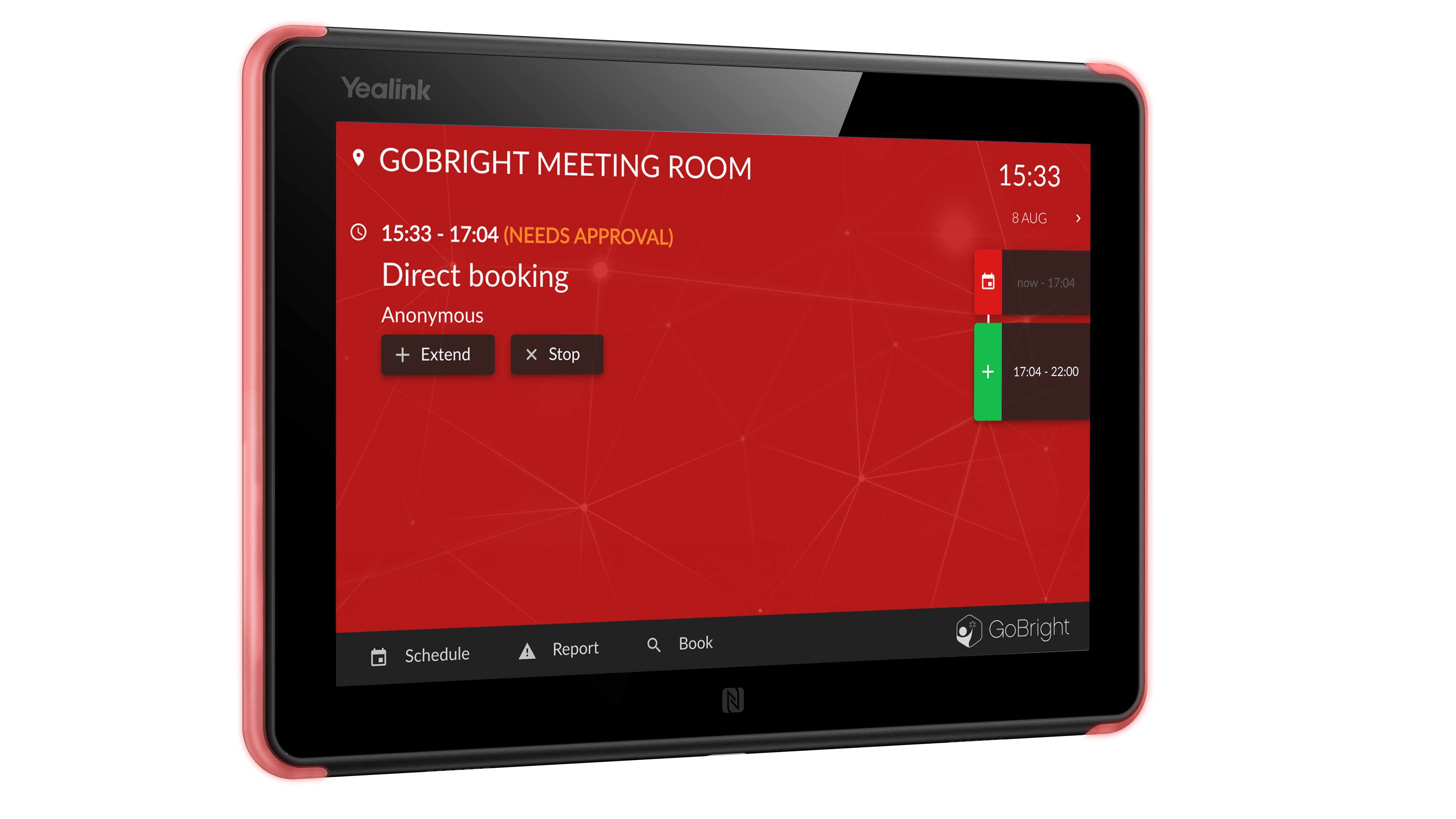 GoBright
GoBright is specialised in Smart Workplace solutions that supports flexible working. With our Room Booking, Desk Booking, Visitor Registration and Digital Signage solutions, we actively engage with the requirements and desires of both employers and employees. We introduce transparency and analytics driven insights to the office environment while also generating workspace accessibility. GoBright connects employees, users, and managers in the office building by creating user-friendly, intuitive, software. Shape your own workday, manage your space, partake in collaborations, and embrace flexible work methodologies.  Our goal is to facilitate Hybrid Working for every employee. Through data analysis, informed choices can be made to amplify office efficiency and foster sustainability. Office space can for example be redesigned, possibly saving costs.
Lead the office transformation with GoBright.
Yealink
Yealink is a global-leading provider of Unified Communication & Collaboration Solutions specialised in video conferencing, voice communications, and collaboration, dedicated to helping every person and organisation embrace the power of "Easy Collaboration, High Productivity". With best-in-class quality, innovative technology, and user-friendly experiences, Yealink is one of the best providers in more than 140 countries and regions, ranks No.1 in the global market share of IP Phone, and is the Top 5 leader in the video conferencing market (Frost & Sullivan, 2021).