Article
Work
GoBright Desk Booking in Microsoft Teams
In today's working environment, the office is no longer the most important location people work at. People work from home, from the library, on the road, or abroad. Working can be done from anywhere if you have your laptop and phone at hand. The office has transitioned to a space where people mainly meet up to collaborate and to invite customers. A reason for employees not wanting to go to the office, is uncertainty. Is there a workplace available? Are my colleagues also in the office? Does my workplace offer what I need? That is where Desk Booking comes in. When employees do come to the office, they want to be assured of a spot that suits their needs and desires.
GoBright has integrated with Microsoft Teams to make the overall user experience of working a more centralised and unified experience. Open the GoBright Portal in Microsoft Teams and plan and organise your day based on your preferences.
---
What is GoBright Desk Booking?
Modern ways of working such as hot desking or activity-based working, require desk booking software to facilitate different types of employees. With GoBright's Desk Booking software employees control their own workplace and -day. This has proven to highly improve collaboration and communication between employees, as there is no uncertainty as to with whom they can communicate and how.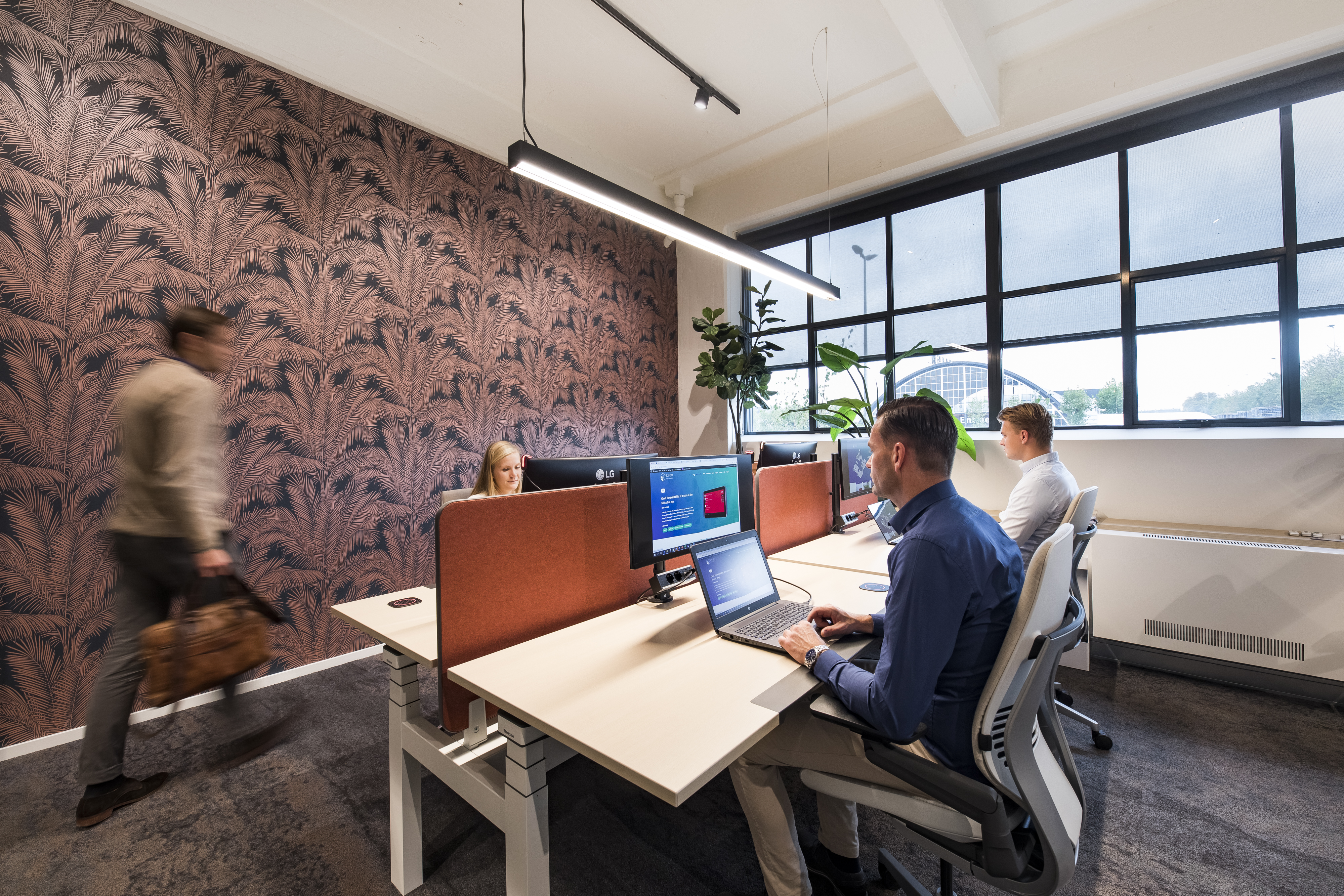 Managing desks is not only beneficial for employees, but also for your facilities department. By using a Desk Booking System, you gain insight into how workplaces are being used, what employees' preferences are, and how you can re-shape your office environment accordingly. Ultimately, using a desk booking system highly improves collaboration and communication between employees.
Of course, the different types of desk bookings you make in the Online Portal, are also available in the Teams integration. Make Recurring Desk Bookings, invite your team for a Team Booking, book Combined Meeting Rooms, and book Flexible Hours.
'Find my Colleague' & 'Find my Desk'
Working with GoBright improves Employee Wellbeing. Our Desk Booking solution and its accompanying features ensure that every employee can find the desk that fits their needs. User-centered and user-friendly workspaces create motivated employees. A good example of how GoBright responds to the importance of Employee Wellbeing, is the Find my Colleague feature. Especially now, when flexible working is much more common, knowing where your colleagues are can be a motivation to visit the office more often.
Once arrived at the office, you want to know where your workplace is. By using the Find my Desk option in combination with the GoBright Connect and Glow, your desk is easy to find. Use the Mobile App and the LED light will start to blink so you easily spot your booked desk. Create an easygoing and effortless Employee Experience with features that answer the employees' needs.
GoBright Hardware: Connect and Glow
Create visibility in the office with the GoBright Connect and Glow hardware devices. Check in /out with the Mobile App, or NFC card, change the status of your desk, find it easily, pre-set your personal sitting/standing height, and gather data to set up the office based on employee activity.
Desk Sensors
With desk sensors, every occupation is registered and made visible in the portal, app, and on mapping displays. Due to the sophisticated technology sensing the slightest movement and body heat, occupancy is measured with 100% accuracy.
Analytics
Overall utilisation of office space is important to keep track of in the Flexible Work environment. How many employees work in the office day by day? Do you have enough workplaces? All these questions can be answered based on data. Workplace Analytics of bookings, check-ins and no-shows make data-driven choices for more efficiency and sustainability possible.
The demand for desk management continues to grow exponentially. Flexible working, Hybrid Working, and hot desking are much more common now. In the Smart Office, employees can manage their workdays and work faster, better, and smarter.
GoBright Integration with Microsoft Teams
Microsoft Teams is a popular tool for videoconferencing, calendaring, and file sharing. We built the GoBright Integration with Microsoft Teams to make it easy for employees to book rooms and desks without having to log in to another program. Thanks to the two-way integration, the systems are connected. This means that all bookings made in the GoBright Portal, Mobile App, or via Mapping are visible in the Microsoft Teams calendar. The other way around, all calendar items made via Teams are visible in the GoBright Platform. With the integration, you open the GoBright Portal in the Teams environment. So, booking your desk (and room) can be done in the one place employees frequently use, both on their desktop and their Mobile App.
This integration unifies all elements of the Future of Work. Planning your workdays, communicating with colleagues, sharing documents, and booking the perfect workspace all happens in one, clear online space.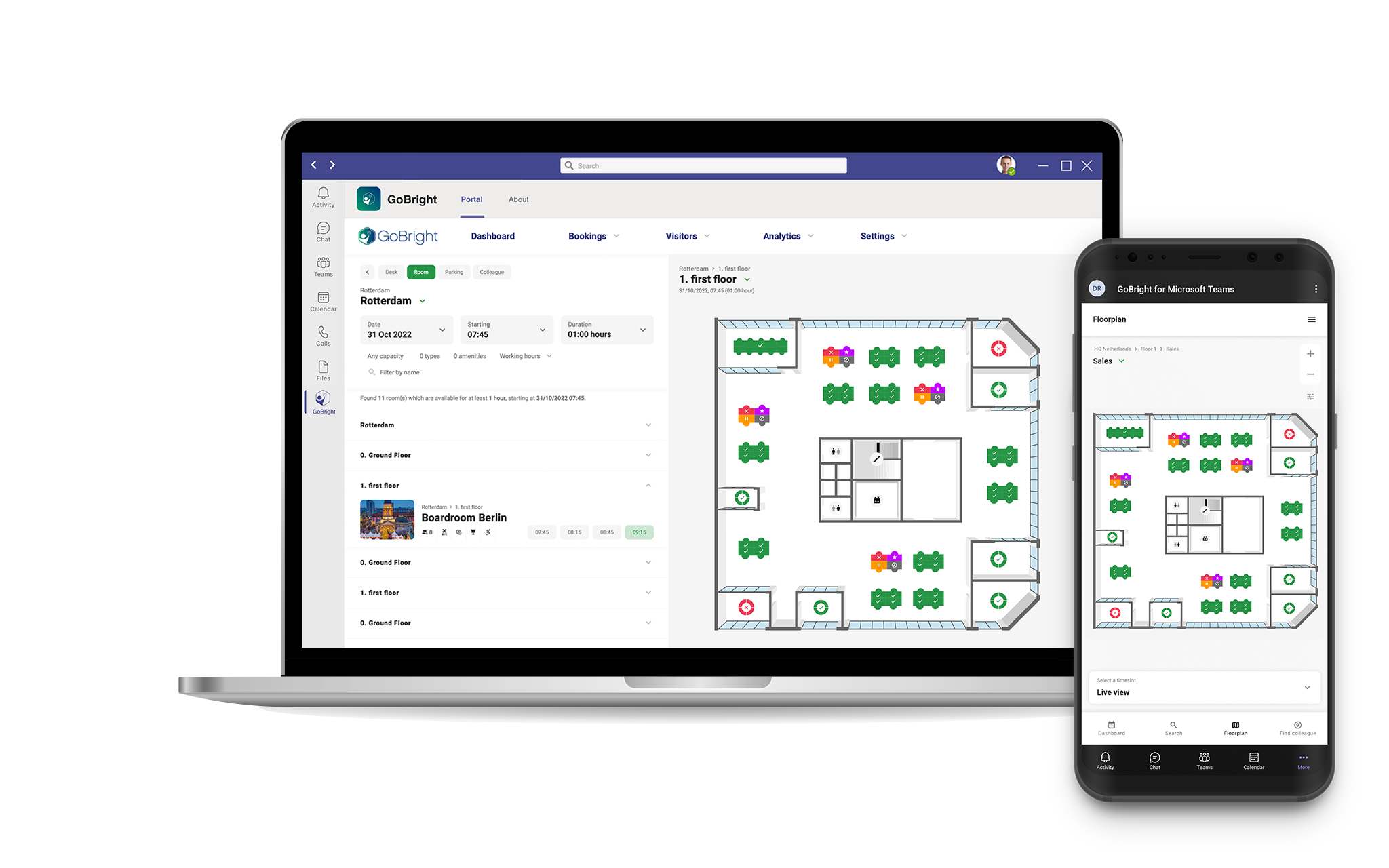 Enable the GoBright Integration
GoBright makes Hybrid Working in the office possible with smart and innovative software solutions. This integration brings our users even more user-friendly and smart ways to design their perfect work-life balance. Easily adapt to a more flexible way of working and build a smart hub of solutions focusing on creating the Future of the Office.