Article
View, Visit
GoBright Visitor Registration & Digital Signage in MS Teams
Apart from Room Booking and Desk Booking software, GoBright offers software solutions for Visitor Registration and Digital Signage. Both are also important elements of running a smart and smooth office building. Especially now, with Hybrid Working normalising in the working field – communication is essential. Making this even easier is the integration with Microsoft Teams that we created. Manage visitors and plan your digital signage content from one central place; the GoBright Portal, accessible from Microsoft Teams.
---
The Power of Visitor Registration
The office has become a place to meet and collaborate rather than individual working. Mostly when teams need to brainstorm and work together, or when they invite customers, the office is the preferred location to be at. As the office is not visited that often, it is important to welcome visitors warmly. GoBright Visitor Management System realises welcoming guests in a professional way, whether you have an unmanned or manned reception area.
By digitally (pre)- registering your visitors, self-check-in and instant notifications, your reception area is transformed into a smart and safe location for your visitors to arrive. A digital reception accelerates the flow of people as newly arrived visitors are announced via an e-mail or SMS text message. Visitors are printed a badge and are provided with directions, safety instructions and anything else you wish.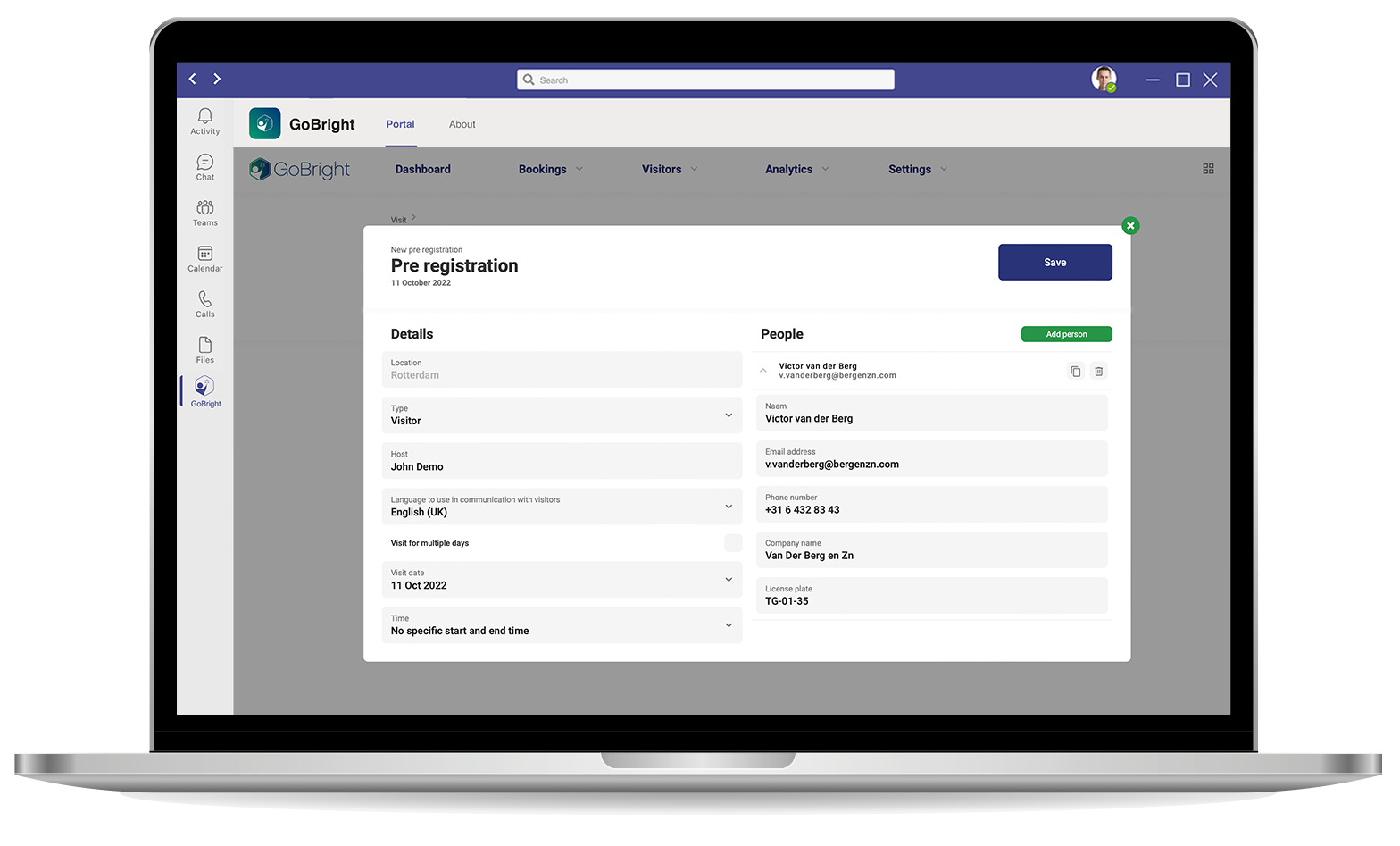 Optimising communication with Digital Signage
In combination with Digital Signage, GoBright's Visitor Management System is the perfect tool for welcoming visitors and communicating with them. GoBright Digital Signage is part of the entire GoBright platform. This means that all data available in the Portal, can be displayed on Digital Signage screens across the office building.
Effortless Communication
Digital Signage is important in the communication with your employees as well. Many employees work from home often or are in other locations than the office. When they are in the office, it is important to update them on important matters regarding the company. Via Digital Signage messages like these can be communicated. Screens can also be used to show open desks and meeting rooms in specific locations, making the time employees spend at the office pleasurable and efficient.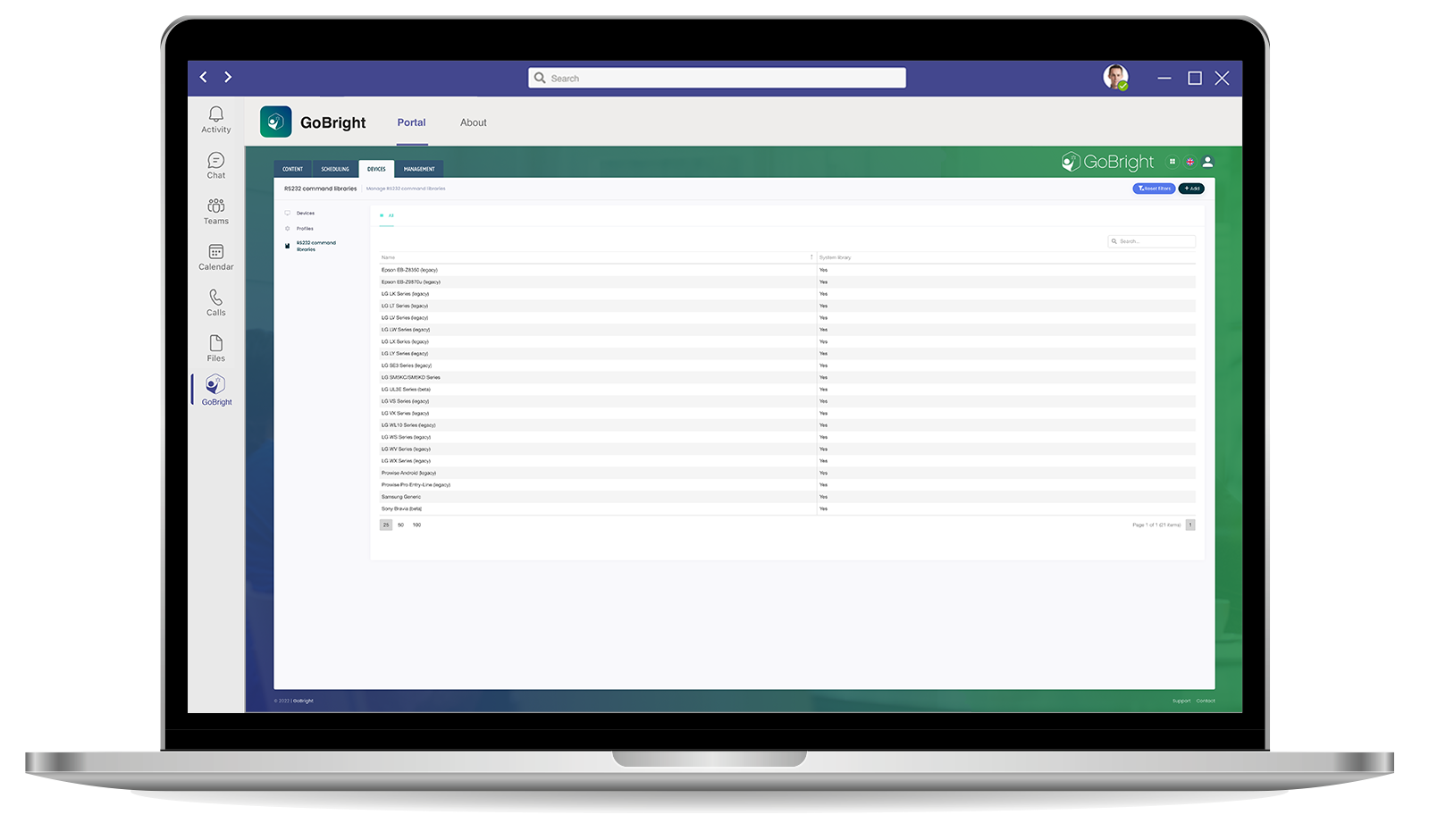 Arranging Visitors and Signage in Microsoft Teams
GoBright's goal is to be the easiest and smartest software platform for smart office solutions. Integrating with other systems is very important in this process. To upgrade the accessibility of our software solutions, we integrated with Microsoft Teams. This means that the GoBright Portal is accessible from your trusted Teams environment. Earlier this month we communicated the ground breaking GoBright Desk Booking and Room Booking possibilities in Microsoft Teams. The same goes for Visitor Registration and Digital Signage. Pre-register visitors alongside making your room booking in the MS Teams environment. Arrange your Digital Signage from the same location. Easy and smooth.
GoBright Desk Booking & Room Booking
GoBright's Desk- and Room Booking Smart Software solutions are also available in the Microsoft Teams environment. The entire GoBright Platform is available via Teams. Interested how the other solutions work in MS Teams?