NFC scanning has been possible within the GoBright App for some time already, but the way you can do that has been upgraded and simplified. This upgrade brings deep linking support for NFC scanning. This means that automatic NFC detection is possible with the GoBright Mobile App. The GoBright App opens automatically and lets you check in/out immediately, as soon as you hold your phone to the GoBright Connect or GoBright deep linking NFC stickers. Fewer actions are required and the process of checking in/out via NFC sticker is faster and easier.
---
NOTE:
– The Connect should be used in emulation mode.
– This only works with the GoBright NFC sticker with deep link support. For other random NFC stickers, the automatic recognition will not work.
– The new GoBright Deep linking NFC stickers will be available for delivery in December 2021.
– Your phone needs to support NFC background scanning, for iPhone supported from iPhone XS (introduced in 2018), and for Android most devices already support this.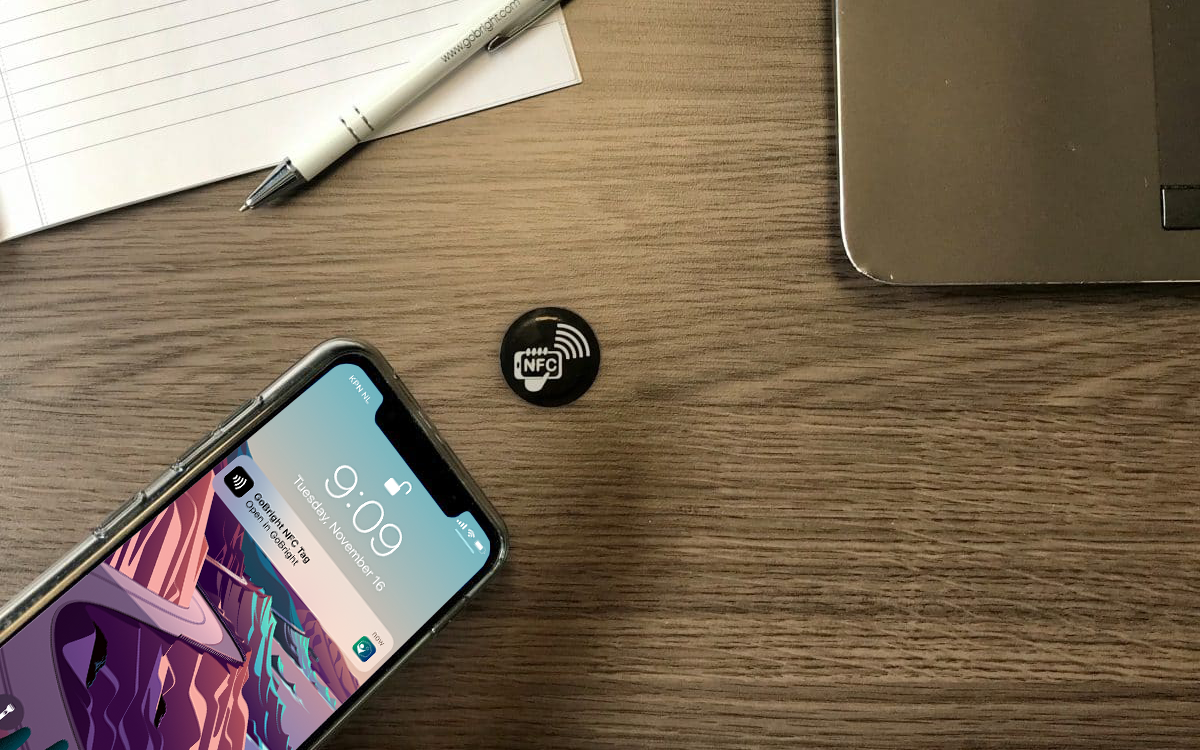 Old situation:
Unlock your phone; open the GoBright App. Choose 'Scan NFC' and hold your phone up to the NFC sticker to check in/out or to reserve a desk ad hoc.
New situation:
Hold your phone near the GoBright NFC sticker. Click on the notification that is shown on your phone. The GoBright App opens automatically and checks in / out immediately or gives the option to make an ad hoc reservation.
Occupancy measuring via the Connect or NFC sticker
Desk Booking is not just about being able to reserve and check in/out a workplace. You also want to know what the actual occupancy rate is and how many no-shows there are. Based on this information you can make analyses and optimally organise the workplace. If you want to experience the full possibilities of GoBright desk booking, we advise you to use the GoBright Connect in combination with Sensoring (detects movement). But if you are looking for a cheaper solution, without visual occupancy status (LED lighting) and control of the height adjustment of the desk, we also offer NFC stickers. Of course, in combination with the Work license for desk booking.

Pros GoBright Connect:
Status of the desks is visible on the desk itself (green / red / blue / purple);
The Connect flashes to indicate which desk is yours;
The Connect has a 'do not disturb' mode;
With the built-in Connect you can also automate the height adjustability of your desk;
Optional GoBright Caddy; to place the Connect on top of a desk, instead of building it in the desk.
Pros NFC sticker:
Can be delivered and implemented quickly (in large numbers);
Low cost – low effort;
No need to drill a hole in the desk;
Pros desk sensors:
Anonymous desk occupancy (check in/out) possible
Automatic check in/out. No need the scan a Connect or NFC sticker
100% reliable occupancy measuring, in case you forget to check in/out via Connect or NFC sticker