Organisations and their employees are adapting to the changing role of offices. Offices need to be flexible, creative, productive, easy accessible, and enjoyable. Hybrid working is becoming the norm and this also has impact on the way meeting rooms are being used.
---
In this blog we will delve into how GoBright's Room Booking System can help transform your office space to agile work environments that provide your employees with what they need.
The GoBright room booking solution gives you flexibility and assurance of having a booked room when you are at the office. Especially in today's office environment, different types of rooms are necessary to provide your employees with what they need. The intrinsic human experience of working together in combination with safety and collaboration, after the coronavirus pandemic especially, is most important in moving forward to the future. The balance between what people need from a meeting room or location and what is safe, is very important to keep in mind.
Bring People Together
The fact that we are going to work hybrid automatically also means that distance is created between colleagues who work at the office, at home or elsewhere. You must consciously think about how to get everyone involved in meetings, or brainstorming sessions. Some colleagues will join via Teams, others will be physically present and you may want to invite someone from outside the company as well. Reserving the right meeting room, for example with video conferencing tools, is therefore very important. Book your meeting room easily via the GoBright Outlook Plugin, link a Teams invitation to it and invite and pre-register your visitors at the same time.
Types of Rooms
Having different types of rooms with different facilities make sure that employees can book a room according to their needs and wishes at that moment. The huddle room for example, offers a multifunctional space for a smaller number of people to come together and be creative. This room has collaboration tools as well as smart audio-visual tools to improve interaction and communication. Another type of meeting room is the concentration, or focus room. This room allows for employees to touch down and relax or to work in a more private setting. The opposite of the focus room is the larger conference, or board room. This room is meant for a larger group of attendants and therefore fully equipped with all the collaboration and communication tools you might need.
Rooms can have different functions and be transformed to fit different purposes. How do you manage all this? This is where GoBright Room Booking steps in. With our room booking software, you can organise relaxed and worry-free meetings at the office.
Room Booking Solution
Relaxed and carefree meetings are a matter of course with our room booking software. The GoBright Room Booking Software give employees the opportunity to make room bookings, anytime and anywhere. Check meeting room availability, be assured of a room that suits your needs and manage occupancy. Get rid of of the meeting room booking headache with GoBright.
Booking
The Online Portal, Mobile App or Outlook Plugin is where your search, book and adapt your room booking. What type of room do you need? What services are necessary for your meeting or work session? Book appliances, catering, and invite others to join your meeting. Ad-hoc booking is possible with the Room Panel that is attached to each room, or via the Mapping touch screen that is located on each floor. And, when plans change, easily reschedule the meeting and all booked services change along with it. So, no double bookings, missed messages or other stress factors.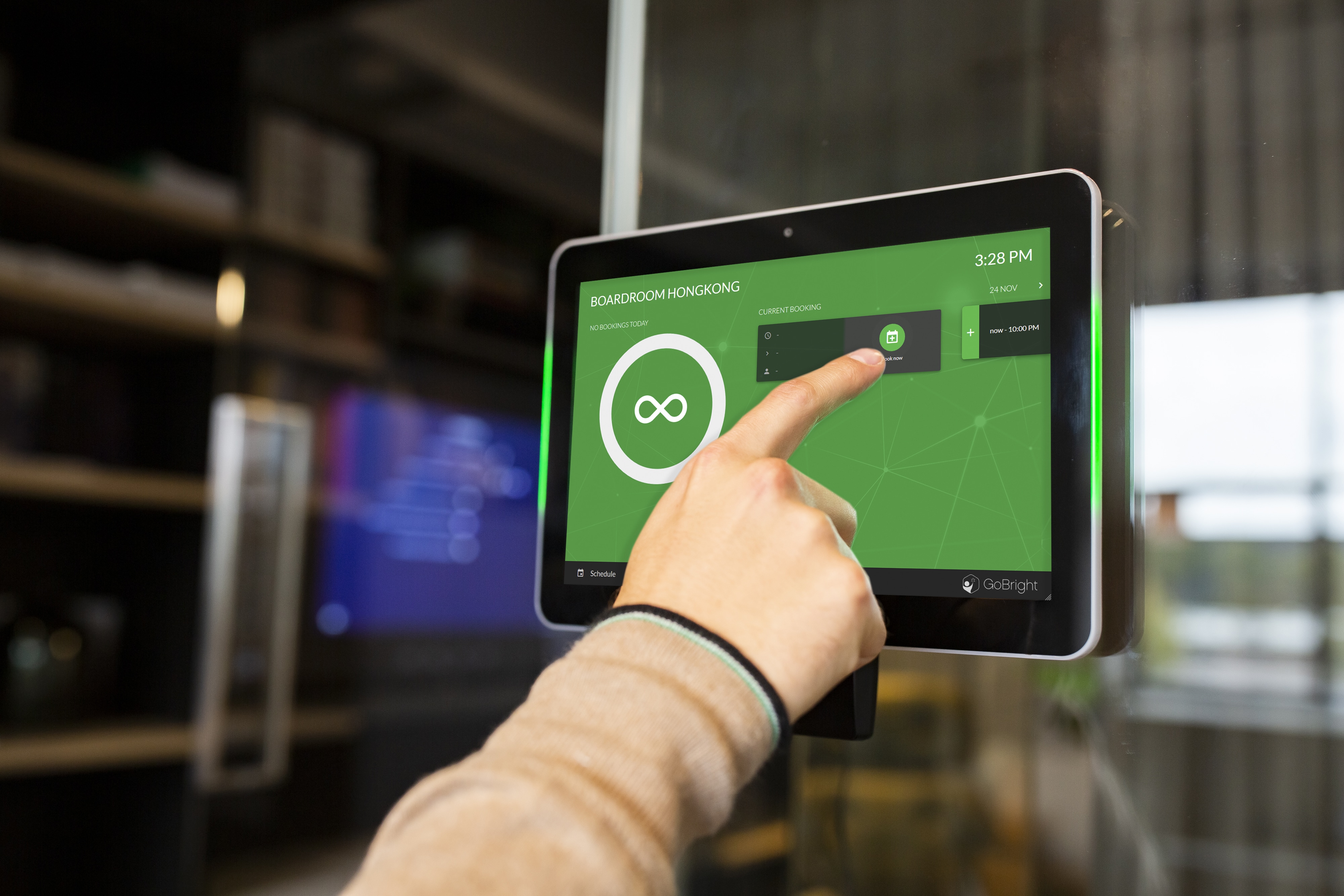 Check-In
The Room Panel is furthermore used to check-in your booked meeting room at the location. It also is used as a visual overview for colleagues to check the room availability, without having to disturb the meeting.
Controlling a Room
After you have checked-in and your meeting is in progress, you control the room via the Room Control.
Turn on the tv screen, adjust sound, control the lights, and report malfunctions. The Room Control and Room Panel are connected to each other, but also to the entire GoBright platform. If you extend a meeting from the Room Control, this becomes visible on the Room Panel hanging outside the meeting room and on the Online Portal and Mobile App.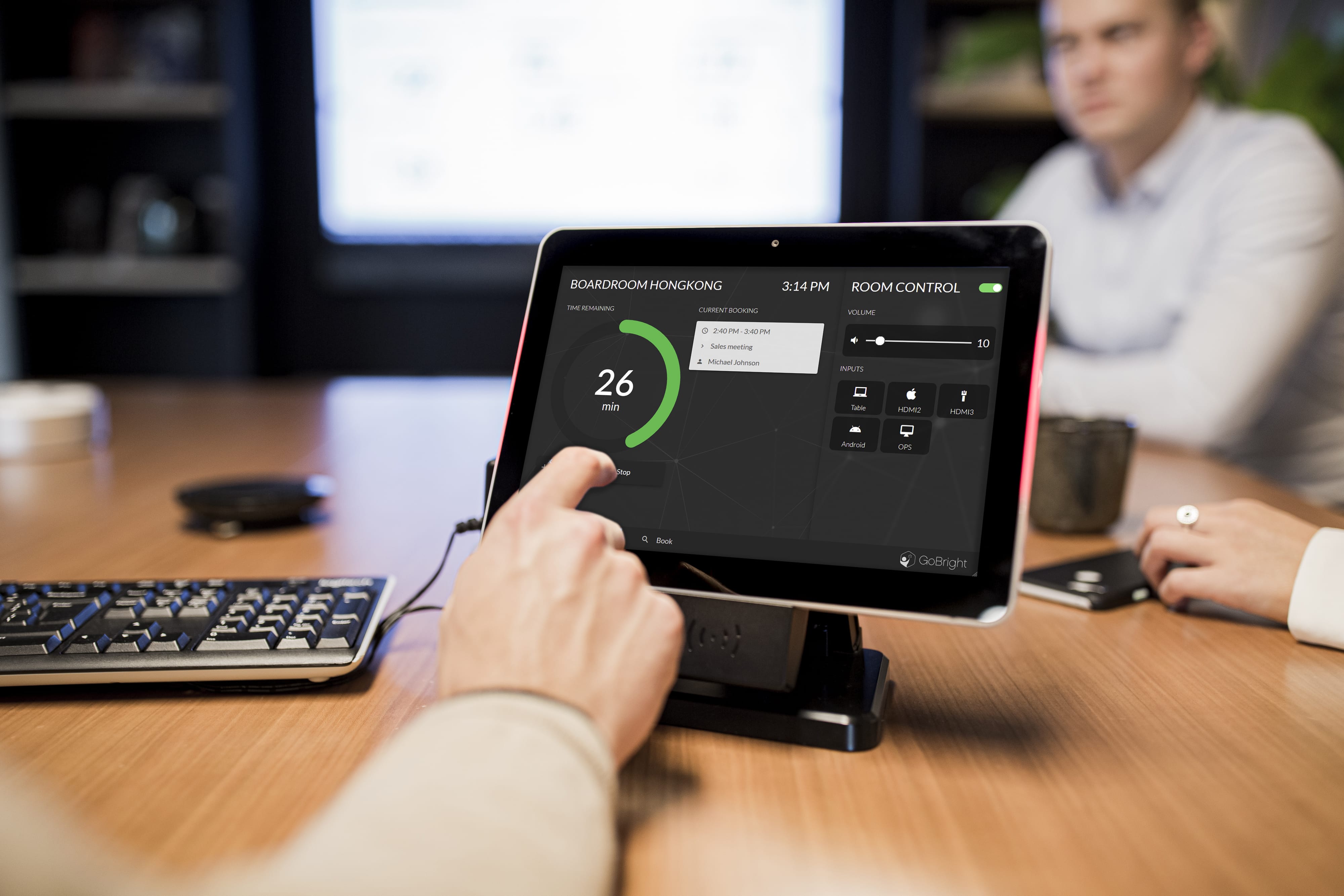 Room Booking gives you the opportunity to define different types of rooms and give your employees what they need to work most efficiently. With Room Sensors, Wayfinding and Mapping your room booking software transforms the office to a smart hub even more. Providing a smart environment where opportunities and options are endless is important to move towards a future proof office. Together with our smart solutions for desk booking, visitor registration and digital signage your office is ready for Hybrid Working.