Article
Meet
GoBright Room Booking System, Microsoft Outlook & Microsoft Teams
A Reliable Love Triangle
Giving your employees the opportunity to organise and plan their own workday is characteristic for any flexible or Hybrid Work environment. Using a Room Booking system is one example of powerful software that supports flexibility and ownership. But why would you need a Room Booking system? After all, you can also book a room via Microsoft Outlook. What makes using GoBright Room Booking interesting and valuable compared to Outlook? And how are GoBright Room Booking, Microsoft Outlook and Microsoft Teams connected and how do the systems reinforce each other? Well, let's dive in and find out.
---
Nice to Meet You
Meeting rooms have always been an important element of the office space. Colleagues often get together, do brainstorm sessions, and have meetings with guests. Especially with the shift to a Hybrid Working model, the meeting room is essential for colleagues to establish relationships and to come together face-to-face. It contributes to a positive Employee Experience and has many benefits for productivity, effectivity, and overall wellbeing. GoBright understands that with the rise of the Smart Office, the meeting room becomes more important. With GoBright Room Booking in combination with Microsoft, organising a meeting is relaxed and worry-free.
GoBright Room Booking
With GoBright Room Booking, you are always assured of a suitable meeting room for whatever appointment you have planned. Find a room aligned with your preferences, invite your colleagues and/or guests, arrange Catering & Services and book it in seconds. Your meeting is ready to go! Room Booking comes with endless features that make your meeting run smooth and easy. Does something regarding your meeting change? The time or date for example? The benefit of working with a Room Booking system is that all changes made to the booking are automatically arranged. With GoBright Mapping, which is available in the Online Portal, the GoBright App but also on displays hanging throughout the office building, room availability can be easily recognised. Our solution gives insight and clarity.
Remote or at the office? No problem!
In the flexible office, predictability and solid systems are a must. You want to be ensured of a suitable and fully equipped meeting room for meeting clients and colleagues. Can't everyone join your physical meeting at the office? Add a Microsoft Teams link to your invitation. The meeting is automatically scheduled in your Teams-environment as well.
Multi-purpose spaces
Spaces in the Hybrid Office often have many functions. One larger meeting room can for example be separated into two smaller spaces. With our Combined Meeting Room Booking feature, these locations are bookable for larger gatherings. If the date, time, or Catering & Services wishes change, GoBright's system checks availability of both rooms. The possibilities with GoBright Room Booking gives flexibility and ease.
Room Sensors
To make Room Booking more complete, working with sensors can be interesting. By installing sensors in your meeting rooms, you measure occupancy with 100% accuracy giving you powerful data on which decisions can be made. Sensors furthermore register if a booked meeting room is occupied. This prevents double bookings or no-shows. The system frees up the room for other colleagues to book and use if the booker doesn't show up.
Room Control
With the GoBright Room Control you are in complete control of your meeting, the room, and its facilities. The screen shows how long your meeting lasts. This will prevent you from running out of time. And suppose you need more time, simply check if a meeting is scheduled after yours. If not, just extend your meeting in a few clicks. Of course, the Control screen in the meeting room is connected to the Room Panel on the outside of the meeting room. And both are connected to the cloud-based portal, the app, mapping etc. So, every change and every booking you make is visible everywhere.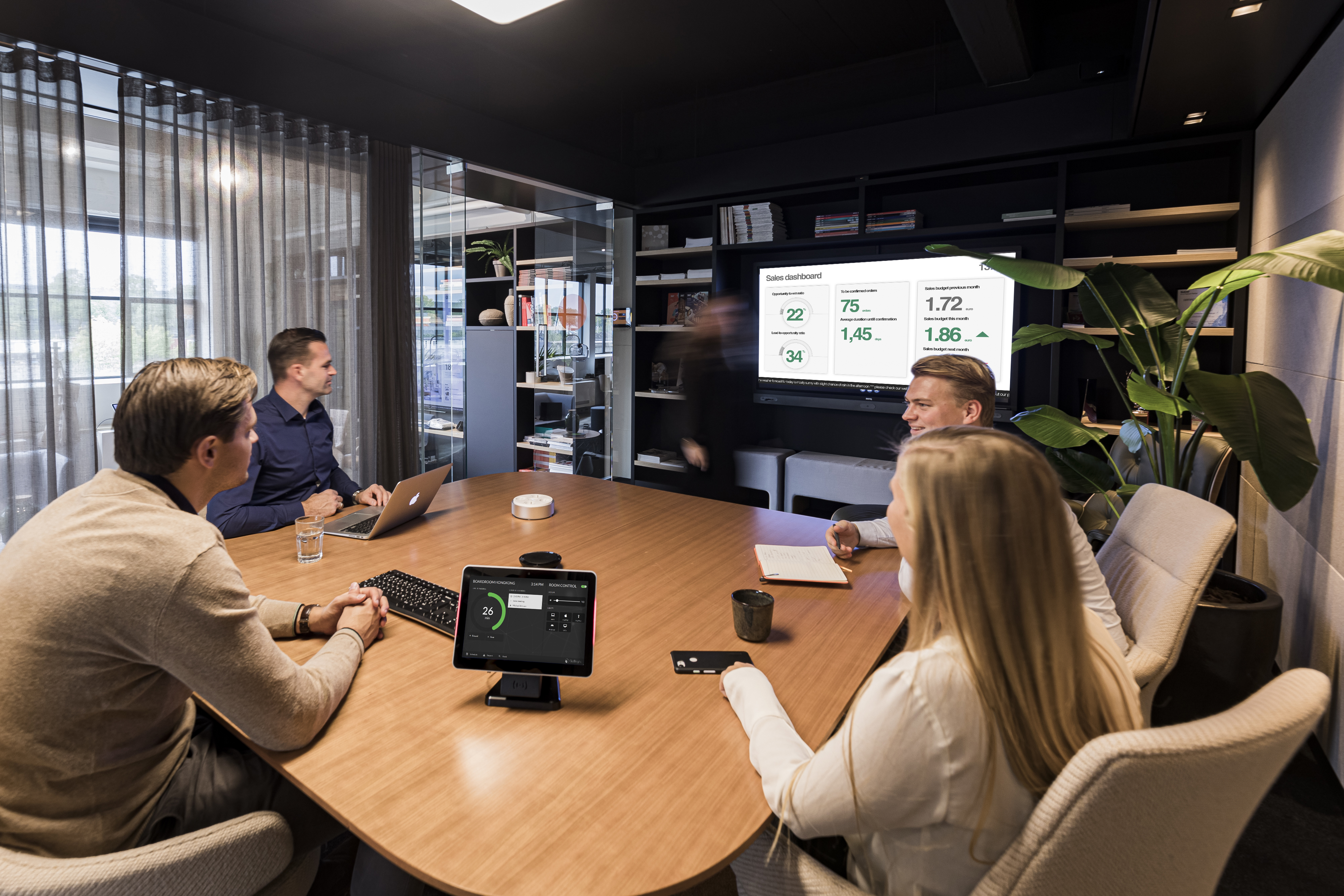 The GoBright Integration with Microsoft Teams
We will soon be launching the GoBright Integration into Microsoft Teams. This means that a GoBright App (icon) can be added to Microsoft Teams. The entire GoBright Platform can be opened and is visible from within your familiar Teams environment on web and the desktop app. When you want to use the GoBright integration on the Microsoft Teams mobile app, the GoBright App is transferred to the Microsoft Teams app. You no longer have to switch systems to make a Room Booking, Desk Booking, Parking Booking or Visitor Registration. Simply manage this in one central place. This increases the user-experience, ease-of-use, and efficiency.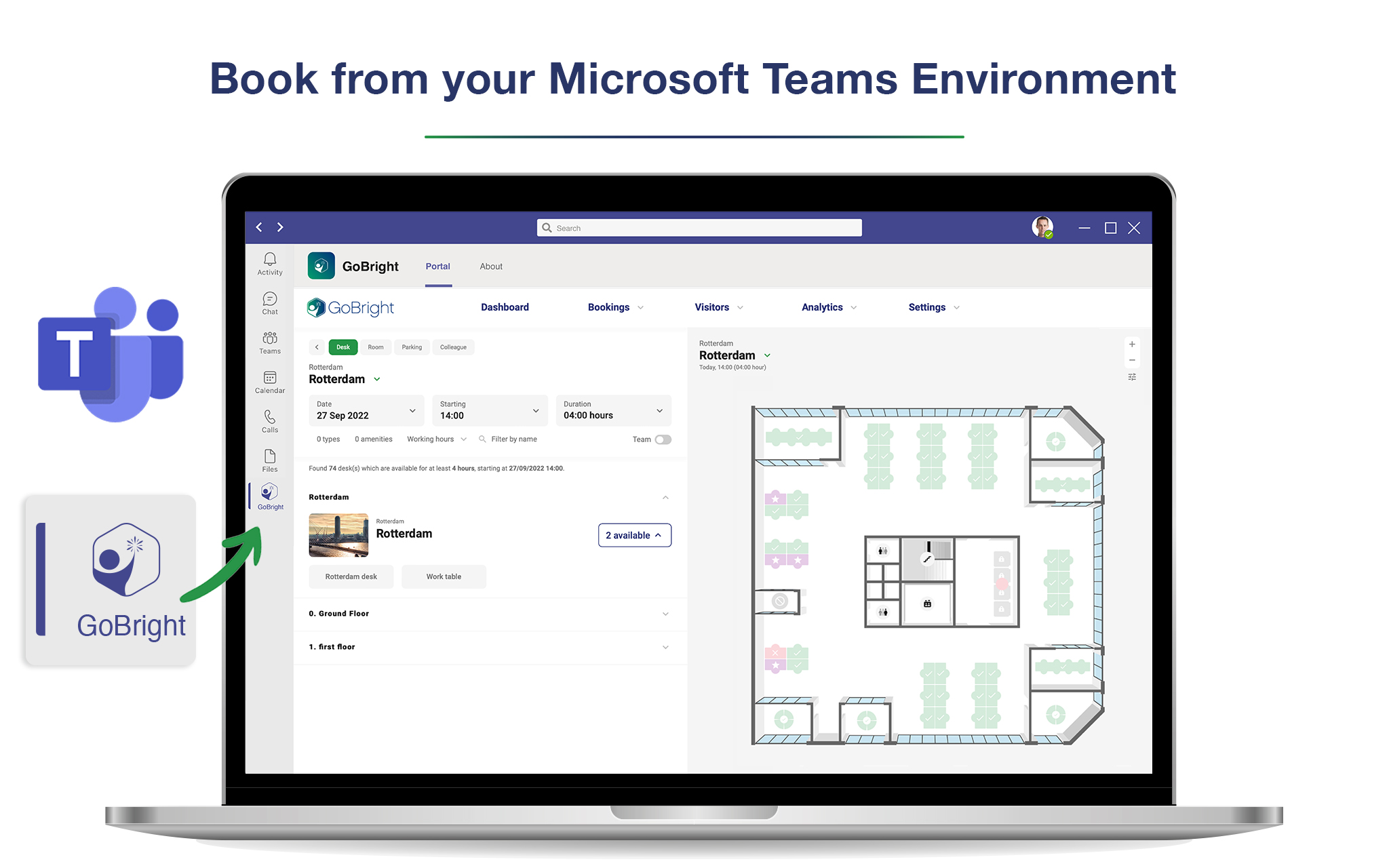 GoBright Meeting Room Booking System and Microsoft Outlook
The GoBright Room Booking software and Microsoft Outlook have a two-way integration. Microsoft Outlook is one of the most used e-mail and calendar management systems for businesses. With the integration the two systems have a connection that works both ways. All bookings made in the GoBright Online Portal, Mobile App, Mapping, or the Room Panel become visible in the Outlook calendar. The other way around, when a booking is made via the Outlook calendar, it is automatically also visible in the GoBright platform. Any room activity such as, bookings, check-ins and outs, ad-hoc bookings, room occupation detected by room sensors, changes in existing bookings, or meetings that are cut-short are visible in both platforms.
GoBright Outlook Plugin
To make working with GoBright and Outlook more complete and user friendly, GoBright has created an Outlook Plugin that seamlessly connects the two tools. With the GoBright Outlook Plugin, the functionalities of the GoBright platform are transferred to your Outlook environment. This gives you powerful search and Room Booking possibilities directly in your personal Outlook calendar. Find and book a room based on your preferences, invite colleagues, pre-register visitors, and arrange Catering & Services instantly, all from the GoBright Outlook Plugin.
With the GoBright Outlook Plugin you have many filter options to find and book the room you need. Does the date or location of the meeting change, or is it cancelled completely? The booked Catering & Services, for example, change accordingly. It all synchronises with your personal calendar, the meeting rooms' calendar, and the GoBright platform. One system, one action. Smart and simple.
GoBright Outlook Plugin Upgrade
With the latest upgrade it became possible to use the Outlook Plugin on Apple MacOS devices. We are currently in the process of developing the next upgrade on the GoBright Outlook Plugin. With this upgrade, the GoBright floor map of each department will become visible your personal Outlook Calendar as well, making finding an available room easier.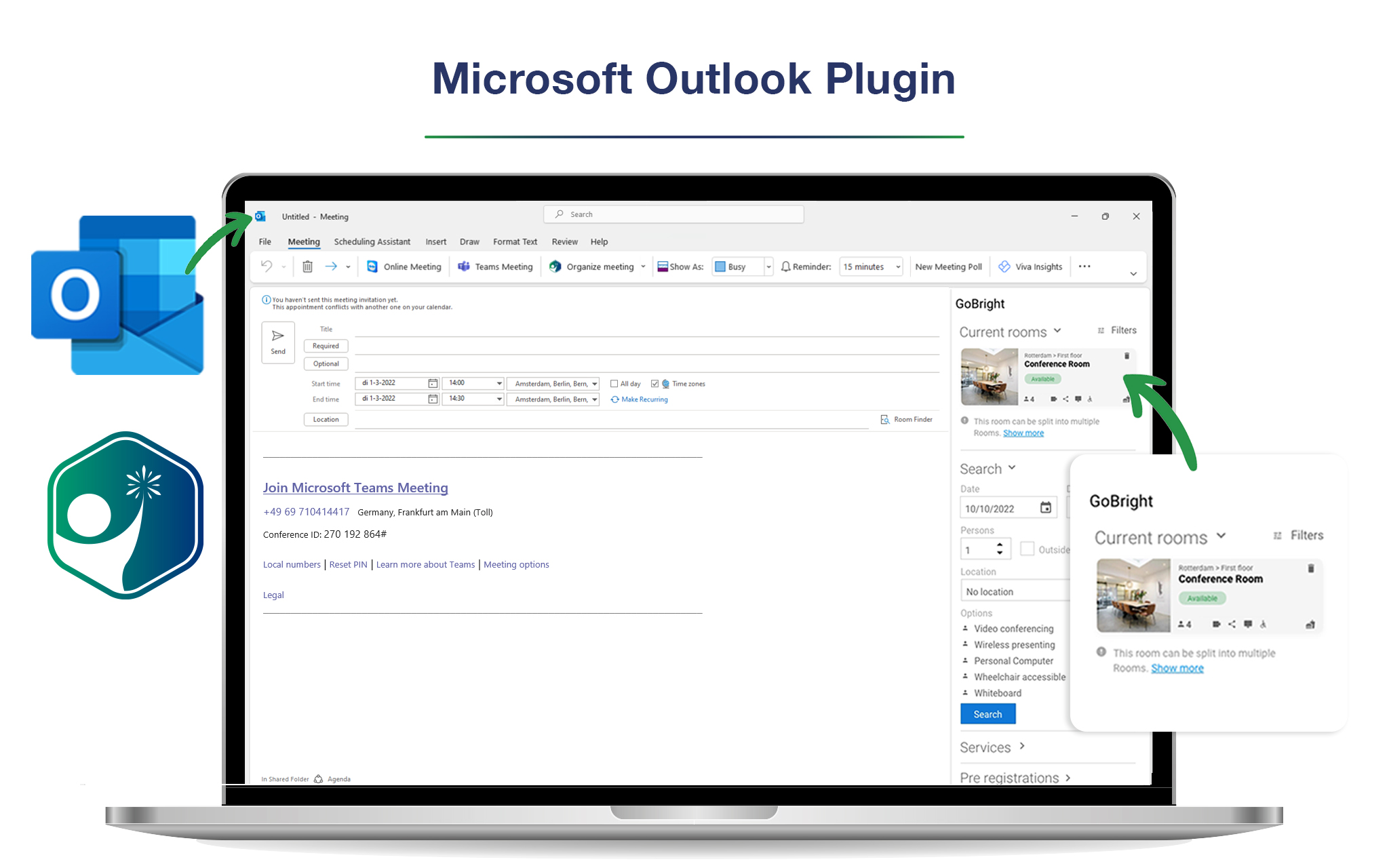 Complete GoBright Outlook Integration
Besides the GoBright Plugin, we are currently in the process of developing a complete integration with Microsoft Outlook. This means that you will soon be able to open the entire GoBright Platform in Outlook, the same way as in Microsoft Teams. Making it possible to have access to the GoBright features for desk booking, car parking, and visitor registration as well.
A Reliable Love Triangle
Most organisations work with Microsoft Outlook and the Outlook Calendar. Since the worldwide coronavirus pandemic, Microsoft Teams as a collaboration tool has grown in popularity massively. Microsoft Teams is not often only used as a video meeting tool, but also to save documents, share documents and to chat. With Outlook and Teams both being a Microsoft tool, the calendars are automatically connected.
The GoBright Room Bookings made in the GoBright Platform, the GoBright Outlook Plugin and in Outlook also become visible in the Microsoft Teams calendar. By adding a Microsoft Teams Link all members of the meeting can join in wherever they are. With the GoBright Integration into Microsoft Teams and Microsoft Outlook, with which the GoBright Platform can be opened from these applications, working with GoBright becomes easier. The combination of the three is a reliable love triangle that makes employee life better.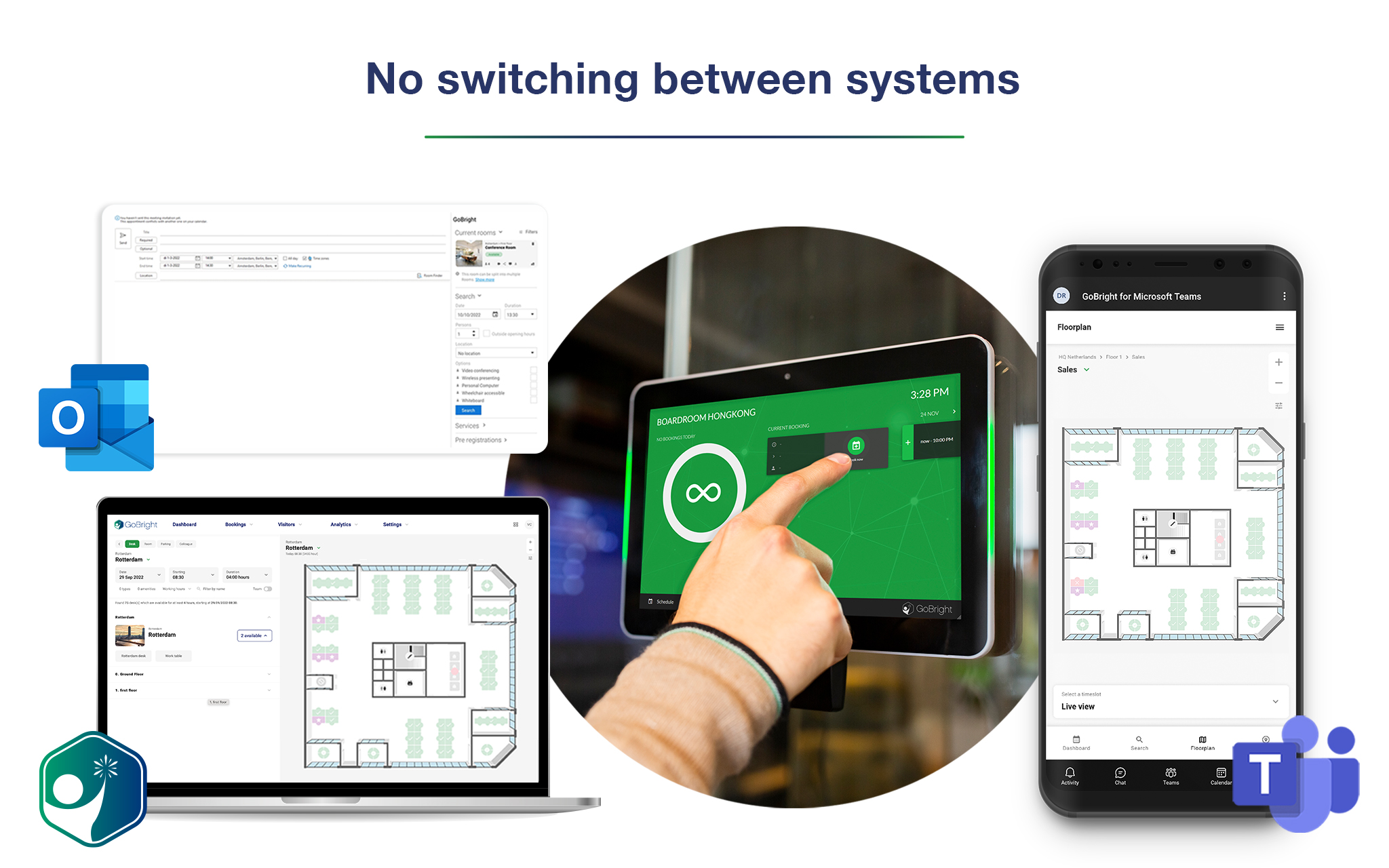 Setting-up an Effective Meeting
Setting-up an effective and inspiring meeting can be challenging. Besides managing the booking of the meeting, the meeting itself should also be planned. Below we give four tips to make your next meeting successful.
Define goals for the meeting. Make sure your attendees are aware of what the meeting is about, what they can expect and what they should prepare. It is beneficial to set specific goals to work towards with your peers.
Create an agenda and send calendar invites. With an agenda you work efficiently and effectively. Do not run out of time for important topics and stay motivated by switching up the dynamic with different angles and topics. Prepare your attendees by inviting them for the meeting. With GoBright Room Booking in combination with Microsoft Outlook everything is arranged perfectly.
Create a safe space for collaboration. For the most fruitful meetings it is essential that all participants feel at home. Part of that is being well-prepared, by setting expectations and a suitable location. Another part is thinking of a user-friendly and user-centered workspace. The combination of flexible office design and smart technology creates predictability, which is essential to feeling safe in the office.
End with clear action points for your next meeting. A round-up session with your colleagues and visitors after the meeting helps refreshing the mind. Wrap the meeting up and set action points for the next one. The cycle then starts again… Prepare your colleagues by setting expectations, managing requests and preferences, find a suitable room, invite visitors, and find the perfect meeting room via the Outlook Plugin for your next brainstorm session!
GoBright's Room Booking system is a well-thought-out software platform. Creating the best user-experience is our top priority and remains so during upgrades of our system. At GoBright we Create Availability for everyone.